Breaking away from the shackles of the monotony, and enjoying a piece of nature can be super relaxing to the mind. To soak into nature is often the best therapy that we yearn for. Especially, living in a city like Bangalore can very often be mechanical and boring. And what can be better than visiting a waterfall. Now if you are wondering in Bangalore, if there are waterfalls near me, then let me tell you that. Yes, Bangalore has multiple options of nearby waterfalls that you can visit from the city. Some of these waterfalls near Bangalore even fall into the proximity of 50 kms and 100 kms. Now how cool is that?
You can now even take a day trip from Bangalore to some of these waterfalls nearby. In this article I have mentioned the best waterfalls near Bangalore that you can visit if you have less time for holidays. Read this list and start planning your trip to these mesmerizing waterfalls.
10 Waterfalls near Bangalore
Waterfalls near Bangalore within 50 kms :-
Thottikallu Falls
location: Thottikallu
Distance from Bangalore: 32 kms
Popular activities: Hiking, Trekking, Biking trips etc
Thottikallu Falls located near the Kanakapura Road is one of the Waterfalls near Bangalore within 50 kms. This waterfall is also popularly known as the Swarna Mukhi Falls that means having a Golden face. The trail towards the waterfall is through hilly rugged terrain. For short bike excursions from the city of Bangalore or a one day trip, this location is just perfect.
Furthermore you can also enjoy a lazy walk around this beautiful spot. There is a small revered temple here known as the Muneshwara Temple. This temple is considered very holy by the local people here. One thing that you need to keep in mind is that this is a crowded and popular spot for the tourists. Especially on Sundays the location remains very crowded with visitors.
Read More: PLACES IN BANGALORE TO VISIT | BANGALORE TOURIST PLACES
Muthyala Maduvu Falls
Location: Anekal
Distance from Bangalore: 40 kms via Hosur Road
Popular activities: Trekking, Bird Watching, Sightseeing, Photography etc
The Muthyala Maduvu Falls is surrounded by lush greenery. From a distance this waterfall looks like a string of pearls. Therefore the place is also known as the Pearl Valley. The misty forest around and the picturesque landscape of the valley makes it a site that everyone will love visiting. Also there is a Shiva Temple nearby that you can visit here. Another popular attraction nearby is Thattekere Lake. Furthermore, this place is ideal for the birdwatchers for the presence of innumerable species of birds. This place actually retains the power to rejuvenate your tired soul. I am sure it will be a perfect location if you are a photographer or someone who loves taking photographs. This is one of waterfalls near Bangalore that will literally be like a visual feast for you.
Read More: KARYASIDDHI HANUMAN TEMPLE IN BANGALORE
Waterfalls near Bangalore within 100 kms :-
Chunchi Falls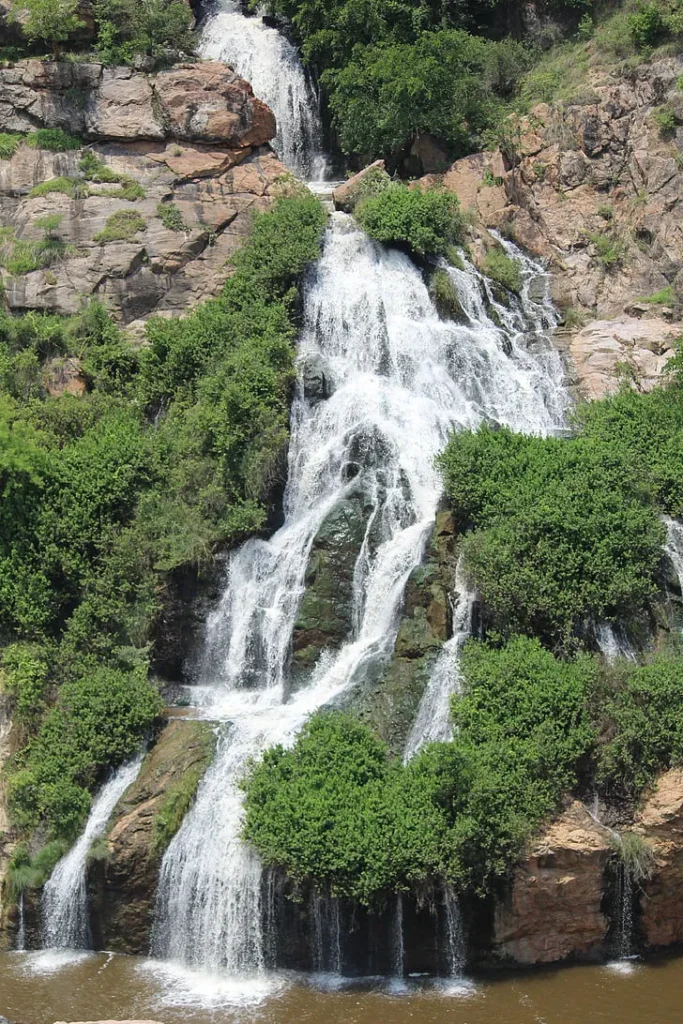 Location: Kanakapura Rural
Distance from Bangalore: 90 kms via Kanakapura Road
Popular activities: Picnic, sightseeing, fishing etc.
Situated at a distance of 90 km from the Kanakapura city, this fall is an ideal spot for picnics and day outs. This fall is situated on the Arkavathi River at a distance of 6 km from the Sangama or confluence of the river with Kaveri. The Arkavathi River plunges into 80 feet deep rock resulting in this waterfall. In the middle of the dry deciduous woodland the waterfall looks beautiful. The flow of the water of this fall has led to the wearing away of the boulders and rocks here. Would you like to know from where this fall got its name? It was named after a tribal couple in this area, Chuncha and Chunchi. How adorable!
You can reach this waterfall by driving via the Kanakapura Sangama Road from Bangalore in about 2 hours. The transport service is a little limited to this area so it would be advisable that you go via your own vehicle or rented cars. However you will have to walk a short distance to actually get near the Falls. Be excessively cautious while walking through this trail as the rock surface is very slippery. Even though this is not a massive waterfall, the beauty of this fall captivates the visitors here.
Mekedatu Falls
Location: Kanakapura Rural
Distance from Bangalore: 90 km via Kanakapura Road
Popular activities: Trekking, Photography, Sightseeing etc
Mekedatu is a small modest waterfall in the rural Bangalore region. The waterfall is located 3.5 km away from the confluence of the rivers Arkavathi and Kaveri. The fact that this waterfall is within a distance of 100 kms from Bangalore city makes it a perfect destination for the tourists. Mekedatu Waterfall forms a bottleneck on the river Kaveri. It passes through a narrow area at this place. However it is believed by many that the fall here is so narrow that even a goat can surpass it. Therefore, the place is known as Mekedatu which means Goat's leap. The Chunchi Falls and the Mekedatu Falls are very close to each other. It is recommended that you cover these two falls within one single trip.
Read More: BEST BIRTHDAY CELEBRATION PLACES IN BANGALORE
Waterfalls near Bangalore within 200 kms :-
Hogenakkal Falls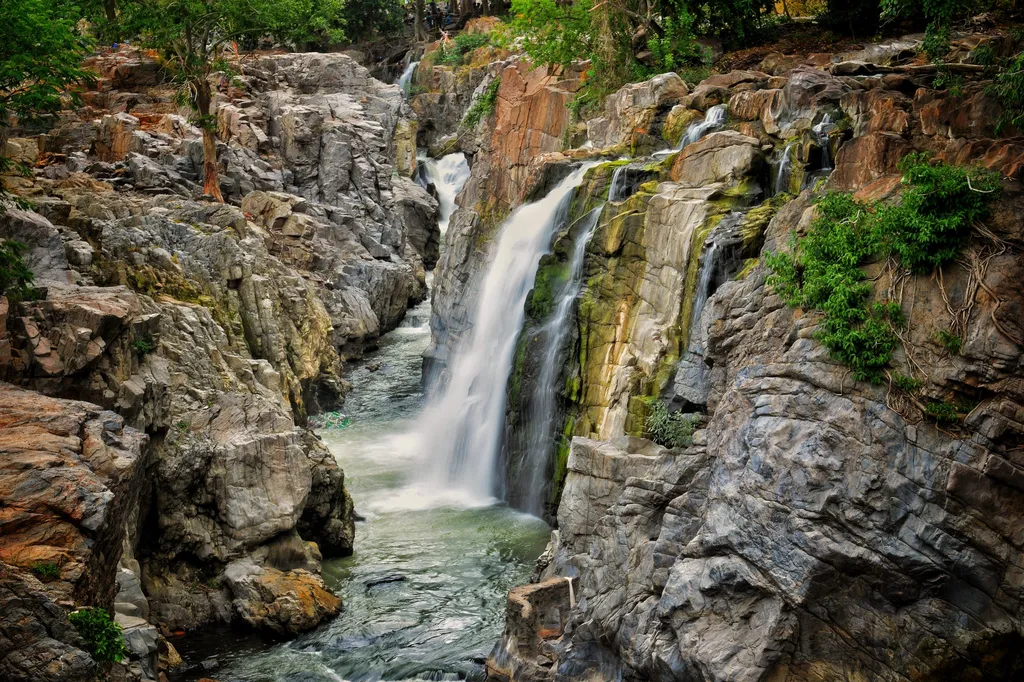 Location: Dharmapuri
Distance from Bangalore: 126 km
Popular activities: Trekking, Coracle Rides, Nature Walks etc
Hogenakkal Falls surely tops the list if you are in search of waterfalls near Bangalore within 200 km. In fact this waterfall is ever below 150km from Bangalore. Hogenakkal Falls also known as the Marikottayam in Tamil is one of the awe-inspiring waterfalls near Bangalore. The literal meaning of Hogenakkal is Smokey Rocks. The waterfall plunges from a height and gushes into the stones giving an illusion of smoke coming out of the rocks. The heavy flow of this waterfall cascades to the River Kaveri. Due to the mesmerizing view of this waterfall, this is often compared to the Great Niagara Falls even though it is much smaller in comparison.
This waterfall is basically a cluster of multiple waterfalls, some of them ranging as high as 65 feet. It is also believed that the water of this waterfall has medicinal properties in it because of several medicinal herbs that are found in its way. The location is good for trekking activities. You can also enjoy the coracle boat rides here which is an interesting activity.
Read More: HOGENAKKAL FALLS FROM BANGALORE DAY TRIP, DISTANCE, LOCATION, TIMINGS
Shivanasamudra Falls
Location: Mandya
Distance from Bangalore: 140 kms via NH 275
Popular activities: Sightseeing, Picnic, and Coracle Rides
Shivanasamudra or Sivasamudram Waterfall is known as the Shiva's Sea. The Shivasamudra Island divides the Kaveri River into two waterfalls namely the Gaganachukki waterfall and Bharachukki waterfall. These two waterfalls are jointly known as the Shivanasamudra Falls. The Gaganachukki waterfall is the first one that cascades from a high cliff into the rocky bed. Later comes the Bharachukki waterfall. The view that you are going to encounter on your way towards the falls will be etched in your memory forever. Furthermore the mesmerizing viewpoint of the waterfall will be an added bonus with the waterfall duo.
Other than the waterfall the place also has some nearby spots for sightseeing like some ancient Hoysala Temples and river beach at Talakadu. This spot is also a great picnic spot. However, keep in mind that swimming in the water here is strictly prohibited.
Read More: NANDI HILLS BANGALORE TIMINGS, DISTANCE, HOTELS, TICKET PRICE
Kaigal Falls
Location: Kaigal
Distance from Bangalore: 120 km via NH 75
Popular activities: Picnic, Sightseeing, Swimming, and Bird Watching
The Kaigal Waterfall inside the Koundinya Wildlife Sanctuary is a beautiful waterfall. Located on the Palamaner Kuppam Highway, this waterfall is divided into three parts. The flow of water in this waterfall is constant irrespective of the season. This perennial waterfall falls from an elevation of 40 feet all through the year. But for obvious reasons like any other waterfall, the Kaigal Falls also looks its best during the monsoon season. The increased force in water and the fuller water flow in large volume are mesmerizing to look at.
However, locally the waterfall is known as the Dumkurallu Waterfall. The name Dumukurallu came from the sound made by the waterfall which is like the falling of stones from the sky. This place is also a popular religious site because of the presence of a Shivalinga here. Especially during the time of Shiva ratri a lot of devotees visit this place to offer their prayer. Below this waterfall you can find a large pond. For nature lovers this is an ideal spot as they can get glimpses of a variety of birds and animals here.
Read More: DOGS CAFE IN BANGALORE | PET CAFE IN BANGALORE
Kalyan Revu Waterfall
Location: Palamaner
Distance from Bangalore: 123 km
Popular activities: Picnic, Spotting Wildlife, Bird watching, Photography etc
Another waterfall that is located inside the Koundinya Wildlife Sanctuary is the Kalyan Revu Waterfall. Locally known as the Kalyan Drive Falls, this waterfall is a perfect spot for nature lovers. Apart from that you can also enjoy casual day outs and picnics at this location. If you have an eye for picture worthy locations, then do not forget to bring in your cameras. The beauty of this location is going to be a treat to your eyes. You can also observe the exotic flora and fauna of the Wildlife Sanctuary. If you are lucky enough you will be able to spot many migratory birds at this location as well, so keep your eyes open.
Balmuri and Edmuri Waterfalls
Location: Srirangapatna
Distance from Bangalore: 138 km via Mysore Road
Popular activities: Swimming, Picnic, Bird Watching, Photography etc
Located near Mysore, the City of Palaces, the Balmuri and Edmuri are two man made waterfalls. On the Krishna Raja Sagara Main Road, these two falls are one of the most popular locations for the tourists. Surrounded by sprawling greenery, the waterfalls look perfect. What is most interesting about these falls is that, even though they look like waterfalls they aren't really that. They are manmade check dams made on the River Kaveri. The Balmuri Falls plunges from a height of 6 feet and creates a beautiful waterfall-like effect. Balmuri is even a really popular spot for shooting of films as well. Out of the two waterfalls, Balmuri is more popular as a tourist site.
The Edmuri Falls is only 500 km away from the Balmuri Falls. Both the falls are very modest. The flow of water is even lesser during the drier seasons. However that makes these two locations ideal spots for swimming and as water playing sites. The site is safe to enjoy and is most visited during the winter times. The location also has a popular Ganesha Temple nearby that you can visit as well.
Read More: BEST DURGA PUJA IN BANGALORE
Chunchanakatte Falls
Location: Krishnarajanagar, Mysore
Distance from Bangalore: 205 km via NH 75
Popular activities: Hiking, Bird watching etc
This spectacular waterfall is about 60 feet tall. The volume of water of this waterfall makes it even more popular. This water splits into two parts and again joins at the bottom. Cascading from the River Kaveri, this waterfall is 350 feet in width. According to popular myths, Lord Rama had stayed over at this place during his exile after a request by tribal couple Chuncha and Chunchi. It is also believed that Devi Sita has taken a holy bath at this waterfall. At present also the same location is blended with turmeric and other sacred powders used in Pujas.
This beautiful location also has the Lord Kodanda Rama Temple nearby which is situated just beside the waterfall. At present a hydraulic power station is also installed at this place. The forests around this waterfall are perfect for hiking and bird watching. Overall this site is one of the popular sites that you can visit from Bangalore.
Now finally you have so many options for a visit to waterfalls. These waterfalls near Bangalore are perfect for a day out or short trip. They are easily accessible and you just can't miss out on the beauty of these falls. Moreover the waterfalls are one of the most popular destinations that you can visit from Bangalore. I can say you are not going to regret whenever you plan to visit these best waterfalls near Bangalore. Have you visited any of the waterfalls mentioned in this list? Then do let me know. And also let me know which one from this list is in your wishlist next. I would love to know.