Durga Puja is an emotion for the Bengalis. Nothing can be more heartbreaking than not showing up for Durga puja. After all the festival comes once a year and the Bengalis wait for this with all their heart. But not everyone gets to return home during Durga Puja. However if you are in Bangalore, I am sure you must be searching for Durga Pujas in Bangalore near me. People living in Bangalore now don't have to worry if you are unable to come down to Kolkata for the biggest festival this year. I will have you covered in this article. In this article you will get all the information you need about the best Durga Puja in Bangalore.
Durga Puja in Bangalore has gained momentum during the last few years. The Bengalis staying there put their heart and soul in making some of the biggest Durga Puja in Bangalore. Here is a list of Durga Puja in Bangalore for you to explore this year. So keep reading.
15 Best Durga Puja in Bangalore 2023
Sarathi Socio Cultural Trust, Koramangala Durga Puja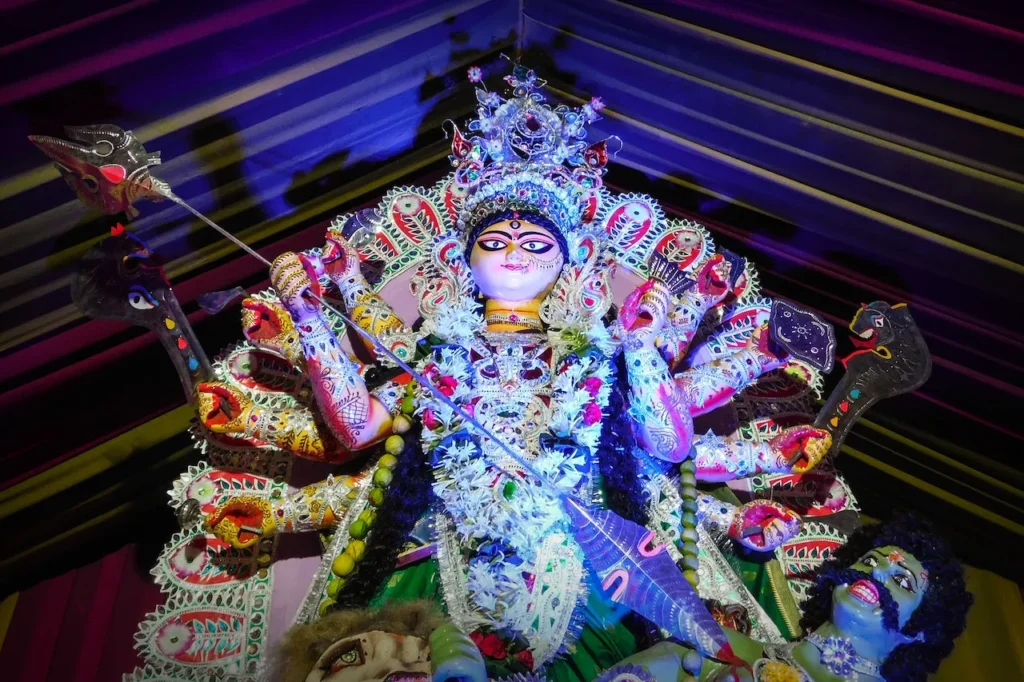 Sarathi Socio Cultural Trust address: Mangala Kalyana Mantapa Lawn, 20th Main Road, KHB Colony, 7th Block, Koramangala, Bangalore
The Durga Puja of Sarathi Socio Cultural Trust is a beautiful blend of Durga Puja with various social and cultural events. They have been operating since 2004. One of the highlight points of this puja is the 5 day long cultural programme known as Sammad. Many artists from Kolkata and Bengal also come and perform here. Alongside that, you will also get a lot of food stalls there that you can enjoy. This is one of the popular Durga puja in Bangalore that you must visit.
Read More: BEST BIRTHDAY CELEBRATION PLACES IN BANGALORE
BARSHA, Sarjapur Road Durga Puja
BARSHA address: VMR9+973 Barsha Durga Puja Ground, off, Sarjapur Road, opp. TCIS, HSR Extension, Haralur, Bangaluru, Karnataka 560068
While looking for popular Durga Pujas in Bangalore, you can't miss out the Bengali Association for the residents of Sarjapur and HSR Area (BARSHA) Durga Puja. The area of this puja is huge and also this puja records a huge footfall every year. The interesting part is they get the traditional drummers or Dhakis all the way from Bengal to maintain the authenticity and the culture. The stage and the pandal are also made by artists from Bengal. The ambience here is very lively with more than 40 stalls selling food and other items. The puja is celebrated here with much vigour. Prasad is served daily on all days of the puja to the devotees as well. If you want to enjoy a slice of Bengal while being away from there, you must visit this puja in Bangalore.
Electronic City Cultural Association (EECA) Durga Puja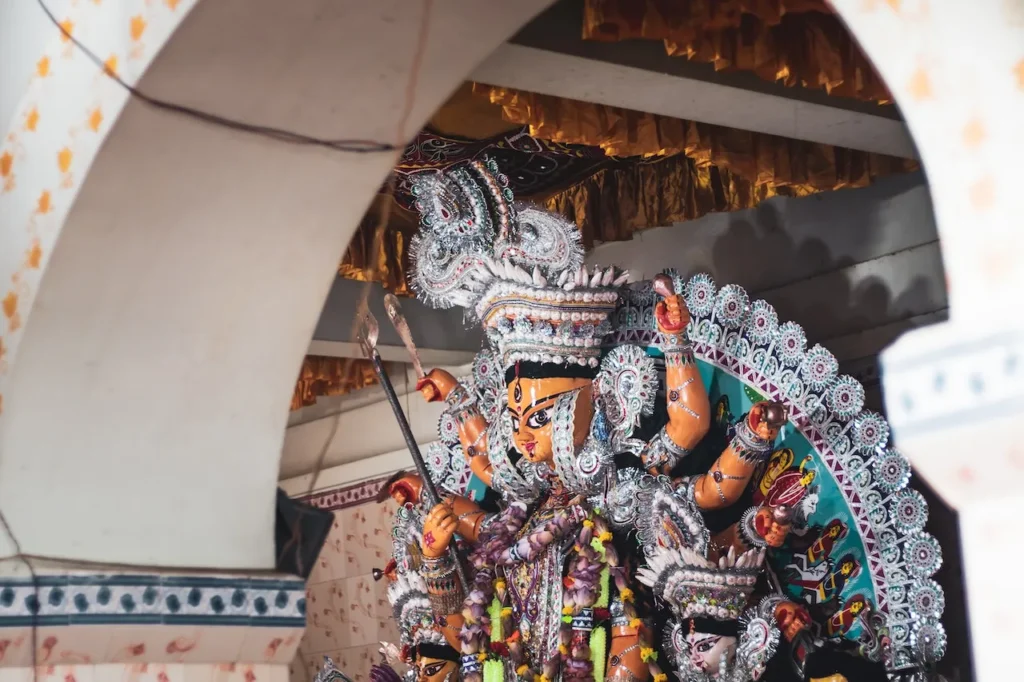 Electronic City Cultural Association address: White Feather Convention Centre, Hosur Road, Electronic City, Bangalore
This is one of a kind of Air Conditioned Durga Puja Pandal in Bangalore. They have food stalls set up here that sell amazingly delicious Kolkata style delicacies. Along with a flea market that has a gorgeous collection of items, they also arrange various cultural programmes. One of the major attractions of this puja is the Aaratis performed here during the evenings. A lot of visitors visit the puja premise just to witness that divine sight. The Electronic City Durga Puja has won many prestigious awards and Sharad Samman Events in Bangalore. So you need to check out this Durga Puja in Bangalore for sure.
Read More: PLACES IN BANGALORE TO VISIT | BANGALORE TOURIST PLACES
Jayamahal Sarbajanin Durga Puja
Jayamahal Sarbajanin Durga Puja address: Ladies Club Premises, near Jayamahal Park, Jayamahal, Bangalore
This is one of the oldest Durga Pujas that you can find in Bangalore which is almost in its 68th year. One of the happening Durga Puja in Bangalore, this puja will not let you miss your hometown at all. From popular singers to band performances, you will get everything here. Furthermore, you can also dance to the tunes of music on the Dandiya nIght on Navami. The puja starts during the morning and later in the day Bhog Prasad is distributed. You can also gorge on some delicious Kolkata style Mutton Kosha along with Kolkata style Biriyani here. It will be an amazing experience to visit this Durga puja, so do not miss out on this one.
Bengali in Bangalore (BINB), Bannerghatta Main Road Durga Puja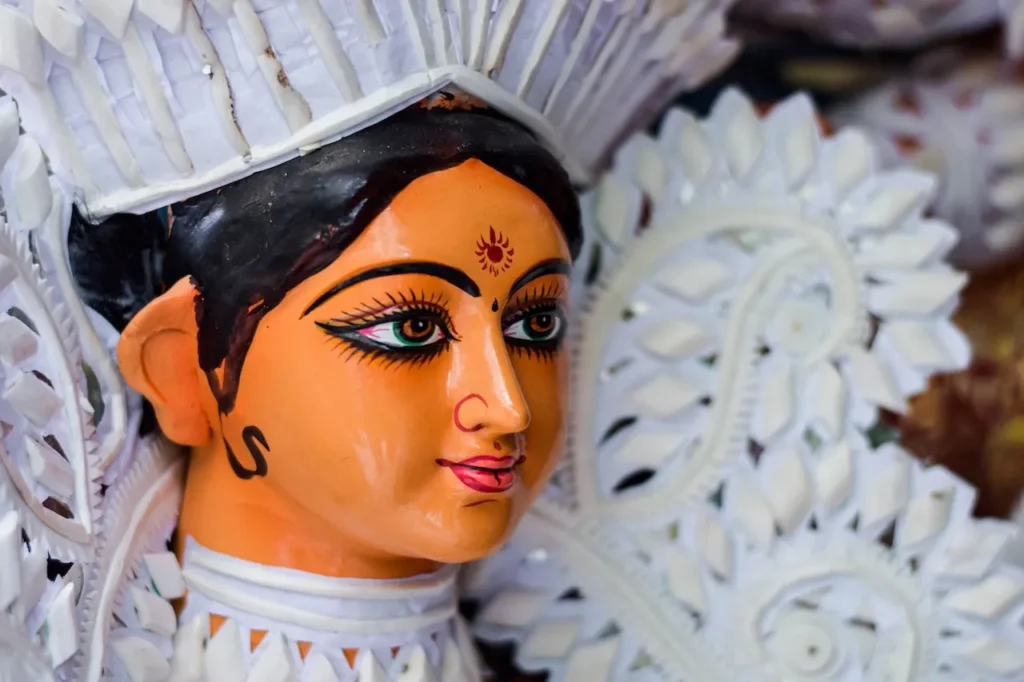 Bengali in Bangalore address: Kalyani Kala Mandir, Bannerghatta Main Road, Bangalore
While talking about grand Durga Pujas in Bangalore, we must mention this puja. This puja has been shifted to a new location in 2022.
Read More: KARYASIDDHI HANUMAN TEMPLE IN BANGALORE
Begur Bengali Cultural Association, Akshaya Nagar Durga Puja
Begur Bengali Association address: BBCA Durga Puja Ground, Akshaya Nagar, Bangalore
This is one of the newest Durga puja in Bangalore that started last year. The Begur Bengali Cultural Association (BBCA) started this puja to stay connected to the roots of Bengal and its rich cultural heritage. Along with entertaining cultural programmes they also invite Dhaki from Bengal to stay as close to Bengal as possible.
Amader Pujo, Kanakpura Road Bengali Association Durga Puja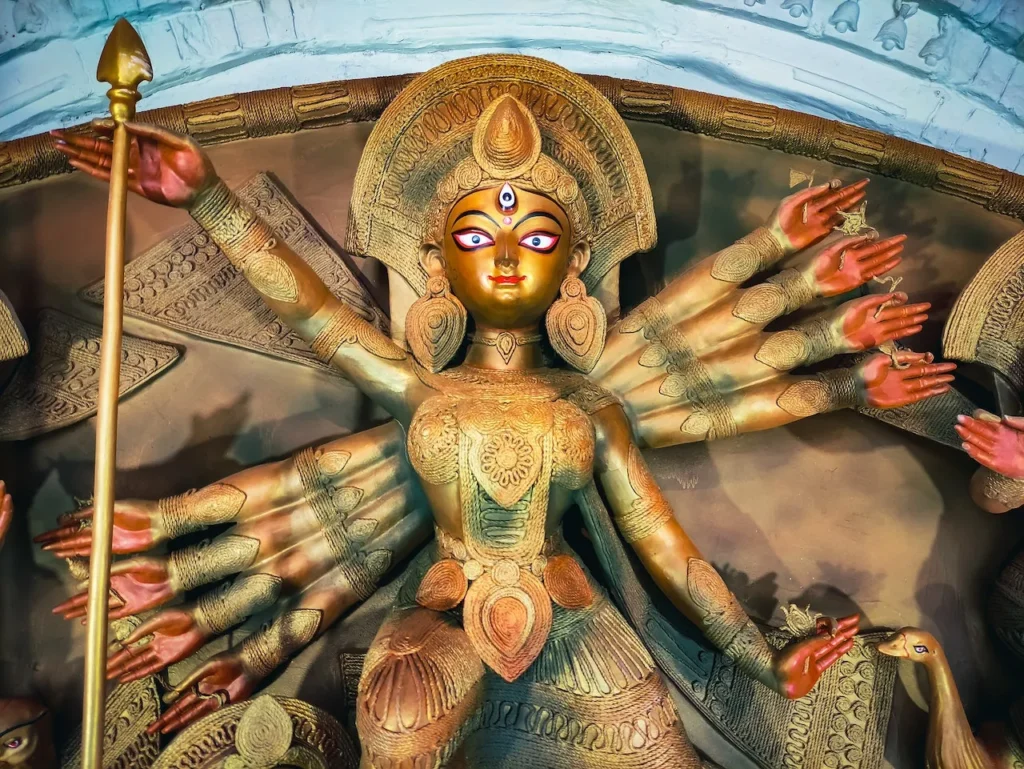 Amader Pujo Kanakapura Road Bengali Association address: Elaan Convention Centre, 46, JP 7th Phase, Opposite Brigade Millenium, Bangalore
This Durga Puja in Bangalore is organized by the Kanakpura Road Bengali Association (KARBA). They welcome the Goddess for 5 days and it's a grand affair with the Sandhya Aaratis and morning puja. Other events like the Dandiya night are also organized by them. Special mention should be made for their Maha Sashthi Dhunuchi Naach and the Dandiya Dance program on Navami. They also organize various cultural programmes in the evening that include music performances and shows by live bands and talented artists. The Bisajan Yatra on the day of Dashami is another special event. Do try visiting this Durga puja this year and you are going to love it for sure.
Read More: HOGENAKKAL FALLS FROM BANGALORE DAY TRIP, DISTANCE, LOCATION, TIMINGS
South Bangalore Cultural Association, Meenakshi Mall Durga Puja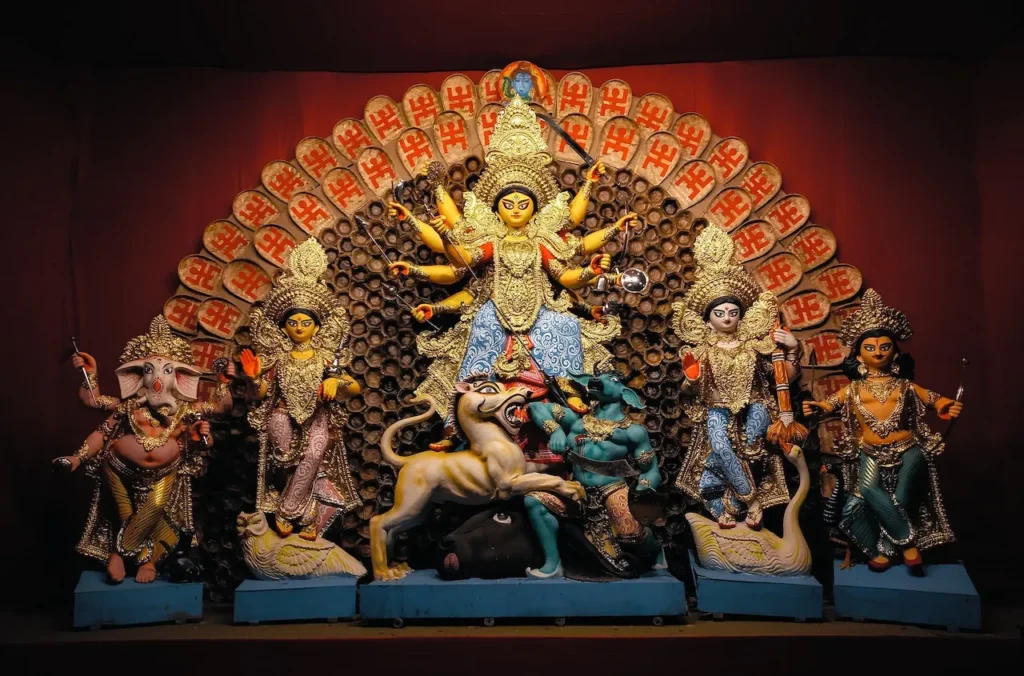 South Bangalore Cultural Association address: Ramalingeshwara Cave Temple, Hulimavu, near Meenakshi Mall, Bangalore
This puja has already crossed 25 glorious years of celebrations. They are one of the popular puja that you will find in Bangalore. They organize a special food festival during the puja days that attracts a lot of visitors here.
North Bangalore Cultural Samithi, Nandini Layout Durga Puja
North Bangalore Cultural Samithi address: Bangalore Kali Bari, 8, Nandini Layout, Bangalore
This puja is one of the happening Durga Pujas in Bangalore. The association is 43 year old and the puja is organized inside the Kali Temple. Along with events like Anandamela, Dhunuchi naach, cultural programmes and live performances by bands, the puja days are like a grand carnival. They have previously won titles like "Best Bhog and Prasad" and "Best Ambience for Mid Size Puja". You must try to visit this puja pandal this year to get into the festive groove.
Read More: NANDI HILLS BANGALORE TIMINGS, DISTANCE, HOTELS, TICKET PRICE
R T Nagar Sarbajanin Durga Puja Samiti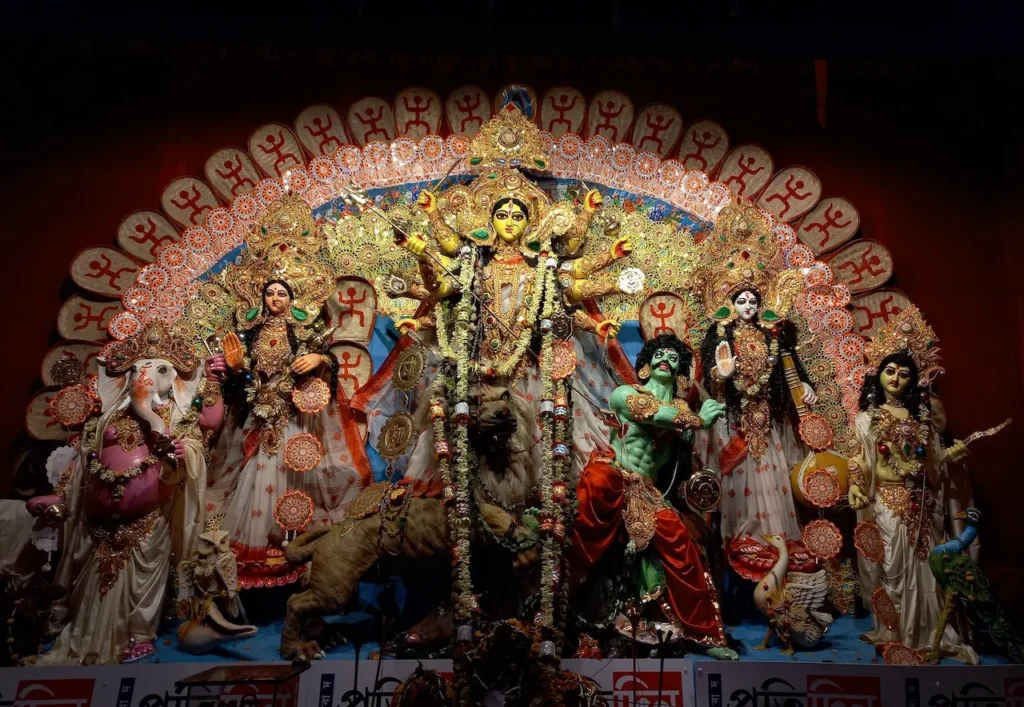 R T Nagar Sarbajanin Durga Puja Samiti address: Palace Grounds, Princess Green, Gate 9, Jayamahal Main Road, Bangalore
RT Nagar Sarbojanin Durga Puja maintains the rich culture and traditions of Bengal in their celebrations. They also believe in making the celebration environment friendly. You can enjoy different performances, traditional rituals and customs, dhunuchi naach and dandiya among other things here.
Socio Cultural Association, Indira Nagar Durga Puja
Socio Cultural Association address: Sishu Griha Montessori and High School, 3 HAL, 3rd Stage, Bhoomi Reddy Colony, New Thippasandra , Bangalore
This puja in Bangalore has already crossed the mark of 50 years and is one of the loved and most visited pandals that you can find in Bangalore. With performances by talented singers and various food stalls offering delicious food, this Bangalore durga puja is a really popular puja .
The Bengalee Association, Ulsoor Durga Puja
The Bengalee Association address: Bengalee Association Auditorium, 1A, Assaye Road, near Ulsoor Lake, Bangalore
This association was founded in 1959 with the aim to promote and propagate the rich culture and traditions of Bengal. The Durga Puja here is also a way to get together and bask into the glory of rich traditional values and rituals. Other than the puja they also organize different cultural events ranging from different competitions, dance performances, musical shows, workshops etc. Obviously the food you will get here is another key point of this Durga Puja. You can enjoy the delicious Bhog here every day from Saptami. So do visit this puja this year if you are in Bangalore.
Whitefield Cultural Association (WCA), Whitefield Durga Puja
Whitefield Cultural Association address: Inner Circle Ground, Dodsworth Layout, Whitefield, Bangalore
Organized by the Whitefield Cultural Association, this Durga puja is another popular Puja in Bangalore. The 5 days of puja is celebrated with lots of fun and activities like Anandamela, Dance performances and other musical programmes. Furthermore, you will get to taste some authentic Bengali food here as well. The Bhog is delicious here with Khichuri, Labda and Chutney which you must try here. They even organise events like Dhunuchi Naach performed by women. The ambience is a lot fair like with slides and swings to enjoy.
Sarjapur Outer Ring Road Bengali Association (SORRBA), Sarjapur Road Durga Puja
Sarjapur Outer Ring Road Bengali Association (SORRBA) address: BBMP Ground, 6, Kadubeesanahalli Road, Doddakannalli, Bangalore
This Durga Puja is organized by the Sarjapur Outer Ring Road Bengali Association or SORRBA. Puja is celebrated here with power packed programmes for 6 days at stretch. Ranging from performances from live bands, to live drummers, along with other Cultural programmes and fashion shows, the ambience here is simply LIT. Many renowned and popular Bengali artists perform here. And of course how can we miss the variety of food options that you can relish here. If you want the feel of Kolkata Durga Puja sitting in Bangalore, this is the place for you. so surely make a visit to this Durga Puja this year.
Bongodhara Cultural Association, Bhartiya City Durga Puja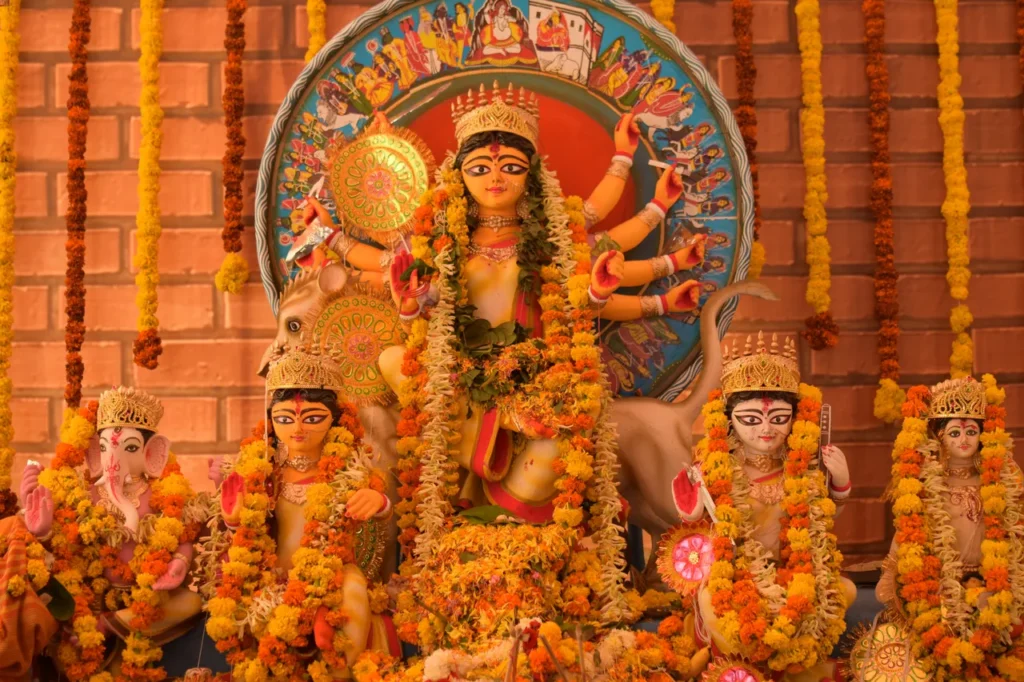 Bongodhara Cultural Association address: Bhartiya City, Thanisandra Main Road, Bangalore
Bongodhara Cultural Association Durga puja in Bangalore is known for their artistic themed pandals. They put in a lot of thought into the making of the whole set up. Various cultural programmes are also arranged by them. Artists from Bengal come here and perform. Other than that the puja here is a grand 5 day affair with different rituals, ceremonies and aratis. Do check out this puja this year.
Some more popular Durga Pujas in Bangalore:
Kolaj Durga puja
Address: Sri Krishna Temple Kalyan Mandapa, 1st Cross, 5th Block, near Jyoti Nivas College, Koramangala, Bangalore
Electronic city Kali Bari Durga Puja
Address: Kali Bari, Kapila Block, Sai Shakthi Layout, Betttadasanapura, Electronic City, Phase 1 , Bangalore
Utsav Bangalore
Address: Mulki Sunder Ram Shetty Sabhangana, 9th Main Road, Vijaya Bank Layout, Bangalore
Harmony Cultural and Welfare Association
Address: Harshodaya Convention Centre, 19th Cross, MCECHS Layout, Near Thanisandra Main Road, Bangalore
Aikatan Durgotsav
Address: Subhash Bhavan Ground, Ideal Homes, RR Nagar, Bangalore
Prabaasee Association
Address: The Canara Union Building No 42, 8th Main Road, Mount Layout, Maruthi Extension Vinayaka Layout, Malleswaram, Bangalore
Agrani Socio Cultural Association
Address: Sri Lakhsmi Narayana and Ashtalakshmi Temple, Near Ittina Neela Apartments, Electronic City, Bangalore
Bengaluru Durga Puja Committee (BDPC)
Address: Manpho Convention Centre, Beside Manyata Tech Park, Bangalore
Poorva Bangalore Cultural Association
Address: Spark Neighbourhood Park 9/1, Alpine Eco Road, Ferns City, Doddanekundi, Bangalore
Prestige Shantiniketan Durga Puja Samiti
Address: Prestige Shantiniketan Whitefield, Bangalore
These are my picks for the best Durga pujas in Bangalore. These durga pujas happen on a grand scale and it would be an amazing experience for you if you visit these puja pandals this year.
You are surely going to have a great time this year exploring some of the biggest Durga Puja in Bangalore. Make a list of all the places that you wish to cover during the days of puja. The Durga Pujas in Bangalore are a bit sparsely located and you will have to travel from one destination to another. In case you are planning for pandal hopping, you need to take care of the transportation. It's better to travel by your personal vehicle or a rented car. You can take a cab as well to visit these pandals but that can be a bit of a hassle. Nevertheless, distance cannot dampen your festive spirit. So start planning your Durga Puja days in advance, because only a few days are left for the festival.