Popularly referred to as the "Niagara Falls of India", Hogenakkal Falls is one of the nearest destinations in Tamil Nadu that you need to visit at least once. The pristine beauty of this waterfall would be an ideal thing to enjoy on a short break from your regular monotonous life. What is the best thing about this waterfall is it is easily accessible and very close from Bangalore, and therefore this is also one of the popular weekend destinations for the tourists. If you are searching for destinations for your one day outing from Bangalore this place should surely be in your list. So read this article to know everything and plan your trip to this gorgeous waterfall.
Hogenakkal Falls location:
Border between the Dharmapuri district of Tamil Nadu and Chamarajanagar district of Karnataka.
Hogenakkal Falls distance from Bangalore: 146 km
Hogenakkal falls distance from others location:
The distance of Hogenakkal from Mysore is 180 km, the distance from Coimbatore is 217 km, from Salem it is 85 km, from Chennai it is 345 km. It takes a 3 hours long drive from Bangalore and an 8 hour drive from Chennai to reach Hogenakkal.
Hogenakkal Falls timings: 8 am to 12:05 pm and 2 pm to 6 pm on all days.
Best time to visit Hogenakkal Falls: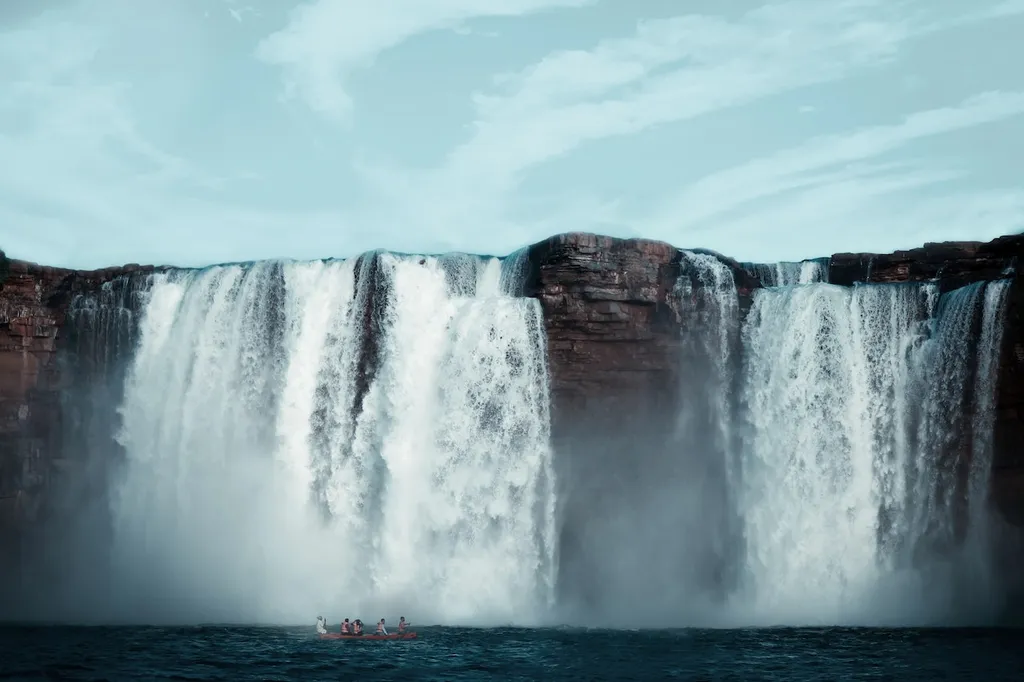 Kaveri, being a perennial river, this waterfall can be visited any time of the year. However, ideally the best time is from October to February. The weather is most pleasant during this time. Also after the monsoon season the waterfall seems fuller and hence looks even more spectacular. The current in the water is also a bit on the calmer side which makes it perfect for boat rides or even bathing.
Even though the waterfall looks its best during the monsoon, it is advisable to not visit during the fuller months of monsoon like June to September. The sloppy terrain becomes slippery at that time and it is a bit risky to travel to such destinations during the rainy season. Also certain activities like boating and bathing in the water might be restricted during this time as well because of the strong currents and high water levels. So plan your trip accordingly.
Read More: NANDI HILLS BANGALORE TIMINGS, DISTANCE, HOTELS, TICKET PRICE
How to reach Hogenakkal Falls:
How to reach Hogenakkal Falls by road:
The area of Hogenakkal Falls is very well connected by roadways, so you can reach there very easily. You can drive the whole way yourself or you can travel by rented cars if you are travelling from nearby cities. There are state buses as well that ply on the route from Karnataka and Tamil Nadu, so that is also a good option.
How to reach Hogenakkal Falls by train:
However, if you wish to travel by train, then the closest railway station is Dharmapuri railway station and that is 45 km away from the waterfall. Dharmapuri is well connected to major cities like Chennai and Bangalore. From Dharmapuri station you will have to take auto rickshaws or cabs to reach the location.
How to reach Hogenakkal Falls by flight:
While travelling from other cities you can avail the option of flights as well. Kempegowda International Airport is the closest airport. The airport is 150 km away and you will get both cabs and buses from the airport to reach Hogenakkal.
About Hogenakkal Falls:
This majestic waterfall is much smaller in terms of its strength and size but the view and grandeur of this fall makes it comparable to the great Niagara Falls. The waterfall is formed at the rocky terrain where the River Kaveri or Cauvery splits on the border of the states of Karnataka and Tamil Nadu. There are individual streams ranging from 15 feet to 65 feet that come together to form the Hogenakkal Falls.
Coming to the name, the word Hogenakkal came from 2 Kannada words, "Hoge" which means smoke and "Kal" which means Rock. The name has been given because the water here falls on the rock bed and it looks as if smoke is coming out of the rocks. The rocks here are carbonatite rocks which are rocks with more carbonate properties in it. Also these rocks are considered as one of the oldest rocks in the world. Furthermore, there is a good amount of medicinal plants and herbs here. These plants club with the water to make the water rich in medicinal properties that can cure skin diseases and other ailments. A lot of people visit the Hogenakkal waterfall to take a bath in the water here just for this reason. It is also believed that drinking this water can also be beneficial to health.
Read More: PLACES IN BANGALORE TO VISIT | BANGALORE TOURIST PLACES
Things to do in Hogenakkal Falls:
Coracle Boat Rides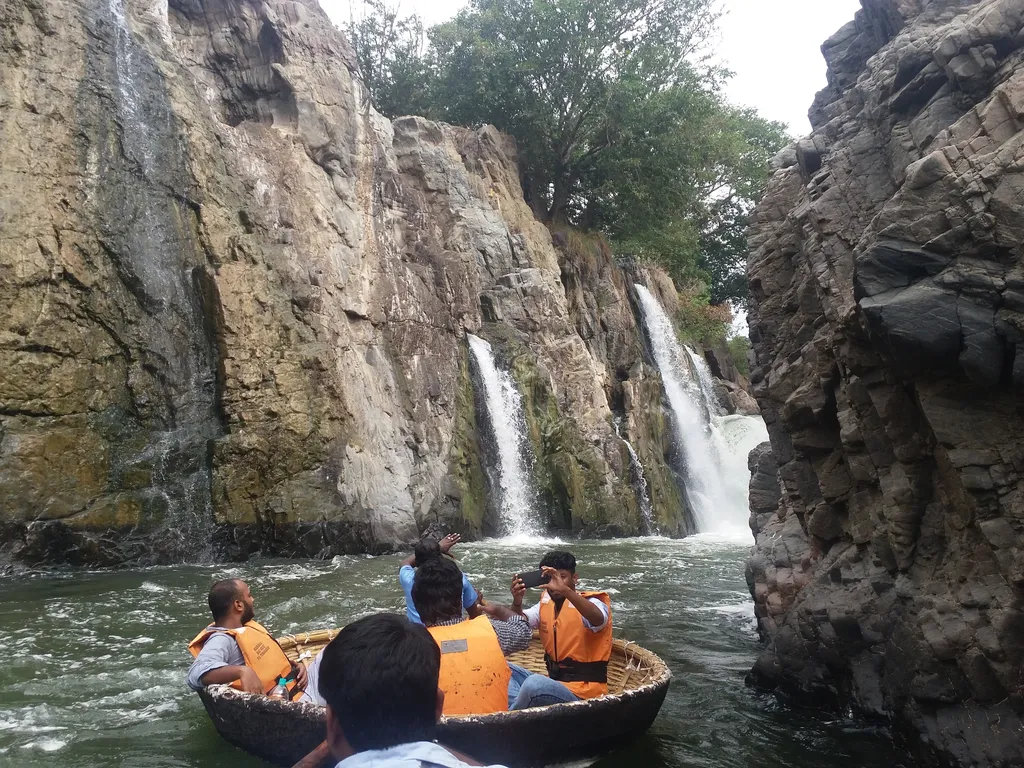 Coracles are round shaped traditional baskets that are coated with plastic or buffalo hide in such a way that it looks like a round boat. These are one of the most popular forms of communication here. One coracle can carry up to 7 people including the guide. The cost of a coracle ride is near about Rs. 900 for 6 people. However, if you are less than 6 people in number you can wait for other people to join and then you can enjoy the shared ride.
Another option is to have the full boat to yourself, but in that case you will have to pay the full price of the boat ride. If you are a couple then you will have to pay Rs. 450 per head if you wish to not share your ride.It is possible to negotiate a little with the coracle owners about the pricing, if you are travelling in the regular season. But during the peak season, price negotiations might not work out. There is a government rule that the guides cannot charge more than Rs.110 per person for the boat ride.
Nevertheless the coracle rides are totally worth it when you are travelling to Hogenakkal, as you would get a closer view of this pristine waterfall. Just sitting on the coracle and listening to the water gushing is an experience in itself. The surrounding is majestic with the winds rushing through and cold water splashing.
Coracle rides function till 5 pm in the evening. It is always advisable to reach a little early so that you can enjoy the ride well. If you start after 4pm then the coracle owner might speed up the whole process before it gets dark. Try to start the ride during the afternoon to enjoy the experience to the fullest.
Trekking
For trekking this area is just beautiful and adventurous. The rocky trails are perfect for the adventure lovers to enjoy. The surrounding here is way too pleasant and you can even go on a walking spree along the rocky landscapes.
Enjoy the nature
If you are in a place like this, you can't help but admire the beauty around. The cascading waterfall, the gushing sound of the water and the water splashing makes the ambience heavenly. You will find beauty at every corner you look at. The rocky terrain just adds on to the beauty of the surrounding. The spot is perfect to just sit and relax for a brief time and you will forget about all the worries of life during that period. Take out your cameras and mobile phones, and try to capture the gorgeousness through your lens so that it stays with you forever.
Picnic
A spot like this is made for picnics with your close ones. Just pack the food and other necessary items you need and have a great time of enjoyment.
Enjoy the local food and fried fish:
This spot is also known for the fishing activities and you will get a good number of options for fishes here that the fishermen sell. The fishes are very fresh and if you are a fish lover then you can buy some from them and go to the stall nearby and they will fry them for you. Trust me when I say this, buying freshly caught fishes directly from a location like this and then eating the piping hot fried fishes in a stunning location like this will remain as a lifetime memory for you. You can also try the light snacks and other things available in the nearby stall. However if you have some food restrictions then it would be advisable to carry your own food and water.
Massages
Yes, this spot is known for the local masseurs who offer a unique spa like massages. So if you are too tired and you wish to unwind you can opt for these massages. The massages here are quite popular by the way.
Hogenakkal Falls nearby tourist attractions:
Melagiri Hills
Melagiri Hills is at the juncture where the Western Ghats and the Eastern Ghats meet. The hills are surrounded by mountain ranges on all sides that make it one of the most elegant locations to look at. The serenity of the hilly region and the panoramic view of the landscape are beautiful beyond words. Alongside, the hilly terrains are also perfect trekking trails and it is one of the most loved spots for trekking.
Mettur Dam
Built across the River Kaveri or Cauvery, the Mettur Dam is a huge man made construction that spreads over 1700 metres. The Dam is 79 km away from Hogenakkal. It was built in 1943 and the design is an example of very fine engineering. Apart from being a popular spot for the tourists, this dam also provides irrigation facilities to 2,71,000 acres of land for agriculture purposes. The view from here is splendid and you must visit this place.
Crocodile Park
The Crocodile Park is another destination near Hogenakkal Falls that you can visit. This Crocodile Rehabilitation Centre is only 900 metres away from the waterfall. You can observe the crocodiles here in their natural habitat.
Pennagaram Village
Located at 20 km distance from Hogenakkal, this village is a perfect spot to get an insight about the culture and lifestyle of the local people. What makes this village a good spot for the tourists are giant terracotta statues that are known as the Aiyanars. The village also attracts tourists for the weekly fair that is organized here every month.
Hanuman Teertham Temple
Hanuman Teertham Temple is one of the most revered shrines in Tamil Nadu. It is believed that after Lord Rama's victory against Ravana he worshipped Lord Shiva to get rid of the guilt of killing so many lives. He needed some water which he had asked Lord Hanuman to bring. But as Hanuman ji could not reach at the correct time, Lord Rama pointed his arrow on a slope. That spot became the Rama Teertham. Later, when Lord Hanuman came to know that the puja was over he threw a vessel full of Ganga water which fell 11 km away approximately and therefore the place is known as Hanuman Teertham.
Hanging Bridge
You can spot a hanging bridge just near the falls that looks like a dream. The whole view just adds to the beauty of this bridge. This is an ideal spot for some beautiful photographs.
Resorts near Hogenakkal Falls:
You will get some resorts near Hogenakkal Falls like GTR Royal Palace Cottage Hogenakkal, A1 VIP Point Cottage Hogenakkal, Moonwalk Resorts, Hotel PKP Grand, Hotel Tamil Nadu etc.
Other than these you will also get some options of hotels and resorts in Dharmapuri. You can easily stay there and make a trip to Hogenakkal as well.
Things to remember before visiting Hogenakkal Falls:
You should always check the weather conditions before visiting a place like this. First of all it will be safe that way and second in extreme weather conditions you would be unable to enjoy the activities and view there.
Do carry some food and snacks with you that you can munch upon if you feel hungry.
To remain on the safe sides you must wear a life jacket during your coracle rides or if you opt for swimming. There are specially demarcated areas for swimming here.
If you are thinking of hiring a car to drive from another state, have knowledge about the amount you need to pay for the permit to enter Tamil Nadu. A lot of times the drivers charge a lot more than the actual amount.
Lockers are available at the Hogenakkal Falls if you want to keep your valuables. But it's better to carry your belongings with yourself. It's safer that way.
Before eating any local food from any stall do look after the hygiene level and then eat.
Do not go to secluded spots and be careful with the slopes there.
Try to wrap up your day trip until there is daylight. It would not be safe after it gets dark.
This is one of the best waterfalls near Bangalore that you can surely visit. You can easily start your journey early in the morning to reach Hogenakkal and then spend the day there while enjoying the activities. Afterwards, you can return in the evening. This can be a good option for a day out on the weekend. So plan your visit to this waterfall near Bangalore and enjoy your time out from the regular life. Do let me know if this article was helpful for you in planning your trip to the Hogenakkal Falls.