Bangalore, the city that is always busy, also knows how to celebrate. And when it comes to the Best Christmas celebration in Bangalore then you can actually have a lot to look forward to. Christmas time is special. Just when you feel energized and happy, when the year is almost on the verge of ending in a few days, everyone remains in festive spirit.
Furthermore everyone sorts of get into the festive mode altogether. And what adds up to all of that is the nip in the air. Correct me if I am wrong, we all feel like living the last few days of the existing year like there is no tomorrow. And what can be better than a fun filled Christmas. So if you are in Bangalore and wondering what activities you should indulge in to enjoy the Christmas celebration in Bangalore, then hold on a bit, and read this article.
Furthermore, it doesn't matter if you are a party person or a quiet person, I have all sorts of options for you. This Christmas eve in Bangalore you have ample options in hand to enjoy. From visiting churches, to roaming around in malls to going out for the best party places, this article will have everything in store for you. So you just need to decide with whom and how you will be celebrating Christmas this year and then move forward with the plan. Keep on reading this article to get all the ideas that I have jotted down for you. I am sure you will find at least one best place to celebrate Christmas in Bangalore from this list for sure. So read up.
Best Christmas celebration in Bangalore
Churches to visit in Bangalore in Christmas
To enjoy the essence and vibe of the best Christmas celebration in Bangalore, you must visit the churches there. Furthermore some of the churches in the city are really old and you will be transported back to the Victorian era.
St. Mark's Cathedral Church
This is one of the oldest churches that you can find in Bangalore. With a long history of over 200 years this church still retains its charm. It is just 1-2 km away from Brigade Road, Commercial Street and MG Road. The location of this church makes it even more popular. During Christmas the church is decorated beautifully. So you can surely visit here to get into the Christmas spirit.
Holy Trinity Church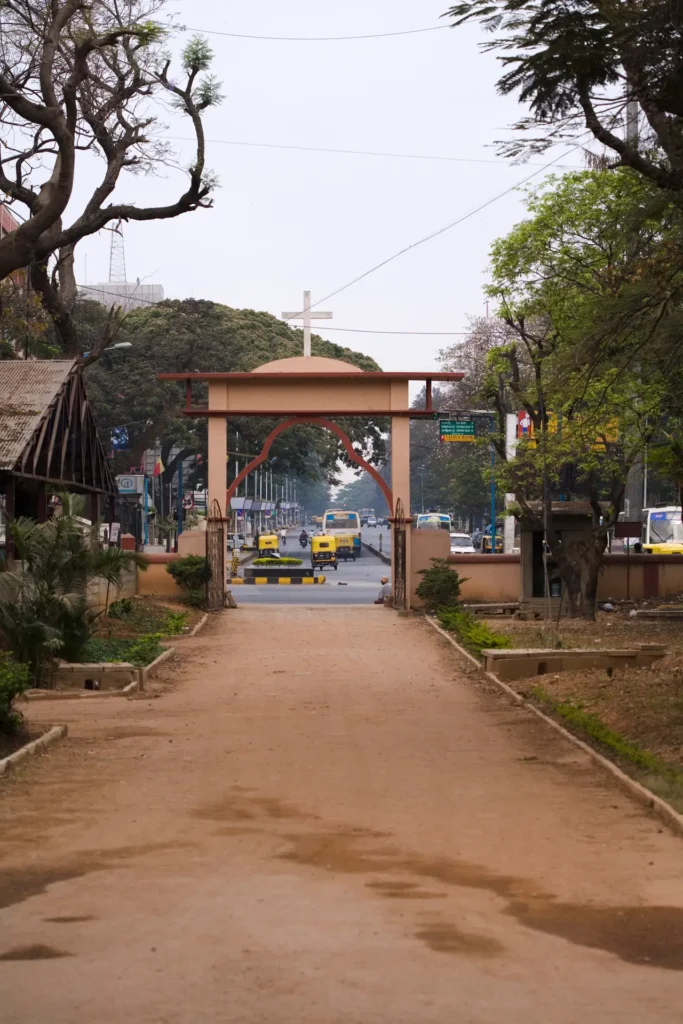 This is yet another church that is very significant as a protestant Church. Also this church is one of the landmarks in the city of Bangalore. Furthermore from 1852 this church is still standing tall in its vigour. The architecture and extravagant stature of this church makes it one of the popular tourist spots as well. Of course Christmas is celebrated here in all its glory. So you can surely visit here to celebrate Christmas eve in Bangalore.
Francis Xavier's Cathedral Church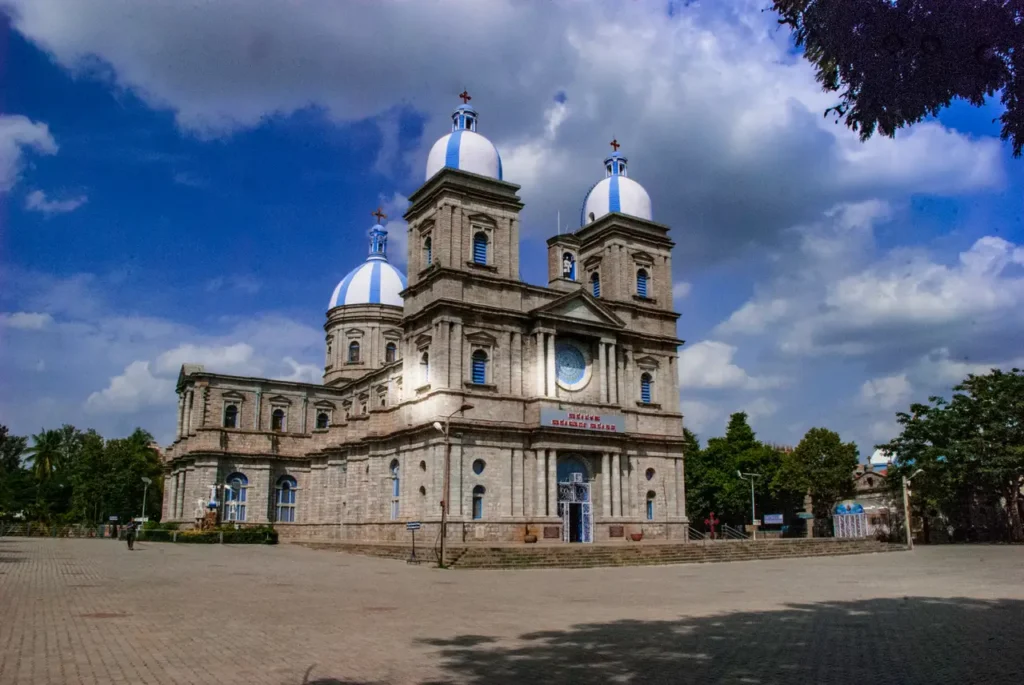 This Roman Catholic Church in Bangalore is another church that you can surely visit this Christmas. It is one of the churches that is the centre of Christmas celebration in Bangalore. Furthermore it hosts a large crowd during Christmas who comes here to get involved in the festivities. You can surely plan a visit to this beautiful looking elegant church this Christmas.
Read More: DOGS CAFE IN BANGALORE | PET CAFE IN BANGALORE
Best party places in Bangalore for Christmas celebration
And how can we not mention places to party while talking about the Christmas celebration in Bangalore. You can enjoy a super happening Christmas party in Bangalore in some of the most amazing pubs in the city.
Toit Brewpub
Location: Indiranagar, 100 Feet Road, Bangalore, Karnataka
Timings: 8:30 am 1 am
Cost for two: Rs. 2500 with alcohol
This is one of the fun and happening places to visit in Bangalore that has the ability to make you sway with its charm. It is a posh place that serves naturally crafted beers. For a quick bite and a lot of fun, you must visit this pub this Christmas. Furthermore the crowd here is really sophisticated as well. They also serve an amazing Italian, American, European and Continental menu that you can choose from along with the choice of your drinks. The ambience is one of the things here that would keep you in groove. With their live band performances the vibe of this place just goes up a notch higher.
Furthermore the classy setup, elegant décor and wooden interior would take away your heart. Don't forget to try some of their most popular items like Mushroom Bites, Cheesy Potato Skins, Chicken Piccata, Grilled Baby Corn and more. It can surely be one of the places to celebrate Christmas eve in Bangalore. So do make a visit here.
The Boozy Griffin Bangalore
Location: 105, 1st A Cross Road, KHB Colony, 5th Block, Koramanagala, Bangalore, Karnataka
Timings: 12 pm to 1 am
Cost for two: Rs. 1900/- with alcohol
If there can be a place where you can enjoy the night dancing your way, then you must consider visiting this place. For people who understand dance as the only form of enjoyment, you all can rejoice now. Finally we have a place that has one of the most gorgeous dance floors to move your body in beats. Furthermore with DJ nights the ambience here becomes even more fun and you won't be able to leave from here early, that's for sure. Also they have occasional Karaoke nights that you can enjoy too. Visit with your big gang of friends or your close one and enjoy the night.
However they also have a full bar set up available here as well so you can order your choice of drinks along with some quick bites. The prices here are on the affordable side so that is another great thing. They also offer a separate smoking area too. Coming to the food, do try their Lebanese Platter, Mushroom Fritters and many other starters and finger foods that they offer. So now you know why you should surely visit here. To enjoy the best Christmas celebration in Bangalore you must not miss out on this splashy place.
Big Pitcher
Location: Ward No 88, HAL Old Airport Road, Bangalore, Karnataka
Timings: 11 am to 1 am
Cost for two: Rs. 1900/- with alcohol
This is yet another happening place that I would be recommending to you all. With a cozy set up and great ambience this place is just perfect to enjoy a good evening. They are known for their own brewed beers that the visitors enjoy a lot. Also they have a dance floor as well for you to let your hair loose. Dance your worries away this Christmas and enjoy a great evening with your friends or loved ones. Their serving proportions, food quantity and quality and price range just fits in together and make this an even more popular hangout spot for many. So while you are looking for an affordable place to enjoy the best Christmas celebration in Bangalore you can surely consider visiting here.
Read More: PLACES IN BANGALORE TO VISIT | BANGALORE TOURIST PLACES
Best Malls to visit in Bangalore to celebrate Christmas
Let's not deny visiting malls during Christmas is different. I am sure there must be a special group of people who love visiting the Malls during Christmas. After all, who doesn't love seeing the fully decorated mall with Christmas trees and Santa Clause and so much more. Furthermore in order to witness the best Christmas decorations in Bangalore you must visit these malls this year.
Phoenix Marketcity
One of the most popular Malls, the Phoenix Marketcity is another name for fun. With branded shops, a large food court, various restaurants, a 9 screen multiplex, you name it and you have it here. Also they decorate the mall really well with Christmas trees, snowmen, reindeers and Santa clauses that would serve as the perfect backdrop for your Instagram pictures. Just wear comfortable footwear and have patience to walk and wait because the place gets really crowded on special days.
UB City Mall
Known as India's first luxury mall, the UB City Mall has one of the finest and most popular luxury brands. The mall looks beautiful and feels beautiful too. If you are planning to go there for Christmas make sure you have control over yourself because a lot of stores offer huge discounts around this time. Furthermore, from shopping to having some food at the various restaurants and enjoying the Christmas décor, you can have a really good time here this Christmas.
Read More: BEST BIRTHDAY CELEBRATION PLACES IN BANGALORE
Bakeries to visit in Bangalore this Christmas
What is Christmas without the cakes, pastries, and sugary delights? A visit to the finest bakeries to savour your sweet cravings is one activity that is a must for this Christmas.
Lamara Patisserie
Location: Challaghatta, Bangalore, Karnataka
Timings: 9 am to 10:30 pm
To enjoy the true taste of European baked goodies, this is the ideal place to visit. Your Christmas would be made once you get to try their Almond cake, Pistachio Cake, Cakes bursting with Chocolate and Raspberries, Blueberry Cakes and more. Furthermore you can even order a cake from here to take it back home to cut it later and celebrate Christmas in full swing.
Glen's Bakehouse
Location: 24/ 1, Lavelle Road, Shanthala Nagar, Ashok Nagar, Bangalore, Karnataka
Timings: 9 am to 1 am
With multiple outlets across the city this is one of the best places to enjoy baked goodness. They serve freshly baked items which makes them a popular bakery in the city. Furthermore what gets more attention here are the cupcakes in different variants, Eclairs, Croissants and some savoury items as well.
Wrapping up!
Now that you have read about all the ways you can celebrate your Christmas this year, you must be too excited right? After all, Christmas time is the last time you can make use of the existing year. So enjoy, party hard, go shopping or go out to eat, and do everything that you want to do. Furthermore, do not forget to spend time with your friends and family and create some valuable and memorable memories to cherish later on. So which of these places are you going to visit this year to enjoy the best Christmas celebration in Bangalore? Plan up soon because the festivals are right around the corner. The city will soon get dressed in the festivities. So don't you dare waste any more time and just enjoy your heart out. Go to all the places that you ever wanted. Merry Christmas in advance! Have a blast!