Cradled in the lap of Himalayas, Kolakham is a beautiful offbeat destination in Kalimpong. For nature lovers this can be an ideal destination to unwind and to enjoy some time soaking into the beauty of nature. If you are in search of a perfect destination that is soothing yet not so populated then Kolakham can be a really good option for you to explore. This article has all the information that you need before planning a visit to Kolakham so keep on reading till the end.
Kolakham location:
Kalimpong, West Bengal
About Kolakham:
It is a small valley located in Neora Valley National Park. This village is located at 6500 metres altitude and serves a panoramic view of the Himalayas. Kolakham is an ultimate spot for nature lovers with the snow clad mountain view, exotic rhododendrons and the pine trees lining by. You can even enjoy the view of Kanchenjunga from here. Along with all these, the adventure lovers can even enjoy trekking and rock climbing here. Kolakham is a village that has only 60 Nepali families living which makes it a not so populated location.  
Read More: RISHIKHOLA HOMESTAY, TEMPERATURE, HOTEL, SIGHTSEEING, TOUR PLAN
How to reach Kolakham:–
How to reach Kolakham by train:
New Jalpaiguri Station (NJP) is the closest railway station.NJP is well connected to almost all the major cities. NJP to Kolakham distance is approximately 103 km and it will take around 3 hours and 30 minutes to reach. You can get shared taxis and rented cars from NJP.
Another closest railway station is New Mal Junction and it is at a distance of 65 km from Kolakham. From there also you will get shared rides or rented cars.
How to reach Kolakham by flight:
In case you are travelling by flight, the closest airport is Bagdogra Airport. From there Kolakham is 113 km and it would take around 3 hours and 40 minutes to reach.
How to reach Kolakham by road:
If you are interested in travelling by road it will be a long journey of over 16 hours from Kolkata. The distance from Kolkata to Kolakham is 660 kms via NH 12. You can even travel from Siliguri and NJP by road. There are 2 routes one via Gorubathan and another one via Kalimpong, so you can choose any of these.
In case you are taking a shared car then you can travel from Lava as well which is 7 km away from Kolakham. The charges will be around Rs. 500 to Rs. 800.
Read More: OFFBEAT PLACES NEAR DARJEELING
Best time to visit Kolakham:
You can visit this serene destination any time of the year. The mountains offer different views during different times. The winters offer a snow-clad view of the mountain, while the time from March is usually the blooming period and after the monsoon the lush greenery rises up to their best view. Visit during the months of October to February and you will get to enjoy a clear view of the Kanchenjunga. You can also visit during March to May if you want to escape the city heat at that time.
Kolakham weather:
Kolakham temperature is mostly pleasant. The winter here is chilly and temperature ranges from 0 to 10 degrees. The summer temperature ranges from 18 to 28 degrees. The best time is the autumn season from September when the temperature varies from 10 to 20 degrees.
Major tourist attractions in Kolakham: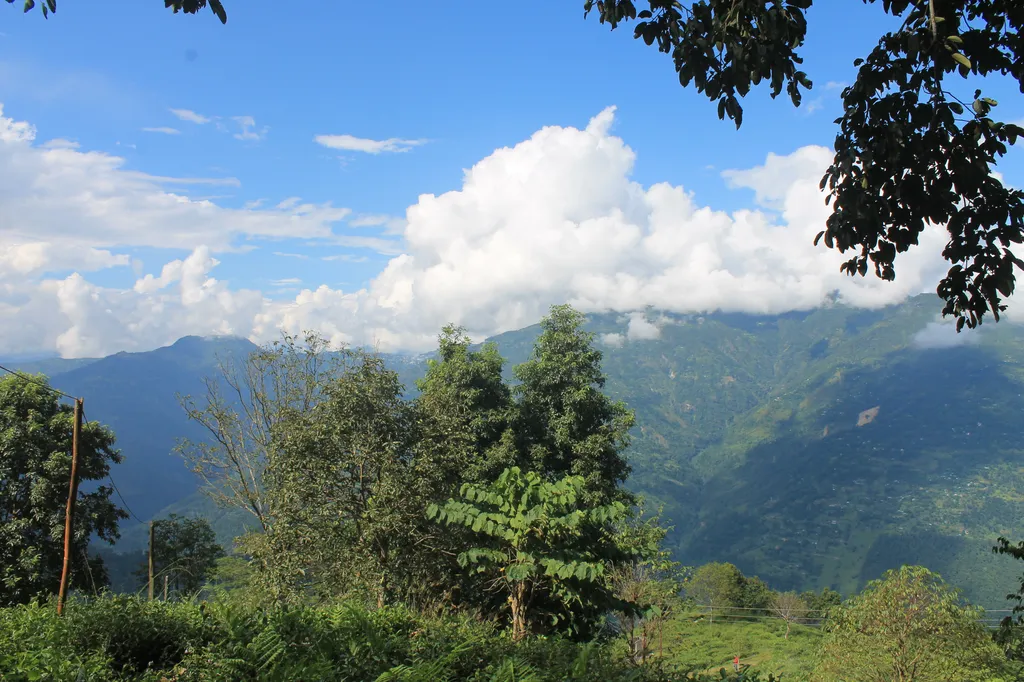 Enjoy the nature
While visiting a breathtakingly beautiful spot like Kolakham the best activity to indulge in is relaxing and soaking into nature. The place is an example of nature at its best and everywhere you will find something or the other that will make you awestruck. So take as much time as you can to soak into the natural beauty.
Bird watching
However, you can surely indulge in bird watching as the place is home to many exotic birds and it will be a treat for bird lovers. You can observe at least 200 varieties of bird species here that includes Hodgson's Hawk Cuckoo, Pygmy, Brown Wood Owl, Woodpeckers, Golden Eagle, Wren Babbler, Himalayan Griffon and many more exotic birds.
Trekking
For adventure lovers Kolakham has a lot of beautiful trekking trails. Both long and short routes are available that go through the forest and the villages. The walking and trekking trails are beautiful and the landscapes are amazing there. If you are visiting after monsoon then you will notice some spring water streams as well.
Roaming around
Another activity that can be fulfilling to your soul is roaming around the area and exploring the small villages nearby. You will get an insight about the local people and their lives there. The Rai Community inhabits there and by nature they are very hospitable. You can strike a conversation with them and they will give you a greater view of the culture and traditions of that place. Try to enjoy the local singing and dancing by the villagers and it will be one of your cherished memories from the trip for sure. The local markets, the sprawling Samabeong Tea Estate and the cardamom grown by the farmers are other things that you can explore in Kolakham.
Nearby places to visit from Kolakham:
Neora Valley Forest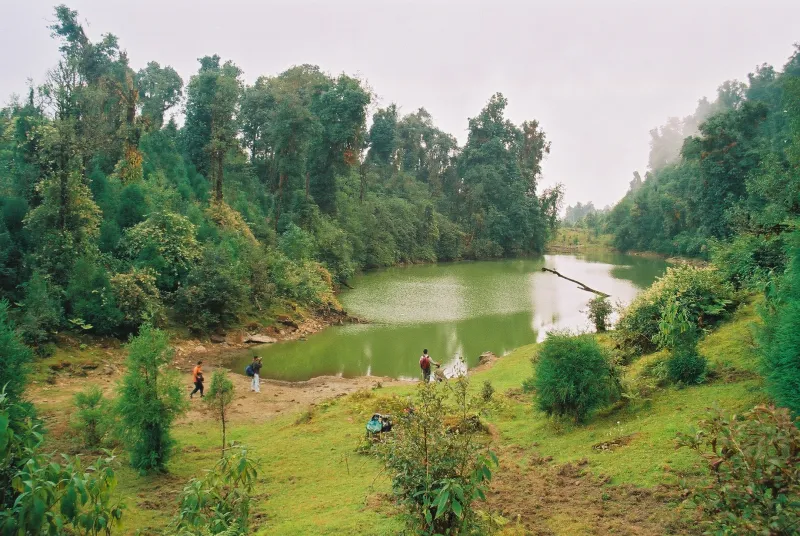 The Neora Valley Forest is one of the richest biological zones of Eastern Himalayas. It is located at a junction of West Bengal, Sikkim and Bhutan and is one of the oldest forest reserves in India. You can observe a wide variety of flora and fauna here. A lot of rare species of flowers like the wild orchids are seen here. Among other varieties, the most beautiful ones you will see here are rhododendrons, oak, bamboo, sal, ferns etc.
Furthermore, you can see a wide variety of rare and endangered faunal diversity as well that includes Clouded Leopards, Royal Bengal Tiger, Black Bear, Sambar Deer, Barking Deer, Red Panda, Malayan Giant Squirrel etc. The Red Pandas are also known as the Red Cat Bears. Because of their presence here, the appendices of CITES and Red Data Books of the IUCN have a mention of the Neora Valley. Also more than 106 species of birds are also found here as well.
This place can be the perfect spot for the nature lover and bird watchers. There is provision for Safari Trip as well and that will be a lifetime experience for you. The forest trail, the flora and fauna and the wildlife here is surely exciting to experience.
Rishap, Lava and Charkhole
These small villages around Kolakham are just a haven for nature lovers to explore. The beautiful villages have some spectacular viewpoints that will take your heart away like the peak of Kanchenjunga, peak of Mount Kabru, Rathung, Pandim and more. Also, don't miss out on visiting the Neora Valley Interpretation Centre and the Lava Monastery.
Changey Falls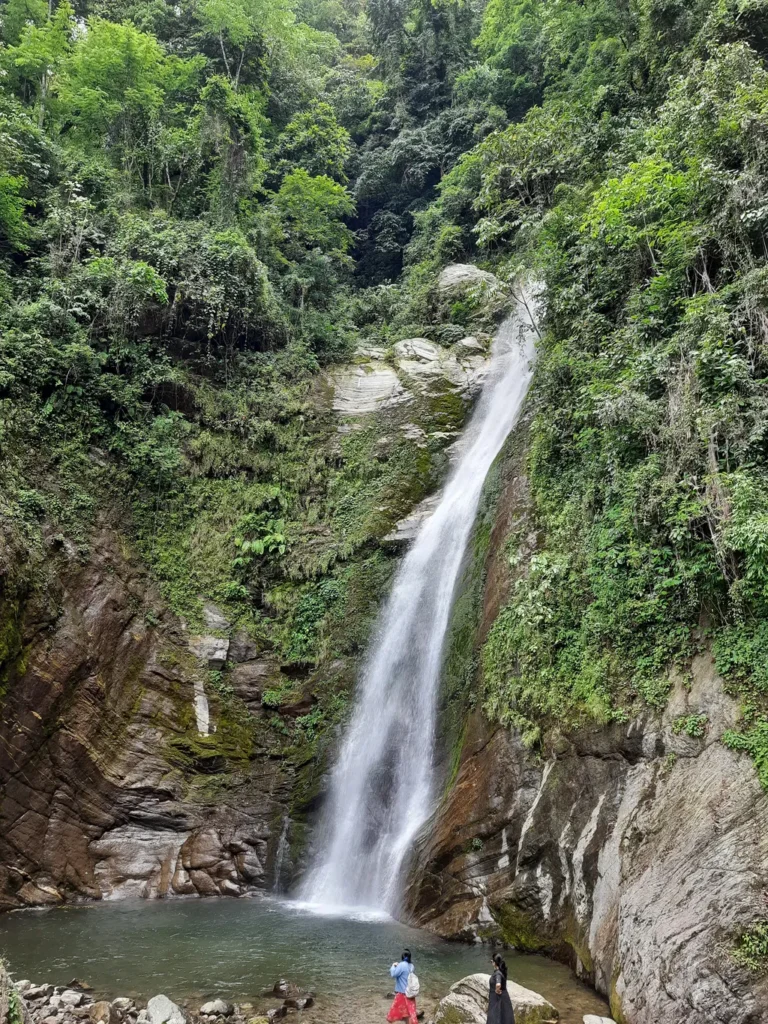 Changey Falls or Changi Falls is the only waterfall here that can be accessed by the only 3 kms jeep ride and a 1.5 km walk afterwards. There are enough rest huts and well built staircases for the convenience of the tourists.
Accommodation: Kolakham Homestay, Kolakham Resorts, Hotels in Kolakham
The development of tourism and the advent of more tourists have encouraged the people of Kolakham to arrange beautiful homestays. That is the most convenient way of accommodation in Kolakham. Most of the homestays are decently priced and include both food and lodging. Some of the homestays even have provisions for campfires and barbecues. It is recommended that you book these places in advance to avoid hassle. Some of the popular ones are:
Himalayan Odyssey Kolakham Homestay
This is one of the best places that you can check out in Kolakham. You will get a direct view of the Kanchenjunga from here along with other necessary amenities. They have rooms with Kanchenjunga view and deluxe rooms as well facing the Rishop Mountains. Tariff starts from Rs. 1000.
You can check their website himalayanodysseyretreat.com
Contact number– 9903507525, 6302074415
Kolakham Silent Valley Homestay
This Kolakham Homestay is located only 2km away from the Changey Falls.
Room rates start from Rs. 1600 per night for double bedded and triple bedded rooms. Four bedded rooms are charged Rs. 2000 per night. They have a food package that includes everything from morning tea, breakfast, lunch and dinner at Rs. 550 per person.
Contact number– Subrata Basu (owner) 09830190503, 08981530735
Website– silentvalleykolakham.com
Neora Valley Homestay
This is another good option for homestay in Kolakham. For Lava Valley View Deluxe rooms and Rachela Peak View Deluxe rooms the rate starts from Rs.2025 for 1 or 2 persons for 1 night. For 3 persons the charge is Rs. 2525.
Food and lodging including morning tea, breakfast, lunch, evening snacks and dinner is also available in a package of Rs.1250 per head.
Website– neaoravalleyhomestay.com
Phone number– 07001217210
Kolakham's Delight
This homestay is another popular homestay in Kolakham that has been running for the past 10 years.
The rooms here are spacious and big with beautiful views facing windows. Each of the rooms has attached bathrooms as well.
Website: kolakhamsdelight.in
Phone number– (Indrajit) 8240265228, 8017412001
Offbeat destinations like Kolakham are recently gaining a lot of momentum. These days people prefer going on a holiday but want to get away from the crowd. In that case places like Kolakham come to your rescue. The place promises the pure form of nature along with the tranquility that comes along with it. Now your search for a beautiful escapade ends here. Plan up your next trip soon and enjoy the serenity of this unexplored hamlet. This place would make you crave for more, and you might visit here again. But first, visit the place once, and you would know what exactly I am talking about.