Who doesn't like visiting a quaint hill station where you can enjoy some blissful time? But destinations like Darjeeling are way too mainstream and crowded too. So if you are someone who wants to get a feel of Darjeeling, and still want to avoid the crowd, then I have a good option for you. Bijanbari is one of the offbeat places near Darjeeling that you can visit to enjoy some time away from the crowd. Furthermore, this is also one such place that would offer you some unique experiences that you may not get in a destination that is too crowded. With natural beauty at its peak, and a serene and tranquil atmosphere this destination would melt down all your worries.
However, this is like a hidden gem in the lap of the Himalayas that not a huge number of people know about. But you don't need to worry, because I will mention all the necessary details about this offbeat destination. Furthermore, if you are looking for an escape from the hustle and bustle of the city, and want to enjoy the unspoiled beauty of nature, then just visit Bijanbari once. You are surely going to fall in love with this beautiful place once you visit here. So pack your bags because this is your calling to visit Bijanbari. But wait! First read this article to get all the information that you would need about this place. Furthermore this article would also be helpful for you in planning a trip to this idyllic location. So keep on reading and enrich yourself.
Bijanbari
Location:
Darjeeling Pulbazar CD Block, Darjeeling Sadar Subdivision, Darjeeling, West Bengal
How to reach
By train
A lot of trains are available from Kolkata to reach New Jalpaiguri Railway Station like New Jalpaiguri Express, Darjeeling Mail, Padatik Express, Kanchankanya Express etc. New Jalpaiguri Railway Station is the nearest option to reach here. NJP to Bijanbari distance is 96 km. You can take a cab or shared cab from there to reach Bijanabri in 3 and a half hours approx. If you are taking a shared cab then it would cost you Rs. 200 – Rs. 250 per person.
By flight
The Bagdogra Airport is the nearest airport which is located almost 91 km away from Bijanbari. It would take around 4 hours to reach here. You can take a cab or rented shared cab to reach the spot.
By road
You can even drive from various locations to this place. You can even drive from Kolkata to reach there. However if you are travelling from Darjeeling then Darjeeling to Bijanbari distance can be covered in 1.5 hours. Bijanbari to Darjeeling distance is 24.2 km. Furthermore, Kalimpong to Bijanabri distance is near about 58 km and it takes around 2 hours to reach there via car. You can take shared cabs from all the locations or hire a car to reach Bijanbari.
Best time to visit Bijanbari
This is a year round destination. Basically you can visit here during any time of the year. Bijanbari Temperature remains comfortable all the time that makes it an ideal place for visit. So you can plan according to your preference.
About Bijanbari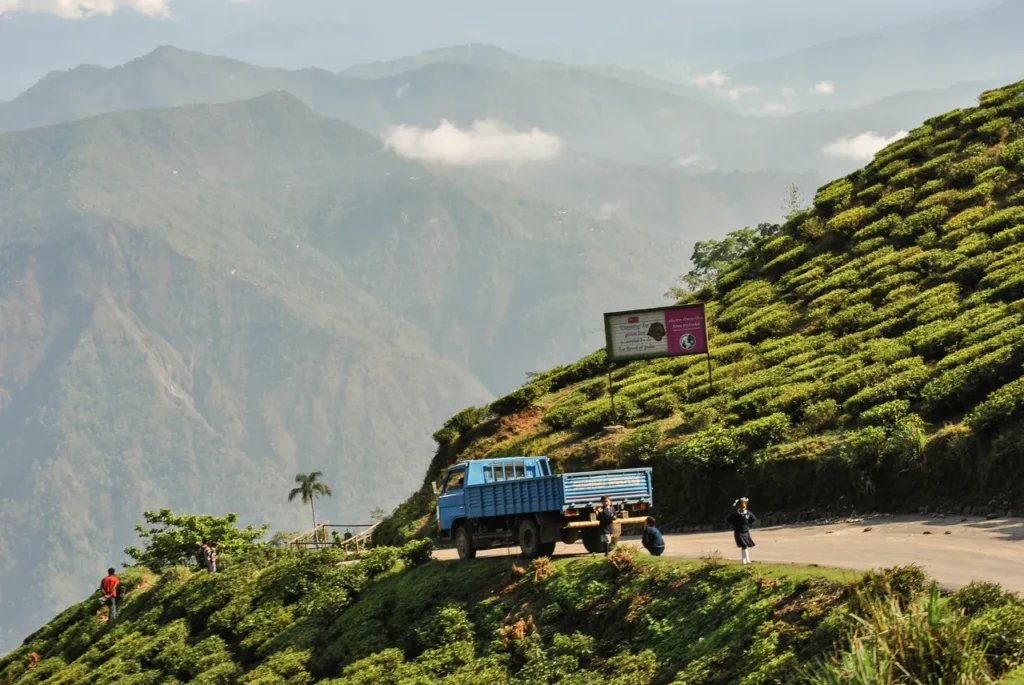 Located at 760 metres above sea level that is around 2500 feet, this quaint hill station is one of the less populated areas. Only about 1000 people live in that area. The local language used here is Nepali. Being surrounded by Nepal and Sikkim on each side, you can see an amalgamation of cultures here. Bijanbari has only 3 private schools and only 1 government school. In 1995, a government aided college was established here known as the Bijanbari Degree College.
This small hill village is located just 30 km away from Darjeeling. So you can make a visit to this location directly or there is another option as well. Furthermore, you can even visit here from Darjeeling for a day or two to enjoy the tranquility here. Surrounded by lush greenery and tea plantations that spread across, everything here makes up for an ideal location to spend some time in utmost peace. However you cannot expect city life or comfort and facilities of a city here. The place is well accommodated with basic facilities but that is limited. This exact thing makes this place even more alluring. Not just a tranquil location, this place is also best known for its trekking trails.
Nearby attractions in Bijanbari
Chota Rangit or Little Rangit
One of the major attractions in Bijanbari is the Chota Rangit River. This river flows by in its own pace over beds of boulders and rocks. The river also separates the hills at Poolbazar. This area is really popular as a picnic spot. While visiting there you can also check out the fruit orchards around the valley. Various fruits like oranges, apples, and pineapple are grown here. Other than that vegetables like cabbage, potatoes, tomatoes etc are cultivated as well. Furthermore, during June-July rice is even cultivated here.
Pulbazar or Poolbazar
This is a nearby place from the Bijanbari. It is one of the biggest markets of Darjeeling. This market is very famous and everything from vegetables to fruits to even farm animals are sold and bought here. On Fridays there is a local village market that is set up here which is known as Haat in local language.
Panchaga Mandir
In Poolbazar you can find this Hindu temple. It was set up in 1971. The primary presiding deities here are Lord Shiva, Goddess Durga and Lord Ganesha. Here the idols are all carved from stones. They are created by artist Lal Prasad Rai and all of them are brightly coloured. The ambience here is really peaceful so you can surely visit this temple.
Sericulture Farm
Just around 2 km away from Poolbazar you will come across Sericulture Farm. This farm makes products out of mulberry bushes and silk worms. It can be an interesting visit for you.
Rammam Hydel Power Station
This Hydel Power Station is like the lifeline in Darjeeling. It is located 17 km away from Bijanabri at a place called Lodhoma. Furthermore, this is a pristine sight to witness the gushing water flowing fiercely and how it is captured to generate the power.
Visiting villages
The villages near Bijanbari are what we can call straight out of pictures. If you are interested in observing how simply humans can live, you must visit the villages of Lodhoma, Kainjalia, Rimbik etc. Here the people live a very simple life with even more basic amenities. Furthermore you will be surprised at how they are surviving with the least resources yet being so happy and lively. The locations are picturesque with beauty at every corner. You can click tons of pictures there as well. However, it will be a little hard to communicate with the locals as the language barrier would be there. Nevertheless the villagers are ever friendly and welcome guests with utmost respect.
Things to do in Bijanbari
Enjoying the nature
One of the best activities at a place like Bijanabari should be to relax and explore nature. After all, you cannot find such unspoiled beauty anywhere in the cities. So whenever you are at a location like this you must soak into the blissful nature. Hear the gushing of winds and the sound of the leaves. Listen to the birds chirping on their own. And if you are staying somewhere near the Chota Rangit River then you can even listen to the gushing sound of the river. Furthermore, you can find natural beauty in everything you look at. So make sure you are enjoying nature to its fullest here.
Hiking in Bijanbari
There are several routes for hiking from Bijanbari. The closest one is to Singla Bazar that is reachable within 4 hours. Another one is to Relling, which is an 8 km trek, and the Soom Tea Estate which is 4 hours walk. Kolbong is another popular spot among the visitors. One can also reach spots like Rimbik, Sumbuk, Gok, Jhepi, Kainjalia etc.
Trekking in Bijanbari
Bijanbari is also known for its trekking trails. There are trekking trails to the Singalila Range that goes via villages like Rimbik, Jhepi, Lodhoma etc. From Rimbik one can even trek to Ramam to reach Phalut via Gorkhey. You can even reach Sandakphu from Bijanbari via Srikhola and Gurdum.
Where to stay in Bijanbari?
You can get a decent option for Bijanbari Homestay but what attracts the visitors more here is the Bijanbari Bamboo Resort. How cool would it be to stay at a place completely made of bamboo logs? It would be thrilling and exciting all at once. You can also get cottages to stay in Bijanbari. Some of the popular options for staying there are,
Relling Rangit Farm and Homestay
This is a decent option of Bijanbari Homestay. They have thatched bamboo cottages that look beautiful. You will get all basic amenities like food, hot water etc here. They usually have packages that include meals as well. However if you want you can book them separately as well. Room charges start from Rs. 1500 per person. In the package breakfast, lunch and dinner are included with light snacks and tea in the evening. Furthermore they also provide barbecues and bonfires on request which you can check out as well. However barbeques and bonfires are charged additionally. The rate starts from Rs. 600.
Bamboo Resort & ATV Park
As the name suggests this is another Bijanbari Bamboo Resort. You can stay in cottages here completely made of bamboo. It is a thrilling experience in itself to stay at a place like this. This resort is located close to the Rangit River. They also have 2 small swimming pools inside. Room tariff starts from Rs. 1500 per person and they have packages as well that includes breakfast, lunch, dinner and evening time tea and snacks. The food is tasty and they serve Indian and Chinese food here. Furthermore you can also opt for activities like ATV trial jungle camping here. Another important point is pets are also allowed here. So if you have a fur baby along you can stay here.
Baasbari
This is yet another bamboo resort in Bijanbari that attracts a lot of tourists. They offer packages starting from Rs. 1500 that includes breakfast, lunch, dinner and evening snacks and tea. Both single storied and two storied bamboo cottages are available here. The stay here would be extremely interesting with the view and the thrill of staying in such a place.
Nearby places to visit from Bijanbari
· Mahakal Mandir
· Happy Valley Tea Estate
· Japanese Peace Pagoda
· Singalila National Park
· Ghoom Monastery
· Tiger Hill
Things to remember while visiting Bijanbari
While booking the resorts or Bijanbari Homestays you should ask them whether they offer pick up and drop services from Airports and railways stations. That way it would become convenient for you to reach.
Also do confirm the rates of the hotel as they have some packages that include the stay and meal. You can even opt for paying for stay and food separately. That is completely your choice by the way.
Even though the resorts and homestays are well equipped with food items, it would be better if you can carry some dry food items like cakes and biscuits. It would be helpful for you.
Do check the weather condition before planning a visit to such a place and pack your clothes accordingly
It would always be advisable to book your homestays or resort is Bijanabri in advance. Most of the resorts there have limited accommodation. So pre-booking is better any day for a convenient stay.
You must carry a torch in your travel kit as after dusk the place can get quite dark. A torch would come handy for you.
Do carry your necessary medicines. The area doesn't have shops nearby so it is important that you carry your regular medicines along with some emergency medicines.
Carry enough cash with you as there won't be ATMs everywhere. Furthermore not every resort or homestay deals with credit cards so make sure you ask them beforehand about their payment options.
You won't face any issue with the mobile network there. However the signals can fluctuate at times. Mostly mobile networks are available there.
There aren't a lot of activities for you to do after the sunset. So if you are travelling alone you can carry some books along to have a good time. Or if you are in a group you can carry some board games that everyone can enjoy together.
If you are driving there make sure you are choosing the right vehicle because the roads there are steep and not all vehicles can function at their best in roads like that. So choose wisely.
Food options are limited at a place like this. You might not get a huge variety to choose from. Most of the time, the fruits and vegetables used by the resorts and homestays are homegrown. Therefore, that adds a special touch to the food served.
One of the most important things is surely to check with your resorts about the kind of rooms you will be allotted. Especially if you are travelling with old people or people who have issues with climbing stairs, this is a must. A lot of times these resorts are two storied and you can reach your room via very narrow lanes or wooden stairs. So, a confirmation before visiting is a must.
As most other hilly areas, water supply is an issue in Bijanbari as well. There can be a deficit of healthy drinking water, so make sure you talk to the hotel for your supply of packaged drinking water.
Furthermore, clean water supply in the washroom can be an issue as well. So make sure you ask the resort to check that.
So now that you have read everything about this place, I am sure you must be too eager to visit Bijanbari already. The place being a destination that is a little cut off from the main city and towns makes it even more alluring. Nature brims to its best here without being interrupted by human intervention. And that in itself shows here. Furthermore, the unspoiled beauty is even more highlighted by the travelers and backpackers who have popularized this location to some extent. And thank god for that, otherwise we would have missed out on such a gem of a location.
So next time you are planning to visit a hill station consider visiting Bijanbari. The lack of modern urbanized set up is what makes this place an enticing spot. And you should experience this once on your own. So what kind of a traveler are you? Do you like the bustling crowd or a quaint chill place like this? You must have chosen the second option, right? Otherwise why would you even read this article till here? So now you can start planning a trip to visit this beautiful location. Do let me know if this article was helpful for you in planning an amazing trip. I would love to know that.