There must be some travelers who enjoy going to mountains and places with high elevation. But what about travelers who prefer locations with unparalleled beauty but which are not much crowded. Now you all don't need to worry at all because I have one such location for you. The Dawaipani is one such location nestled only a few km away from Darjeeling. You can enjoy a slice of Darjeeling here but only a little less crowded. Furthermore, staying in Dawaipani Homestay can be one of the cherished activities in your life. If you are interested to know everything about Dawaipani and the best homestay in Dawaipani then you need to read the whole article. Here I will mention each and every piece of information that you might need to know before planning a visit to Dawaipani.
Dawaipani
Nestled only 20 km away from Darjeeling, Dawaipani is a small village that is becoming one of the popular tourist spots at the moment. Until recently the location was not much explored. Furthermore this offbeat destination is gaining momentum at the moment with travelers wishing to travel here to enjoy nature and its beauty at its best. Further Dawaipani is gearing up more and more with Dawaipani homestays that welcome the visitors with a lot of warmth. In the literal sense of the term Dawaipani means Medicated Water. The place is sparsely populated with only around 135 to 150 houses staying there.
Furthermore, approximately around 70 km away from Siliguri, Dawaipani is the ultimate beauty with its orange orchards during the time of oranges. The sight in itself can be wonderful. Also you can enjoy the 180 degree view of the mighty Kanchenjunga from here too. Situated at an elevation of about 6500 feet you will feel refreshed and rejuvenated after visiting here. On the lap of nature, if you are in search of an offbeat place that will serve you with utmost bliss and peace and tranquility then you certainly cannot miss visiting this quaint hill station.
How to reach Dawaipani
By Air
The nearest airport to reach Dawaipani is Bagdogra Airport which is about 80 km away from the location. You can get cars just outside the airport that you can hire to reach here. Furthermore you can even opt for shared rides if you want.
By train
To reach Dawaipani the nearest railway station is the New Jalpaiguri Railway Station which is majorly connected to nearby cities. The railway station is 75 km away from the location. You can hire a car or opt for shared rides to reach Dawaipani from there.
By road
You will have to reach any nearby location like Bagdogra, Siliguri, New Jalpaiguri first and then again drive to Dawaipani. You can drive your own car till a certain location but after that it is advisable that you hire a car because the drivers here are experienced to drive on these roads.
Read More: AHALDARA VIEW POINT, HOMESTAY, DISTANCE, TEMPERATURE
Best time to visit Dawaipani
According to the weather the place is amazing for visiting during any time of the year. Dawaipani temperature usually remains on the cooler side as it is located at a higher elevation. However, Dawaipani weather can be very chilly during winters though. But for exploring the place well the weather is just perfect. But you must avoid visiting here during monsoon because the area faces frequent landslides during that time. So plan your visit accordingly.
Dawaipani Sightseeing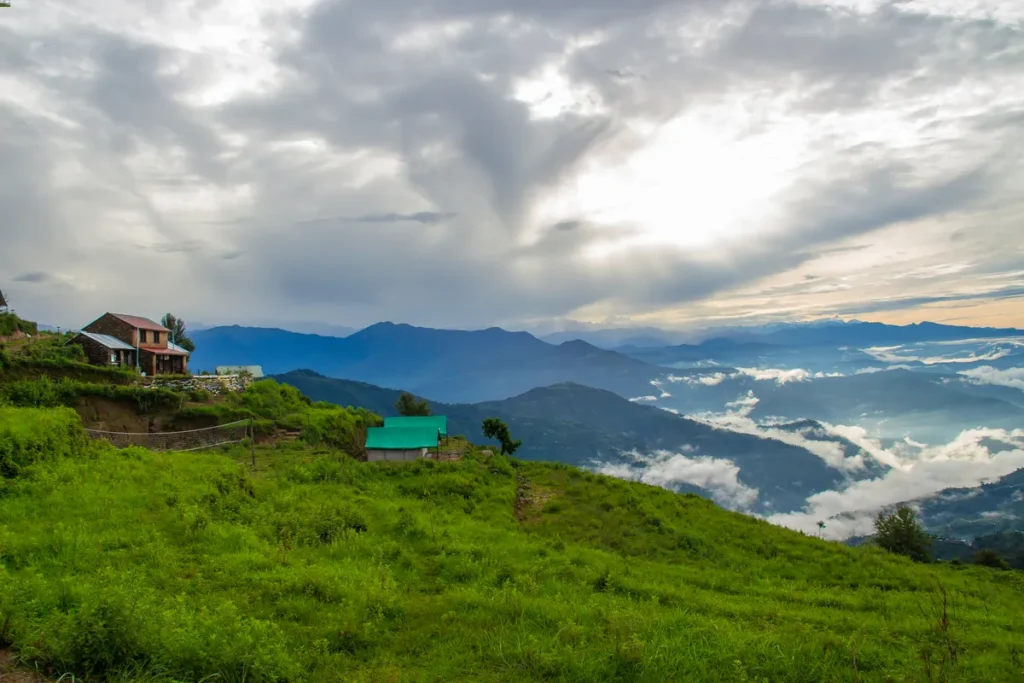 Dawaipani has one of the most beautiful places that you can explore. From viewpoints to tourist spots you can explore a lot here.
· View of Mount Kanchenjunga
· View of the Darjeeling town and Namchi
· Dawaipani Forest
·         Sightseeing in Darjeeling and enjoy visiting Batasia Loop, Darjeeling Ropeway, Peace Pagoda, Padmaja Naidu Himalayan Zoo
· Glenburn Tea Estate, Takdah Tea Estate, Lamahatta Tea Estate
Apart from the tourist spot you can also enjoy splendid orange orchards here if you are visiting during that time. The orange colour hues of the oranges on the green backdrop of the trees would leave you mesmerized.
Don't forget to enjoy the beautiful sunrises and sunsets here. From a lot of places you can enjoy a clear 360 degree panoramic view. It would be one of a kind of an experience to see the sun rising as well as setting with a change in the hues of the sky.
You can also enjoy traditional dance by the locals there. You can talk to the homestay owner and see if they can arrange a cultural evening for you along with a bonfire. It would be a really nice experience for sure.
Read More: BIJANBARI HOMESTAY, BAMBOO RESORT, DISTANCE, TEMPERATURE
Homestay in Dawaipani
Dawaipani being a very small village you won't get options for big resorts or hotels here. The best option to stay here is Dawaipani Homestays. Furthermore these homestays in Dawaipani can be the ideal way to enjoy and explore the area more. The villagers and residents of Dawaipani are always over welcoming and most of the homestays are owned by the residents here. These are farms and cottages that can offer a limited number of accommodations at the same time but nevertheless the service and behavior is unparalleled. However it would always be recommended for you to check out the availability of rooms and even advance booking for a stay in Dawaipani Homestay. Now I will share some of the good homestays that you can check out in Dawaipani.
Dawaipani Homestay
This is not exactly a homestay but a beautiful farm amidst nature. There are a total of 4 rooms here. One single and one double bed rooms and two 4 bedded rooms. All of them have attached bathrooms and a verandah overlooking a gorgeous view. Furthermore they have a spacious dining room too. The best part about this Dawaipani Homestay is that they have a seating area that offers a beautiful view of the Kanchenjunga.
Room tariff for 1 person is Rs. 1400, for a double room occupancy the charge is Rs. 1800. If you are opting for a 4 bedded family room the tariff is Rs, 3200. Also if you have an extra person along the charges will be additional Rs. 750 per head. For a child under 6 years of age stay is complementary. But for children from 7 to 12 years of age extra beds will be provided at 50% extra charge.
Furthermore they offer complimentary breakfast along with tea in the morning and evening. For lunch and dinner charges are separate. It is Rs. 250 per person for both vegetarian and Non vegetarian. The food tastes delicious and is freshly cooked in a hygienic way in the home style kitchen. They also offer facilities like running hot water and a room heater. Furthermore they can even arrange a bonfire for you if you are interested.
Humro Home Rai Homestay Dawaipani
Contact number– 97337071716, 9733069690
This is a small homestay in Dawaipani with only two rooms. It is a wood house located on the main road. If you are travelling in a group of 5-6 people then you can opt for booking the whole house. They have 2 rooms, one is small with one double bed. The other one is the larger one with two double beds. Furthermore both the rooms have attached toilets with western commode and running hot and cold water. They have a separate dining area, a garden and room service as well. It is not very luxurious but the place is clean and tidy. Furthermore they also arrange BBQ if you wish to enjoy that. Mr. Pravat Rai is the owner of the homestay who runs this place. This Dawaipani homestay also offers a beautiful view outside.
Karuna Homestay Dawaipani
Run by Miss Karuna Tamang, this is a small Dawaipani homestay with 2 rooms. Only one room here has an attached toilet. They offer a mountain view facing room. Furthermore they can arrange Bar B Q on demand. The room tariff starts from Rs. 1300.
Dawaipani Retreat
They have a single cottage with 2 bedrooms. Up to 4 people can stay here at a point of time. Room tariff starts from Rs. 1850 per person for the deluxe room that includes all meals. Furthermore they have a Premium room and tariff starts from Rs. 1950 per person with meals. For children up to 5 years stay is complementary and for children between 6 to 9 years the price is 50%. And for kids above 10 years old will be charged full. They offer hot water service, housekeeping, bonfire and barbeque arrangement as well.
Fursan Homestay
It is yet another two room homestay in Dawaipani run by Mr. Mani Kumar Tamang. They have a geyser in the room and offers a beautiful view of the mountain too. Room tariff starts from Rs. 1200.
Kanchenjunga Homestay
Kanchenjunga Homestay run by Jangu Thapa is a homestay with 4 double sharing rooms. They have attached toilets with all the rooms and are well furnished as well. Here the room tariff starts from Rs. 1300.
Siddharth Homestay
This Dawaipani homestay is an old and small homestay. They have a total of 4 rooms with attached toilets with western commode and geyser. Room tariff starts from Rs. 1200.
Wrapping up!
Dawaipani is one of the natural taverns that can simply make your jaw drop with its unhindered beauty. A majestic hill station nestled so close to Darjeeling is like a gem hidden from many people. If you are going to Darjeeling, have some time in hand to visit this majestic location in 1-2 days. And the stay in the Dawaipani Homestay would be even more enchanting. These homestays in Dawaipani offer all sorts of basic amenities. You might miss some touch of modernity or luxury but the warmth and hospitality of the owners of these small homestays will win over your heart.
So do let me know when you are planning a visit to this beautiful location. Also let me know when you got to know about this natural beauty harbored so close to Darjeeling. And if you got to know about Dawaipani from this article then I would love to know that. Let me know if this article was helpful for you in planning a trip there as soon as possible.