Rishikhola , a beautiful river village is an offbeat destination in West Bengal. Not many of us have explored the beauty of North India yet. This destination surely falls under that category of unexplored places. If you are searching for a place with scenic beauty that is not very crowded then you can surely think of exploring this majestic location. On the lap of nature, this place will be a haven for nature lovers. In this article you will find everything that you need to know before visiting Rishikhola. So keep on reading.
Rishikhola Location:-
Kalimpong Subdivision, Darjeeling district, West Bengal
How to reach Rishikhola

:-
How to reach Rishikhola by Train:
There is no direct railway connectivity for Rishikhola. The closest railway station is the New Jalpaiguri Station (NJP). From there you will get shared taxis, cabs as well as rented cars and buses to reach Rishikhola. NJP to Rishikhola distance is 112 km and the distance from Siliguri is 101 km. You can even take rented cars from Siliguri as well. It takes around 4 hours to reach Rishikhhola via Kalimpong.
How to reach Rishikhola by road:
A road trip to Rishikhola can be very exciting because of the picturesque locations that you will be crossing on your way like Kalijhora, Sevoke, Rambi, Lava, Pedong and Kalimpong. You can take any rented car from Siliguri and reach Rishikhola via Rhenak in Sikkim. Shared jeeps are also easily available from Rhenak to Kalimpong. It takes around 4 hours to reach Rishikhola from Siliguri. Rishikhola to Zuluk distance is 49 km and it would take 1 hour and 40 minutes to reach Rishikhola from there.
How to reach Rishikhola by flight:
The closest airport is the Bagdogra Airport and it is at a distance of 104 km from Rishikhola. You can easily get taxis and cabs from there to reach Rishikhola in 4 hours.
Read More: OFFBEAT PLACES NEAR DARJEELING
About Rishikhola:

–
Rishikhola also known as Reshikhola is a small valley on the bank of the river Reshi. In the local Language Khola means stream. The region is located at a height of 2000 ft. This quaint river village is at a 37 km distance from Kalimpong. Being located on the border of West Bengal and Sikkim, the place promises mystical beauty of Sikkim along with the charming forest and lofty hills.
The windy atmosphere is just perfect for enjoying the location. The months between April to June is the blooming period of beautiful colourful flowers. However, what is most attractive here is the Rhododendrons blooming in full swing during this particular time. The winters offer a different view here with snow-clad mountains that look splendid.
Being a beautiful forest region, Rishikhola is home to many exotic birds like Tricolour Shrike, Himalayan Bulbul, Plumbeous Water Redstart, White Capped Water Redstart, Green Magpie, Crimson Sunbird, Verditer Flycatcher, Racket Tailed Drongo, Fire Tailed Sunbird, Red Tailed Minla and many more. People who are interested in bird watching would find this place extremely interesting.
Best time to visit Rishikhola:

–
Both summers and winters will be ideal times to visit this beautiful place. However, it is not advisable to visit the location during the monsoon season because the incessant rain makes the roads muddy and it becomes extremely inconvenient for the travelers.
Rishikhola Weather:

–
The summers in Rishikhola are really pleasant with temperatures ranging between 18 degrees to 30 degrees. Winters are typically chilly here with the temperature ranging between 8 degrees to 15 degrees. Rishikhola temperature is mostly less than 30 degrees and therefore the visitors get to enjoy more.
Tourist attractions in Rishikhola:–
When you are visiting a place like Rishikhola then the major tourist attraction is obviously nature. So get soaked into nature as much as you can. The place is a great location for camping. If you are interested in that you can definitely try it. Also, you can enjoy the beauty of the Reshi River flowing by, the clear sky above and the chirping of birds. All of these will surely transport you to a different world of bliss altogether.
Other activities here include fishing, rock climbing, and trekking. You can even enjoy taking a bath into the stream or just get your feet drenched in the crystal clear water. Riverside Camping is another major attraction for the tourists here.
Alongside, there are some sightseeing spots nearby that you can visit too.
Lampokhari Lake
This is one of the oldest lakes in Sikkim which is man made. The view from here is simply breathtaking and it is located at 4600 ft above sea level. Lampokhari Lake is also known as the Aritar Lake. Boating is a common activity here that the tourists enjoy. This lake is also the highest lake in Sikkim that provides a boating facility.
Aritar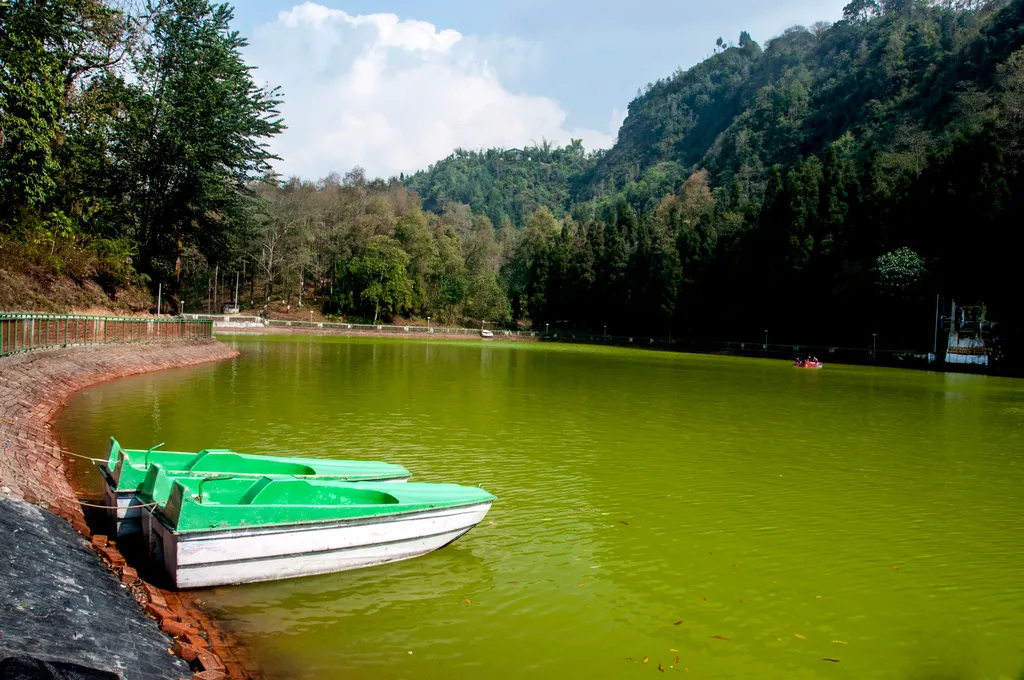 Aritar is a hilly valley in East Sikkim which is mostly popular for the Lampokhari Lake or the Aritar Lake. It is only 14 km away from Rishikhola.
Pedong
Pedong is the closest town from Rishikhola that is known for its scenic beauty. Located at a graceful height of 5000 ft, the Pedong town is also one of the oldest towns in Sikkim. The place offers a beautiful view of the Kanchenjunga along with other ranges. Kanchenjunga viewpoint is surely the highest attraction for the tourists. The snow clad mountains standing amidst the pine trees itself screams gorgeousness.
Other popular sightseeing spots here are Pedong Monastery, Riksum Viewpoint, Damsung Fort, Tinchuley Viewpoint, Jelep La Pass, Baba Mandir and Changu Lake. Two villages namely, Ichhe Gaon and Sillery Gaon are also beautiful villages lined by pine trees. They are walking distance from here.
Accomodation: Hotels in Rishikhola, Rishikhola Homestay, Resorts in Rishikhola
Tourism in this area is still developing and therefore the options of hotels, resorts and homestays in Rishikhola are few. But nevertheless, the ones that are available are well equipped with all the amenities. Some of the popular ones are:
Rishi Retreat and Farm House
This beautiful farmhouse on the riverside provides 4 cottages and 2 rooms. You will get an attached bath facility here along with home style food options. They even arrange Barbeque and bonfires on demand. The tariff here starts from Rs. 1200 per person.
Contact For Booking – 9836955186, 9830498362, 9830947352, 9830788403
Rishikhola Banalata Homestay
Fooding and lodging – 1200/- INR perday per person.
Including: Morning tea, breakfast, evening tea, snacks and dinner.
Contact For Booking – 9831311606, 9830381306, 9830619422
Rishi Eco Tourism Resort
On the bank of the river this is another good option for accommodation in Rishikhola that you can check out.
Rishi River Resort
This is another resort on the riverbank that offers a comfortable stay. Here also the tariff ranges from Rs.1200.
Things to know before visiting Rishikhola:
Carry all the necessary medicines along with you. You must carry along all basic medicines as you are not going to get medicine shops nearby. The nearest medical shop is in Pedong and Rehnock.
You must carry enough cash with you because most of the places here deal with cash transactions. Also you won't be able to find an ATM nearby. So don't think you can draw money easily there.
Another thing is, you must only intake packaged water or you can carry your water from Siliguri or Pedong. You should also carry some light snacking options like chips, biscuits, cakes, dry fruits etc.
Remember, you should certainly be ready for some network issues because the signal there is not very strong. To avoid hassle you can carry 2 sim cards from two different service providers, which might be a little helpful for you.
You must carry copies of Passport Photographs, Photo Identity Proof and Address Proof along with you because if you are visiting Changu Lake or Baba Mandir then you will have to provide all these to get the entry permit.
Next time you are planning a quiet holiday Rishikhola should be in your list of must visit places. The unexplored beauty of Rishikhola will be the ultimate refreshment in your life. The picturesque locations along with the pleasant weather make this place an ideal place to rejuvenate yourself. The fresh air, the clear blue sky, crystal clear water and the flora and fauna here will give you a break from your tedious and tiresome life. So don't think much and start planning your trip now.