Kolkata has a lot of places that you can visit for a day. If you are a nature lover who wants to spend some time amidst beautiful trees and flowers and also want to indulge in some fun activities like cycling or skating, then now you have a one stop destination. Eco Park Kolkata is that one place for you that will entertain you in all the possible ways. You can enjoy it with your friends and family and there cannot be any better picnic spot than this.
With a vast range of different fun activities, different gardens and a park showcasing the wonders of the world, what else do you need for fun. If you want to spend one full day that too on a minimum budget the Eco Park Kolkata can be the best option for sure. Keep on reading this article to know everything about Eco Park in Kolkata along with Eco Park Kolkata images.
About Eco Park Kolkata: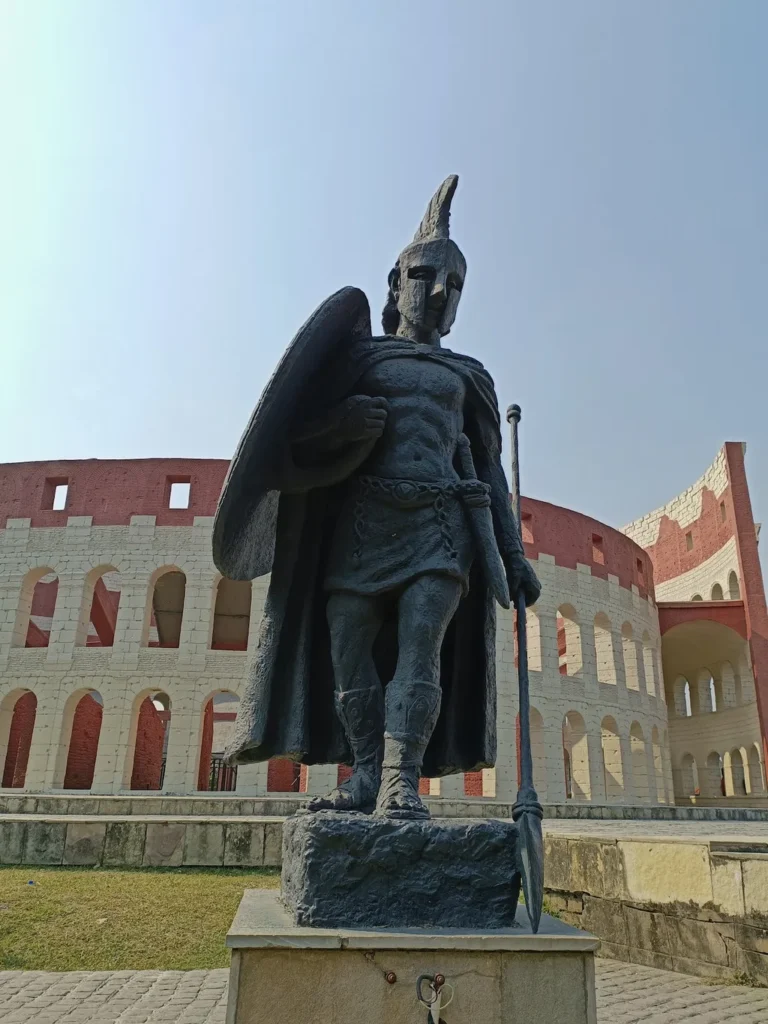 Eco Park in Kolkata is a major park that was built to encourage and promote eco tourism in Kolkata. The area of the park is huge, spreading across 480 acres or 190 hectares that has different areas specific for ecological space, play areas, themed gardens. The park also consists of a manmade lake inside which spreads across 42 acres. Inaugurated in 2012 by Chief Minister of West Bengal, Ms. Mamata Banerjee and soon it became one of the most popular parks in Kolkata. The park is maintained by Housing Infrastructure Development Corporation (HIDCO) and they overlook and execute all the activities.
The park mainly has 3 different zones. One is the Ecological Zone, other is Theme Gardens and there is an open space for recreation. You can indulge in various activities here ranging from cycling, rowing, and boating to kayaking, zorbing and a lot more. The park even has conference halls and cottages that anyone can rent.
Read More: 7 WONDERS OF INDIA | INDIA WONDERS
Address:
Major Arterial Road, Action Area II, New Town, Deshbandhu Nagar, Kolkata, West Bengal
Distance:
The Eco Park is located in the Biswa Bangla Sarani. It is situated at a 10km distance from the Netaji Subhash Chandra Bose International Airport.
Timings:
From March to October the timing is 2:30pm to 8:30pm from Tuesdays to Saturdays. On Sunday and holidays the timing is 12 pm to 8:30pm.
Opening time
From November to February is 12pm and closes at 7:30 pm from Tuesdays to Saturdays. On Sundays and other holidays the timing is 11am to 7:30pm.
Monday is closed.
Ticket price:
Entry fee for each person is Rs.30. Children below 3 years are free.
How to reach Eco Park Kolkata: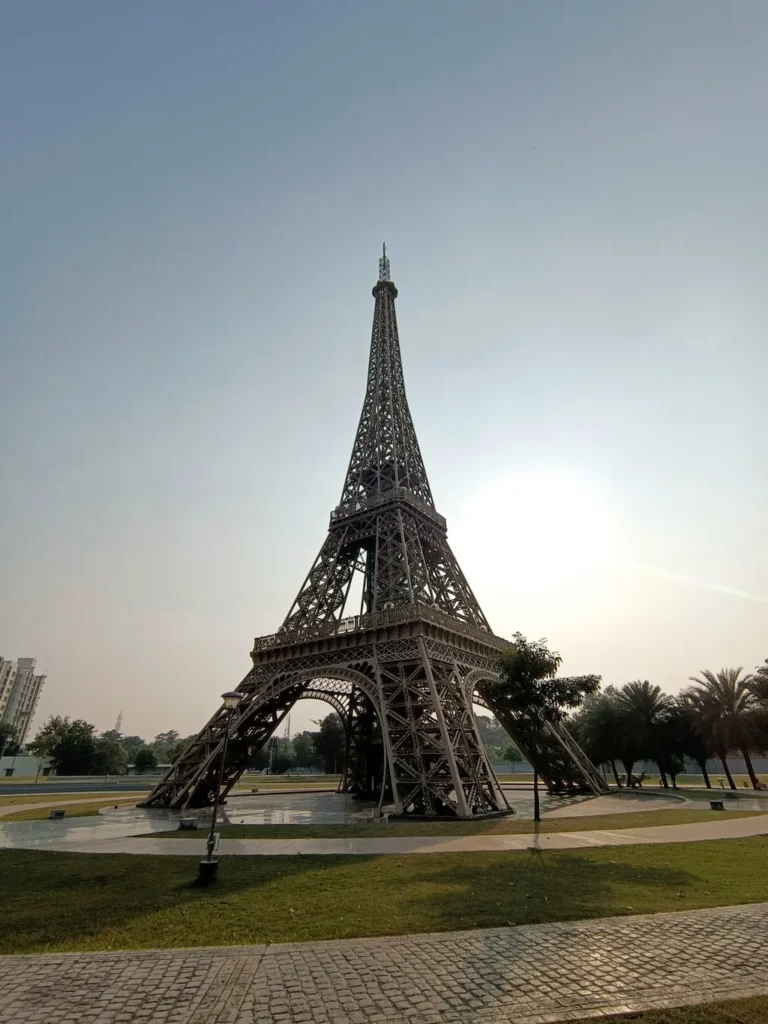 How to reach Eco Park Kolkata by Train:
The nearest railway station is Howrah Junction that is majorly connected to all the cities. If you are travelling locally then the nearest railway station is Bidhan Nagar Railway Station. You will get multiple buses and cabs from the railway stations to reach Eco Park.
How to reach Eco Park Kolkata by Metro:
The nearest metro station is Salt Lake Sector V Metro Station and Karunamoyee Metro Station. You will have to take a bus from there to reach Eco Park.
How to reach Eco Park Kolkata by Bus:
Buses are available from Kolkata Airport, Saltalake, Ultadanga, Baguihati and Chingrighata. You can reach any of these places and get into buses to reach Eco Park. Bus No C8 from Tollygunge bus depot directly goes to Eco Park. Also buses are available from Esplanade as well. 46B bus and 217B takes you to Eco Park from City Centre 2.
Read More: LARGEST HINDU TEMPLES IN THE WORLD
Things to do in Eco Park Kolkata: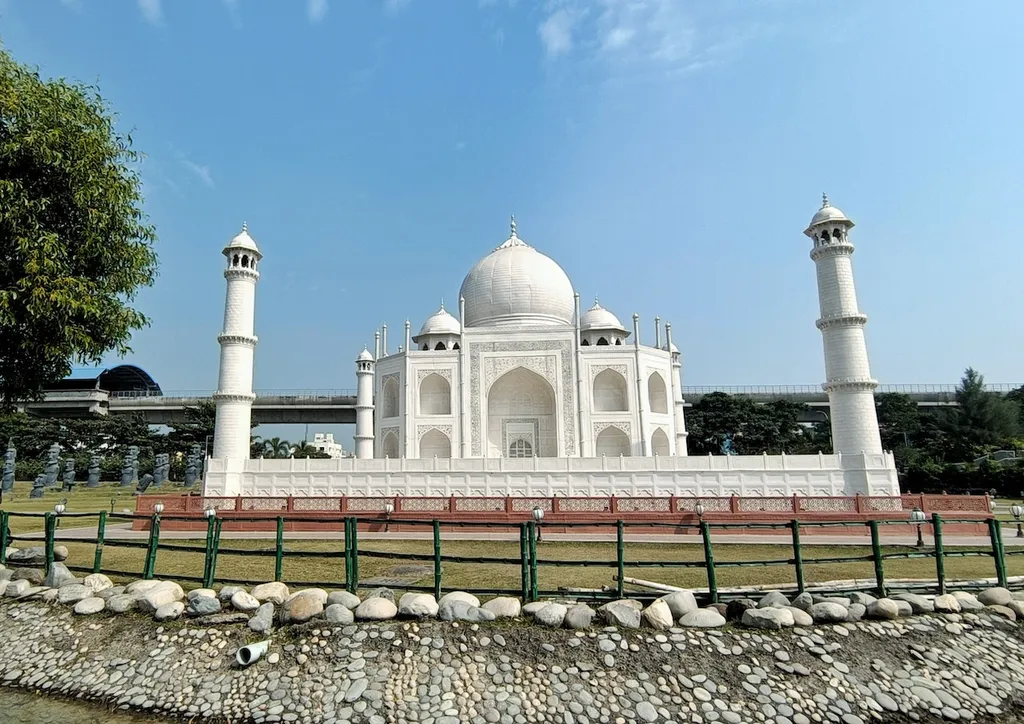 Eco Park is the best place for various outdoor activities. The huge area is really good for enjoying a good time and indulging in activities and games. The park also has an ice skating rink where you can spend some fun time skating. You can also enjoy activities like cycling or bird watching. The activities available there and their prices are given below.
Bird Watching
Ticket price: Rs.10
You can enjoy different varieties of birds in Eco Park by only paying Rs.10. People who are interested in this activity come and visit Eco Park from all over the city.
Ice Skating
Ticket Price: On weekdays the price is Rs. 170 per person for 30 minutes and for 45 minutes the price is Rs. 200. On weekends the price is Rs. 200 for 30 minutes and Rs. 230 for 45 minutes.
You can also take monthly membership that costs Rs. 1200 to Rs. 1700 and that includes skating gears on a rent as well. They have expert coaches for beginners and amateurs who will be helping you out.
Boating and other water rides:
Ticket price: Ticket price starts from Rs. 50 to Rs. 300 according to the activities chosen and time limit.
You can indulge in activities like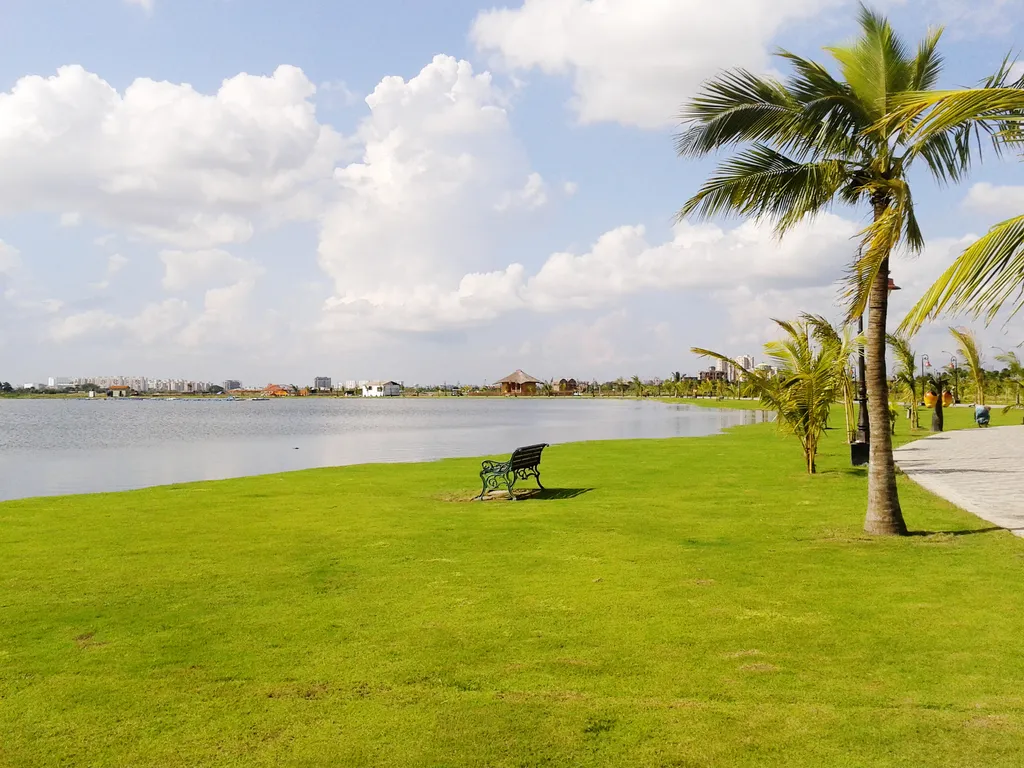 High speed boating – Rs. 100 for one round of the lake.
Kayaking – Rs. 150 for 30 minutes.
Laser Bumpy Boat– Rs. 200 for 20minutes.
Paddle Boat– Rs. 150 for 30 minutes.
Family Shikara -Rs. 200 for 30 minutes for 4 people.
Water cycling– Rs. 100 for 30 minutes.
Water Zorbing– Rs. 150 for 30 minutes
Other activities are:
Angling: Rs. 1500
Baby Cycling: Rs. 70 for 30 minutes
Cycling– Rs. 150 for 30 minutes
Duo Cycling– Rs. 150 for 20 minutes per couple
Archery- Rs. 70 for 5 arrows
Bull Riding– Rs. 30 for 2 falls
Eco Cart– Rs. 50
Cruise- Rs. 150 for 40 minutes
Land Zorbing– Rs. 200 for 200 metres
Gaming Zone– Rs. 50 for 30 minutes
Remote Car– Rs. 50 for 15 minutes
Mickey Mouse– Rs. 20 for 20 minutes
Rifle Shooting– Rs. 50 for 10 shots
Trampoline– Rs. 20 for 15 minutes
Paintball– Rs. 50 for 15 minutes
Read More: FAMOUS SWEET SHOPS IN KOLKATA
Tourist attractions in Eco Park Kolkata: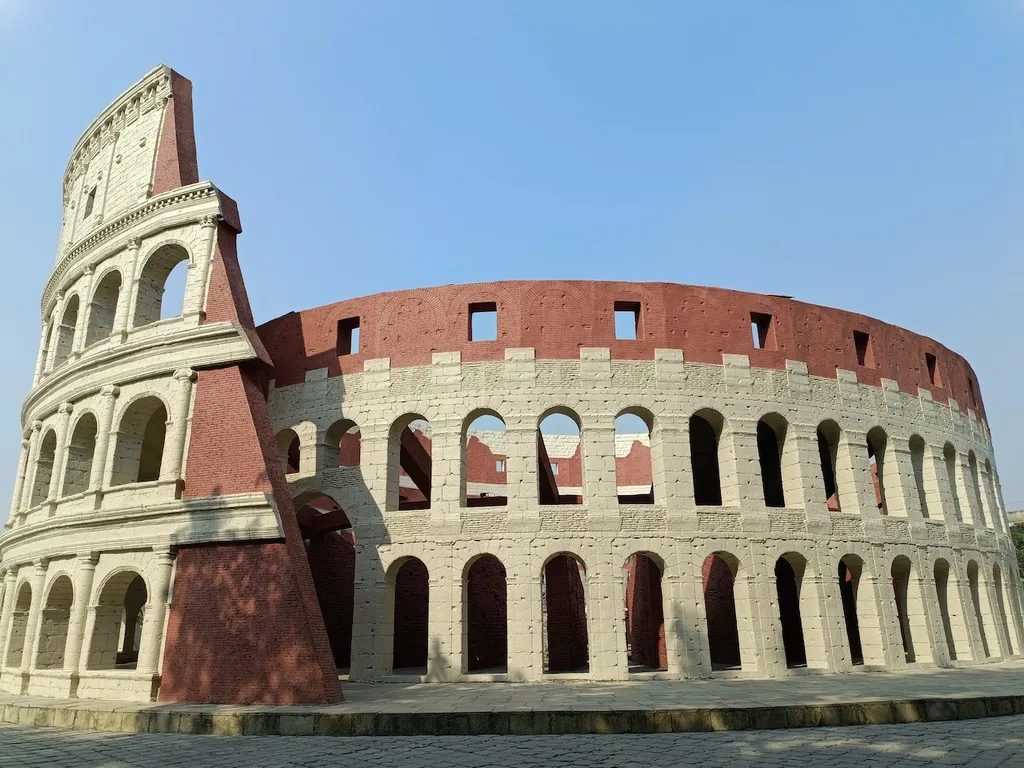 Seven Wonders of the World
This is undoubtedly the most attractive thing to experience in Eco Park. This park actually has replicas of all the 7 wonders in the world and you all cannot imagine how beautiful they look. They have replicas of the Taj Mahal, The Great Wall of China, Colosseum, Christ the Redeemer, Pyramids of Egypt, City of Petra and you can visit all of these just within a single area. The Taj Mahal and the Pyramids are the best forms of art here.
The Taj Mahal is made of white marbles so that it looks almost real. The size is one eighth of the original Taj Mahal. There is the replica water body in front of the Taj Mahal as well so that it looks even more real with the reflection in it. The pyramids also look spectacular standing at a height of 40 feet. The walls inside are lined with Egyptian paintings to give it a real feel. There is a replica stream in front as well that replicates The Nile. The Great Wall of China is 100 metres and looks amazing.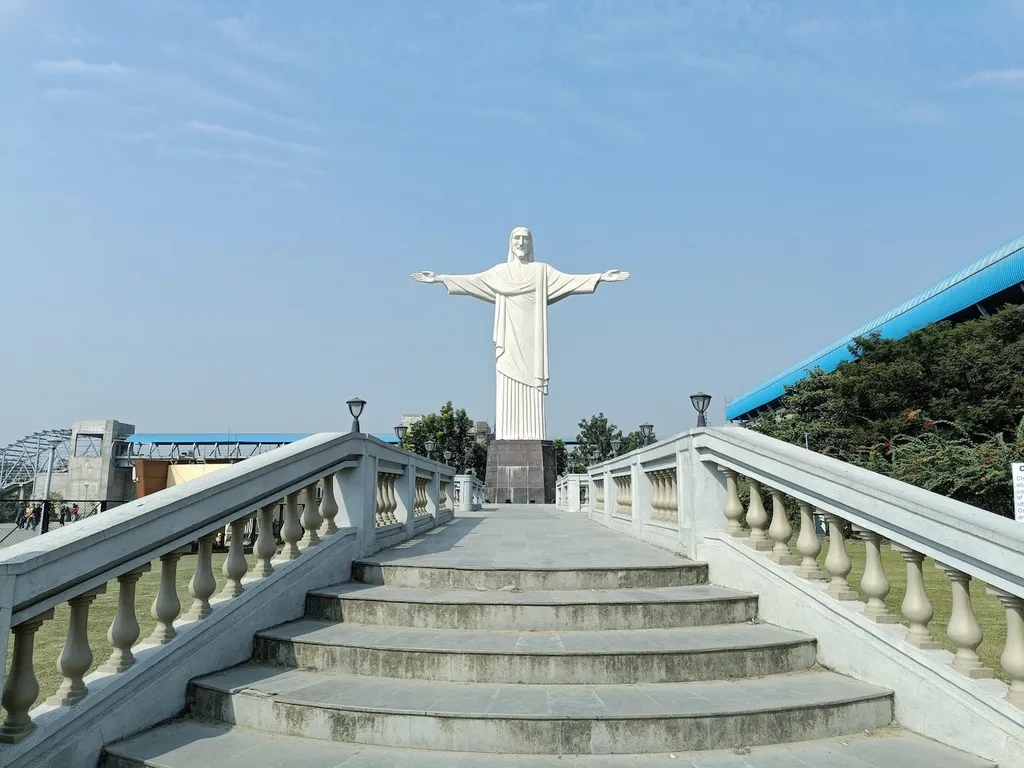 Now you can watch all of these and take some cool photographs here too. You will get the look and feel of the actual wonders in the world all together, that too without travelling, and spending huge amounts of money. This is surely a must visit thing in Eco Park. Enter from Gate no 4 for a closer access to the 7 wonders. You can visit during the daytime to get a clear view. But the wonders look even more beautiful with the colourful lighting in the evening. So definitely don't miss visiting the 7 Wonders Eco Park Kolkata.
Eco Park Kolkata 7 wonders entry fee is Rs. 30 per person.
Café Ekante
There is a café inside the Eco Park that you can visit. The prices are a little high but if you want some refreshment you can visit here.
Artist Cottage
The Artist Cottage is a serene corner for people who are creative and have an inclination towards creativity. The ambience here is dreamy and people can sit here in the peaceful area and be creative with their arts.
Adda Zone
The Adda Zone as the name suggests is a spot for small talks. Adda means chatting and this zone has been made keeping in mind that people can come and sit on the benches and have a conversation.
Sabuj Sathi Island
There is a huge island just in the centre part of Eco Park. The area spreads across 7 acres. The major attraction in this island is the glass house that gives a 360 degree view of the Eco Park. The area of the glass house is 2800 sq feet. There are also 3 open air viewing galleries here and you can enjoy beautiful views from here. This glass house is made for corporate events and other personal and private occasions. It can accommodate about 100 people.
Urban Museum
This museum has idols of Maa Durga from all the big and renowned puja committees in Kolkata. The place looks surreal with so many idols and other decorative items all at once. It is one of the finest forms of art and it feels great to look at the artistic idols here. You can easily feel like you are transported to the Durga Puja days. The area is made to encourage the art and artists who work tirelessly in making Durga Puja such a popular and enjoyable festival for the Bengalis.
Graffiti Walls
The parking lot in Eco Park has actually been painted by two artists Subhaprasanna and Jogen Chowdhury. The walls had been painted to give them a colourful look on both the sides. It is surely a sight to enjoy.
Biswa Bangla Haat
This is more like a market that sells and showcases the finest examples of handicrafts and items of the cottage industry. The area has been designated to encourage the handicraft art of Bengal. You can get to see some really beautiful and artistic items here. You can also get some freshly grown items here.
Read More: ROOFTOP CAFE IN KOLKATA | BEST ROOFTOP RESTAURANTS IN KOLKATA
Gardens in Eco Park Kolkata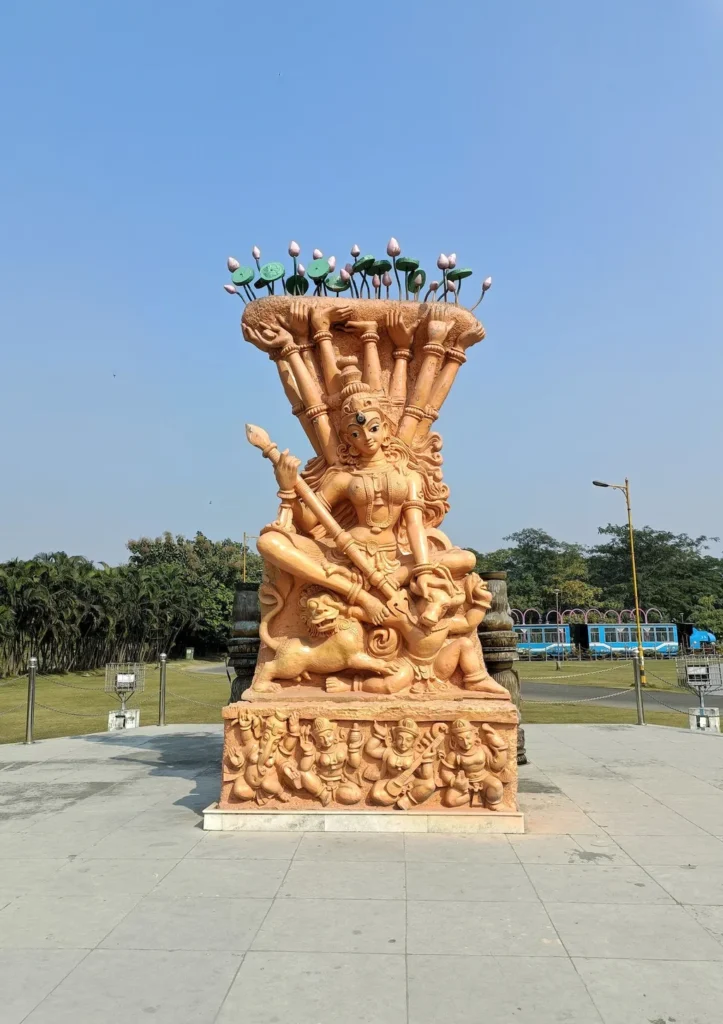 Butterfly Garden
This is one of the most beautiful spaces in Eco Park. This garden is home to numerous butterflies. This butterfly garden is also one of the best that houses butterflies of so many different types. This is an almost natural habitat for butterflies. The area is made and maintained thoughtfully so that it is beneficial for the survival of the butterflies.
Tea Garden
This is like a model tea garden that is spread across an area of 1 acre. The garden has been designed by Andrew Yule and his team. 40 trucks filled with soil were carried from the Dooars region of North Bengal to give this place the most natural look and feel. Also the soil from that area is suitable for the plantation as well.
Formal Garden
This garden is conceptualized on the idea of vertical gardening. The garden is decorated beautifully and uses a lot of creativity. People who love gardening can learn and borrow many ideas from here and apply them for their own home gardens.
Mask Garden
This garden in Eco Park displays different masks from all over the world. The masks are of different shapes and sizes and look quite fascinating. The visitors really find this garden interesting to visit. You can know a lot about the tradition, art, culture and crafts of the countries from these masks.
Sculpture Garden
the sculpture garden has some really old sculptures dating back to the 19th and 20th century legends. This is also a really popular and loved place for the visitors.
Fruit Garden
This garden has a good number of trees with fruits. You can learn about the different trees while roaming around this garden. It is also a beautiful sight to observe.
Meadow Garden
This is a garden with beautiful wild flowering plants. The colourful flowers in front of the lakefront look beautiful. This place is perfect to take a walk or spend some time witnessing the beauty of the flowers.
Bamboo garden
This garden is specifically dedicated to different varieties of bamboo. Here you will see bamboo ranging from very small sizes to really large bamboo shoots. This can be an interesting visit.
Rose Garden
The rose garden as the name suggests is lined with various rose plants that look breathtakingly beautiful. The different colours will surely steal your heart away. And if you are a flower lover then this will be an ideal place for you to spend some time simply looking at the beautiful roses.
Rabi Aranya
This is a garden completely dedicated to famous Bengali Poet and Nobel Laureate Rabindranath Tagore. The trees here are planted in a way to replicate Shantiniketan. Also you will find mentions of these trees in the writings of Rabindranath Tagore as well. With benches on the sides and a lotus pond the garden looks really beautiful. It would be a nice place to spend some time.
So now you have one single place to entertain you in so many ways. This park is perfect for people from all age groups, because you have something for everyone. People having varied interests and liking can visit Eco Park Kolkata and enjoy different activities. If you are a peace lover the park has things for you, if you are an adventure lover then also there is something in store for you. This park is made with a lot of thought so if you have never visited this beautiful park in Kolkata, then you are surely missing out on a lot of things. Special mention goes to the 7 Wonders of the World. I am sure you will find more than one thing that would attract you to visit this park again and again.