Kali puja is essentially a Bengali festival mostly popular in West Bengal and Kolkata of course. The worship of Shakti or Goddess Kali is to honour the winning of the Good over Evil. Also known as Shyama Puja as the other name of Goddess kali is Shyama that means Black or Dark, the festival is also celebrated in Bihar, Odisha, Assam, and Tripura along with some areas of Maharashtra. For people in other parts of India the same time can be the Diwali time, but for Bengalis it is essentially the Kali Puja that gains momentum. At every nook and corner of Kolkata and West Bengal you will find Devi Kali being worshipped in pandals. Even in a lot of regular households you can see the Goddess being worshipped. Just next to Durga Puja this is another important festival of the Bengalis.
Furthermore, the Kali Puja also coincides with Diwali festival, and the Shyama Puja or Kali Puja is also known as Deepabali. With the puja being conducted from night and continuing till dawn, the Kali Puja is also known as Mahanisha Puja. Along with the puja the bursting of crackers, lighting of lamps and pandal hopping makes it a grand affair in Kolkata. Here you can actually see some of the best Kali puja in Kolkata. These famous Kali puja in Kolkata are no less than Durga puja for the Bengalis. So keep on reading this article because here I will mention some of the biggest Kali puja in Kolkata that you can attend this year. Check out the top 10 Kali puja in Kolkata that you cannot miss out visiting this year.  
10 Best Kali Puja in Kolkata
Adi Barwari Kali Puja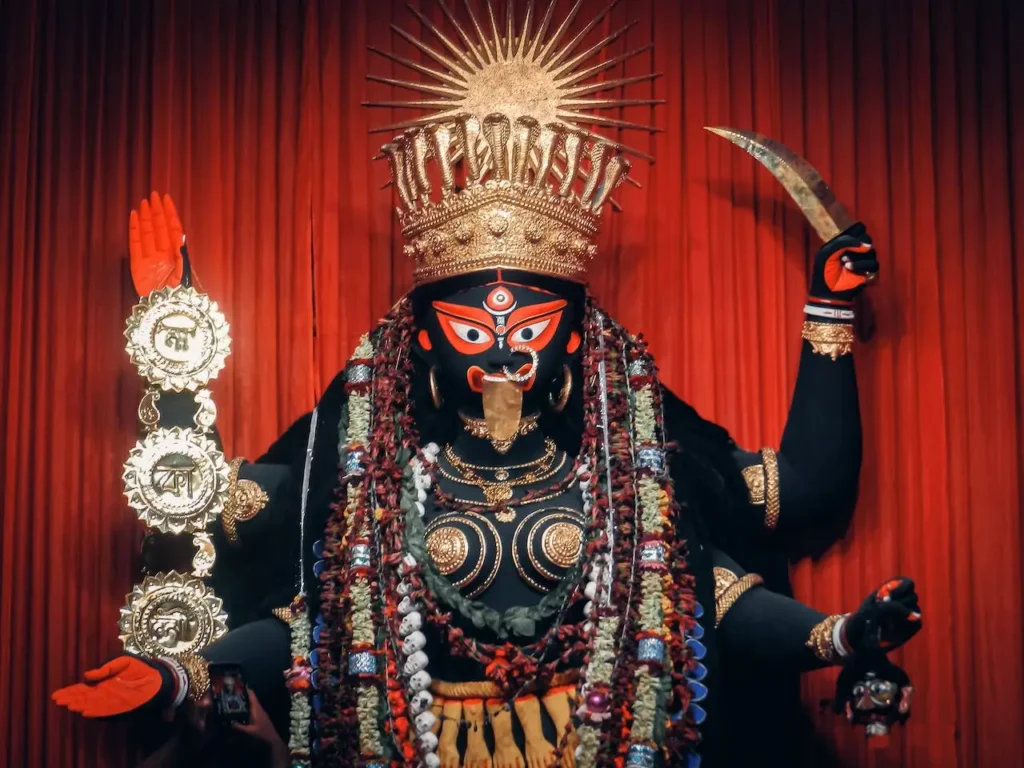 Location: 33/2, Sri Gopal Mullick Lane, Kolkata
Established in the year 1858 this non profit organization is known for being one of the oldest Kali puja in Central Kolkata. This year in 2023 the puja is celebrating their 165th year. They are known for their traditional puja of Adi Maa. Furthermore the idol of the Goddess here is really tall and gives an impeccable feel. Everything here feels grand and you can actually notice the traditional way of celebrating. Furthermore they have a grand inauguration before the puja and then during evenings there are cultural programmes as well. They have received many awards in the recent past for their outstanding exhibit during the puja as well. If you are interested in exploring the traditional Kali Puja in Kolkata then this one is a must visit for you.
Read More: VICTORIA MEMORIAL KOLKATA TIMINGS, TICKET PRICE, HISTORY, IMAGES
Naba Yubak Sangha / Fatakeshto Kali Puja
Location: Sitaram Ghosh Street, Kolkata
While talking about the famous Kali puja in Kolkata we must mention the Fatakeshto Kali Puja. The deity here is famous for its height. Many popular artists like late veteran Bengali film star Uttam Kumar once was a regular visitor here. Even today many popular celebrities do visit here to pay their visit to Devi Maa. Currently they are organizing their 66th year of Puja in 2023. If you are searching for traditional Kali puja in Kolkata in a huge stature then you must visit here.
Sahanagar Keoratala Swamsan Kali Puja Samity
Location: Keoratala Swamsan, Kolkata
This Kali puja is also another old puja in the city happening through many years. Happening inside the Keoratala crematorium this Kali puja is yet another popular pandal in Kolkata. One of the specialities of this place is here the idol is blue in colour instead of the regular black. Puja here happens in the most traditional way along with aarti. You can surely think of visiting here.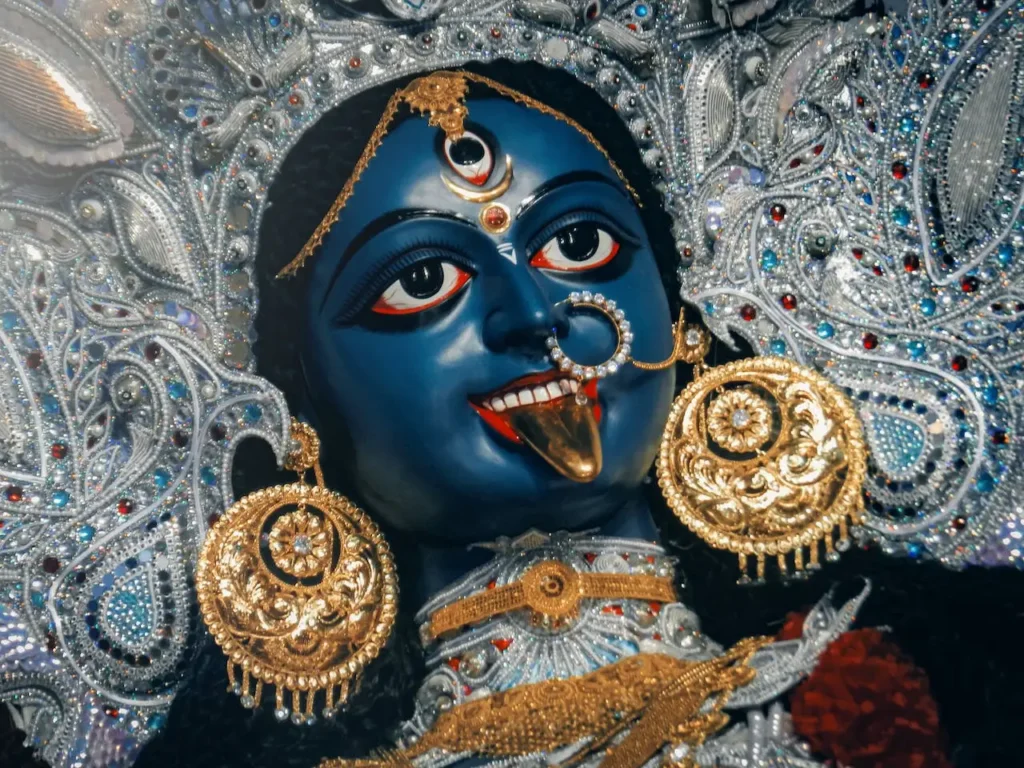 Somen Mitra Kali Puja
Location: Amherst Street, Kolkata
Started by late politician and Lok Sabha member Somen Mitra, this Kali Puja in Amherst Street Kolkata is another big budget puja in Kolkata. Known for its idol, lights and traditional rituals the committee is currently celebrating their 82nd year of Puja. From a grand inauguration to a grander immersion procession of the goddess, this Kali Puja in Kolkata is one of the most popular pandals that you can visit. Keep in mind that this is one of the crowded locations so there can be a lot of traffic restrictions in the area. Nevertheless, it will be one of a kind of an experience to witness the grandeur of this Kali puja in Kolkata.
Read More: ECO PARK KOLKATA TIMINGS, TICKET PRICE, IMAGES, 7 WONDERS
Kalighat Temple
Location: 9 Bhagwati, Ishwar Ganguly Street, Kolkata
The Kalighat Temple in Kolkata is one of the 51 Shakti Peethas and that in turn makes it a ground for celebration for Kali Puja. Many devotees specially reach the temple early in the morning to offer their prayer to the deity. Some even do fasting for the whole day and reach the temple during the time of the main puja. Only after the puja is done do they break their fast. It is believed that the Goddess here is extremely powerful and if anyone wishes for something with pure heart then their wishes do get fulfilled. It is said that during the Rudra Tandava Devi Sati's right toe fell here and therefore later this Shaktipeeth is formed.
During Kali puja the whole temple is decorated beautifully. Furthermore, thousands of devotees visit the temple on this day. There is special arati along with bhog as well. So if you want to offer your prayers to the Goddess on the day of Kali Puja you can surely go there. Just keep in mind that the place is usually really crowded. Furthermore it gets even more crowded on the occasion of the Kali Puja.
24 Pally Club
Location: Chetla, Kolkata
Here the Dashamahavidyas or 10 different forms of the Goddess are worshiped. You can even see Adi Kali, Dakshnina Kali forms here. This is one of the popular Kali Pujo in the Chetla area as well as in Kolkata. So if you get a chance you can surely visit here.
Dakshineswar Kali Temple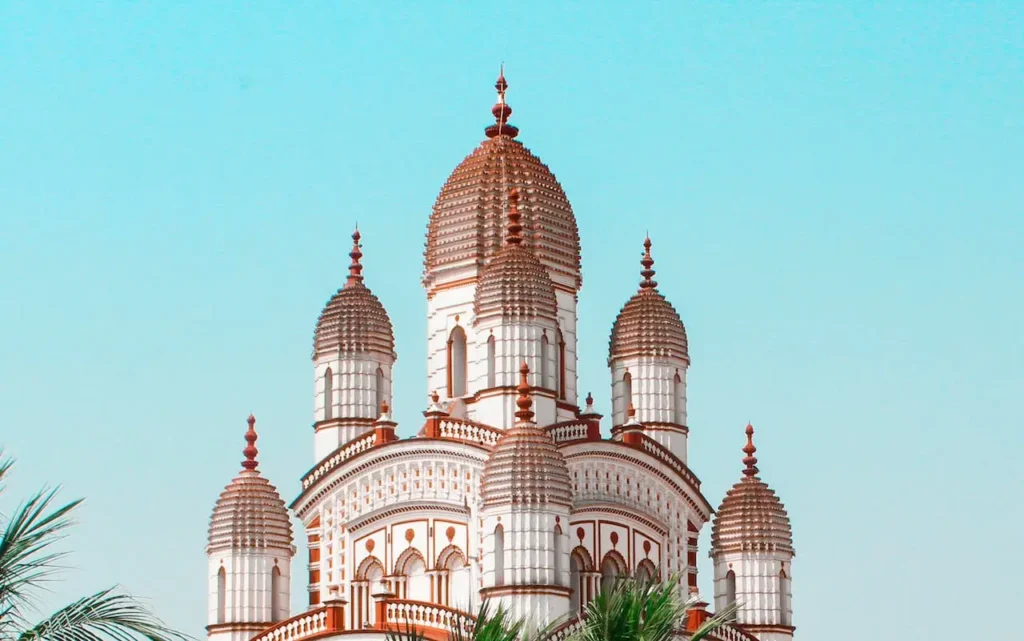 Location: Dakshineswar, Kolkata
This is one of the most popular Shakti temples in the heart of the city. The temple was popularized by Sri Ramakrishna Paramhansa who was a priest here and stayed in the temple premises with his wife Sri Sarada Devi for many years. He even met Swami Vivekananda for the first time here as well. A huge footfall is counted here on a regular basis. Along with that on the day of Kali Puja the temple becomes even more attractive. Lakhs of devotees visit her on the day of Kali Pujo and it seems like a grand affair.
Furthermore devotees from all over the city and outside come on this day to pay a visit to the Goddess. The temple is decorated very well with flowers and lights on the day of Kali Puja. Even live telecast of their puja is shown on television. Furthermore cultural programmes are also held during the night where eminent artists perform devotional songs. Special laser lights are used over the temple on this day that elevates the beauty of the whole architecture.
Girish Park 5 Star Sporting Club
Location: Girish Park, Chittaranjan Avenue, Kolkata
This is another famous Kali Puja in Kolkata that you can visit. This club has been organizing the puja for many years now and many people visit the pandal as well. Furthermore the central location of the pandal makes it even more convenient for the visitors to visit here. You can surely check out this puja this year.
ABS Sporting
Location: New Alipore, Kolkata
The specialty of this Kali Puja is the massive idol here. Their idols are more than 30 feet high and you can already imagine how majestic that would look. If you have never seen such a tall idol then you need to visit here to witness this with your own eyes. It would feel different once you capture this sight with your own eyes. Furthermore you will be mesmerized by the beauty and grandeur of this puja.
Read More: FAMOUS SWEET SHOPS IN KOLKATA
Sri Sri Karunamoyee Kali Mandir
Location: 32, Mahatma Gandhi Road, Haridevpur, Paschim Putiary, Kolkata
This is another famous Kali temple in Kolkata where Kali Puja is celebrated with much pomp and grandeur. The whole premise is lit up in beautiful lights and decorated with flowers. Furthermore, devotees from all around the city and around come and visit this temple on the day of Kali Puja to offer their prayer to the Goddess. The ambience here is generally really peaceful. But on the day of the Puja it might be a little too crowded. So keep that in mind. Nevertheless the visit would be worth it. So definitely try to visit this temple once.
Other than the pujas mentioned here you can find many other pujas happening in the city that you can visit as well. However I have mentioned the top 10 Kali puja in Kolkata that you can surely attend to enjoy the true essence of this festival. So if you are in Kolkata and you are wondering which Kali pujas in Kolkata you should be visiting this year then have this list in handy. Ranging from famous Kali Temples in Kolkata for offering your prayers, to the most famous Kali puja in Kolkata, I have added everything for you all. I hope this article will be helpful to you as a guide for this Kali Puja.
Do let me know what are your plans for this Kali Puja? Are you going to visit the temples and offer your prayer to the Goddess or are you in a mood for pandal hopping. Especially if you are missing the pandal hopping spree from Durga Puja, this can very well be a good opportunity for you to go hop hop to the pandals again. Also don't forget to light up your ambience during this festival of lights. Enjoy to the fullest. Jai Maa.