Directly on the lap of nature, if there can be some destination that stands true to being a best representation of the natural beauty, then Sillery Gaon fits the place perfectly. Sillery Gaon is a small hill station in the Kalimpong district that offers unparalleled views. Furthermore this small village is sparsely populated and therefore the villagers are opening their spaces to offer beautiful homestays for the visitors. Staying in one of the Sillery Gaon Homestay can be one of the experiences that you are going to cherish forever.
 A location as beautiful as Sillery Gaon deserves a lot of love and special attention. In this article I am going to mention all the necessary information that you might need to plan a visit to Sillery Gaon. So keep on reading this article because at the end of it you would know everything about Sillery Gaon, Sillery Gaon homestay, Sightseeing, the weather and a lot more. I am sure this article will be a helpful read for you in planning a trip to this majestic location.
Sillery Gaon
Nature has its own sound, yet the silence amidst nature has so much to tell. If you want to experience one such moment then Sillery Gaon can be a very good option for you. This small village is that quaint hill station that can be a romantic destination as well as a thrilling landscape or hidden treasure trove waiting to be explored. Furthermore currently Sillery Gaon is also known as the New Darjeeling for its gaining popularity amongst travelers. The unknown birds chirping, the pleasant weather, breathtaking viewpoints and the untouched natural beauty elevates the enchanting beauty of Sillery Gaon more and more.
Furthermore, what makes this even more attractive is the Sillery Gaon Height. Located in a small village called Pedong in Kalimpong, Sillery Gaon is located at an altitude of 6000 ft from the sea level. Not just that, the high altitude also offers a beautiful unhindered view of the mighty Kanchenjunga. The scenic beauty Reshi River flows by the location that further makes this look astounding. Across the river Reshi there is Sikkim and on the west side of the village it is surrounded by Nepal, while the northern side overlooks Kanchenjunga.
The sparse population of this location makes it even more beautiful. You will instantly feel how nature is undisturbed here. Only around 25 to 30 families reside here. And while this place is gaining momentum as a tourist spot the residents are ever welcoming to the visitors. Most of the places of accommodation here are homestays run by the villagers.
How to reach
Sillery Gaon is well connected to various cities via the major Airport and Railway Station as well as local transport. You can reach here via various means.
By air
The nearest Airport is the Bagdogra Airport which is 97 km away. From there you can take a car or get a shared ride to reach the location.
By train
Major nearest railway station to reach Sillery Gaon is New Jalpaiguri Railway station. Furthermore NJP to Sillery Gaon distance is around 96 km. From there you can either get cars, jeeps or even shared rides to reach the location. Furthermore they will take you through Teesta Bazar and Aligarh in the district of Kalimpong.
By road
You can also take buses or shared cars to reach the location from Kalimpong. Kalimpong to Pedong is a journey of around 30 minutes till Sillery Gaon. After a point motorable roads end and you will then have to walk for about 2 minutes to reach the location.
Read More: DAWAIPANI HOMESTAY, TEMPERATURE, SIGHTSEEING, DISTANCE
Best Time to visit
Technically this location is an all year round destination. In each season the beautiful Sillery Gaon has its own features which the visitors can enjoy. However, if we are talking about the ideal time to reach Sillery Gaon then October to November can be the best time. It is the end of autumn and therefore Sillery Gaon weather remains pleasant at this time. Furthermore the sky also remains clear during this time so you can actually enjoy the viewpoints and view from there really well at this time.
From December to February Sillery Gaon temperature remains really chilly and it even comes down to 1 degrees. However if you are interested to witness the snow capped mountains the winter season would be the ideal time to visit here. Spring to summer time from March to June also is ideal to witness the breathtaking view of Mount Kanchenjunga as the sky remains clear during this time.
Avoid visiting here in the monsoon months of July to September. This area experiences frequent rainfall and the foggy sky is an obstacle to witness the beautiful views. Furthermore road condition also gets bad here during the monsoon and there are more chances of landslides. So plan your trip accordingly.
Sillery Gaon sightseeing
You can enjoy some of the most beautiful sightseeing points at this breathtaking hamlet. Nature is at its best in a location like this and everywhere you look around your heart will be full of thrill and bliss and wonder all at once. Some of the popular places are:
Ramitey View point
To enjoy the best view of Mount Kanchenjunga nothing can beat this viewpoint. This View point is just 3 km away from Sillery Gaon. Also you can enjoy the breathtaking view of Teesta with its 14 bends from here. Furthermore you can witness the confluence of Reshi River and Teesta River here. On a clear sky day the whole view of the entire region of Teesta Bazar to Majitar in Sikkim is observed here. You can reach here via a car or if you are interested for some thrill then you can also reach here via a small trek.
Tinchuley Viewpoint
This viewpoint is around 30 metre away from Sillery Gaon. To reach here you will have to complete a short trek on the uphill road. In itself the experience can be extremely exciting. A beautiful 360 degree panoramic view of Mouth Kanchenjunga along with views of Jelep La and Nathula Pass is seen from here.
Damsang Fort
This fort is only 4 km away from Sillery Gaon. Almost a major portion of this fort is in ruins at the moment. This ancient fort was built in 1690 by the Lepcha kingdom. The spot is ideal for birdwatching and also serves as a viewpoint of surrounding valleys and hills.
Hanuman Top
From Damsang Fort this place is a little higher. It is the top of the region known as the Hanuman Top as it has a beautiful sculpture of Hanuman Ji. Along with that you can enjoy the breathtaking view of the whole Kalimpong town from here. It would be a small trek to reach this spot from the Damsang Fort.
Cross Hill
Known as one of the best sunset points, Cross Hill is another popular sightseeing spot. On a clear sunny day you can even catch a glimpse of Tibet from here. On usual days Mount Kanchenjunga is visible from here too. This spot holds a lot of religious and historical relevance for the Christians .It is said that in 19th century some Evangelists travelled to Tibet to spread Christianity and never came back. In their memory a cross was built here that faces Tibet.
Shahid Park
This park is built in order to honour the heroes of the Kargil War. It is a memorial built for the martyrs of Kargil.
Silent Valley
A small trek can take you to the Silent Valley. This is a wonderful place with a spread of lush greenery and majestic natural beauty.
Homestays in Sillery Gaon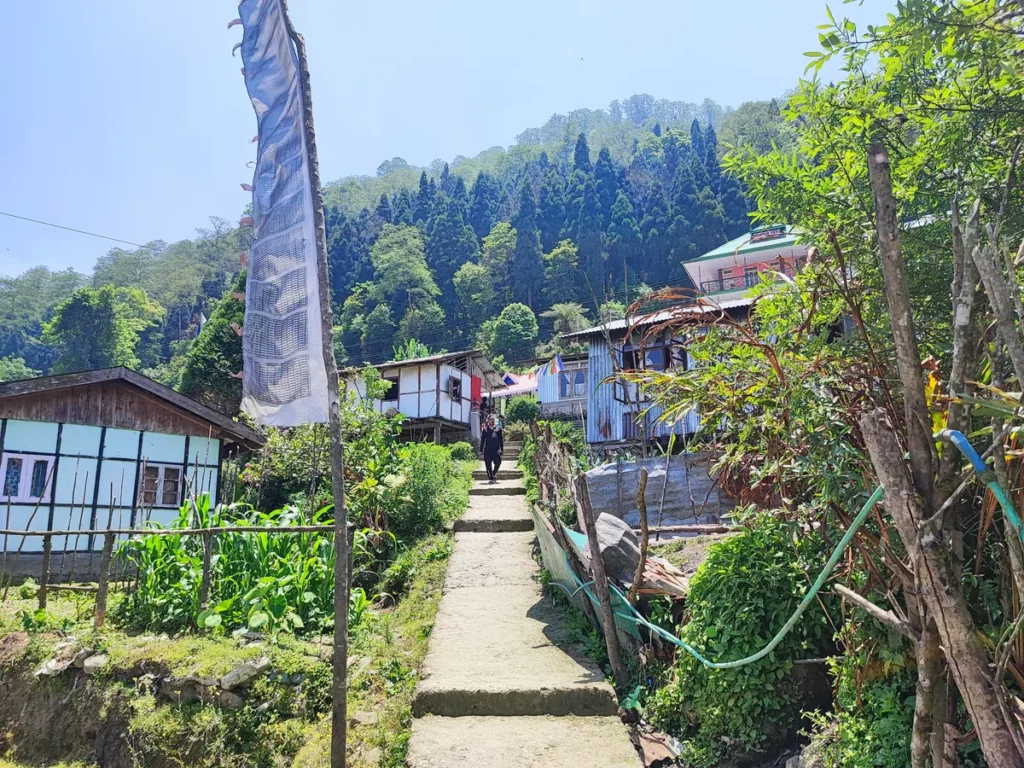 You can get some good options for homestay in Sillery Gaon. Some of the popular ones are:
Nirmala Village Resort
Address: Sillery Gaon, Kassayen Gram Panchayat, Kalimpong sub division, Darjeeling, West Bengal
Website– Sillerynirmalavillageresort.com
Contact number– 9933922859
This Sillery Gaon Homestay is in a very close proximity to the Damsang Fort. It is run by Mr. Rudra Mukhia and his family. They have been running since 2009 and offer the best experience to the visitors. There are a total of 7 rooms here with attached western toilets. Furthermore they also offer services like Hot Water, Room service, fire cooked food, barbeque on demand. It is recommended that you book the homestay in advance. For that you will have to make an advance 40% payment.
Sanket Homestay
This is a good option for staying in Sillery Gaon. There are a total of 5 rooms here. The rooms have attached toilets and geysers. Furthermore they can arrange barbeque on demand if the guests demand. They also have a free parking facility and offer a beautiful mountain view.
Heaven Valley Homestay
Address: Sillery Gaon, 20th Mile, Kalimpong, Darjeeling, West Bengal
Website: silleryheavenvalley.com
Email: abhinaymoktan@gmail.com
Contact number– 8768011306. 6296607557
The owner of this Sillery Gaon Homestay is Mr. Abhinay Tamang. They have 10 standard rooms and provide facilities like hot water, generators and vehicles for tours. You can enjoy activities like bonfire and barbeque, campfire with traditional folk performances, local dance etc here which they can arrange for you. Room tariff starts from Rs.1000.
Eco Nest Homestay
This is another budget Sillery Gaon Homestay that you can check out. Run by Mr. Soham Bhattacharya and his father, they have a total of 4 rooms. Each of their rooms has 2 double beds and an attached toilet. Room tariff starts from Rs. 1200.
Hill Homestay
Address: Sillery Gaon, Kalimpong, Darjeeling, West Bengal
Website: hillhomestay.in
Email: thehillhotels@gmail.com
Contact number: 9830513208, 9674742674
This one is a budget homestay in Sillery Gaon that you can check out. They have 5 family rooms with attached bathrooms and geysers. For standard rooms the tariff is Rs. 2400 and for deluxe rooms it is Rs. 3000. For an extra bed for adults they charge an additional Rs. 1000 and for a child from 3-5 years of age without extra bed the charge is additional Rs. 200. Furthermore they offer services like room heater, LED TV, 24 hours running hot and cold water, premium toiletries, water purification, daily housekeeping. They have a 24 hour front desk and a multi cuisine restaurant too. They also offer on demand Barbeque and camp fire for the guests.
Renu Homestay
This Sillery Gaon Homestay is a neat and tidy place that offers a total of 10 rooms. Each room has 2 double beds and an attached toilet. It is run by Mrs. Sarmishtha Chakraborty. Room tariff starts from Rs. 1500 to Rs. 2100.
Wrapping up!
Places like Sillery Gaon are a slice of nature being served to you. If you are interested in enjoying a piece of nature from up close then you must visit this majestic place. Also check out the Sillery Gaon homestays for a more warm feeling and hospitality. Do let me know if this article was helpful for you in planning a trip to Sillery Gaon.