Nestled in the district of Purulia Garpanchkot or Garh Panchkot is a beautiful scenic spot. Located just some kilometers away from Kolkata this location can be an amazing option for a fun weekend getaway. Furthermore the place holds a lot of historical relevance attached to it which further makes it one of the intriguing spots to visit. So, next time when you have one or two days in hand, you can surely visit Garpanchkot and stay in a Garpanchkot Resort to have a good time. Now your search for a nearby place for a small holiday ends here. Keep on reading the whole article because in this article I will mention every information that you would probably need before visiting Garpanchkot. Furthermore I will also mention the Garpanchkot Hotels, best time to visit and sightseeing places in Garpanchkot that you cannot miss out on.
Garpanchkot Resort
Overview of Garpanchkot
When you are in search of a natural solace with enchanting beauty of forest on the backdrop of majestic hill, a location like Garpanchkot makes an appearance. An ideal weekend destination Garpanchkot is located on top of Panchkot or Panchet Hill. Approximately the height is about 2100 feet and the whole area spreads across 18 sq km. Furthermore the name Garpanchkot derived from Garh. Once upon a time the king of Kashipur built a fort on this land of Panchkot hill. And therefore the name Garpanchkot is derived.
Being a historical site the origin of this location goes back to the Singh Deo Dynasty of 16th century AD. The king of Kashipur has also built a temple on top of the Panchet Hill which is currently just the remains and the ruins of the actual temple. It was a terracotta temple which is now a scattered ruin along the entire foothills of Panchkot.
Furthermore the fort was also destroyed multiple times by Maratha and Mughal forces. The rich history and architectural brilliance still peaks through the remains. You can notice various kinds of terracotta temples here like Jor Bangla, Pancha Ratna and Pirha which are different models of terracotta temples.
How to reach Garpanchkot
By Road
The distance of Kolkata to Garpanchkot can be travelled in a car or even buses. Distance of Kolkata to Garpanchkot is around 245 km and it would take around 4 hours and 30 minutes to reach there. You can take the NH 19 or the Durgapur Asansol Highway. Furthermore there are other options as well. You can reach Garpanchkot via Asansol or Barakar. It would take around 2 hours to reach from there via NH 2. Baranti to Garpanchkot distance is around 12 km and it would take 35 minutes to reach there.
By Train
Travelling in a train can be convenient too. You can take trains from Sealdah to reach Kumardubi which is the nearest railway station to reach Purulia Garpanchkot in about 4 hours. From there you can take autos or hire a car to reach Garpanchkot. You can also reach Adra, Asansol and Barakar railway stations to reach here. From Adra the distance is 25 km, from Barakar it is 15 km. The trains you can take are Black Diamond Express, Coalfield Express, Shaktipunj express. From the stations cabs would cost around Rs. 600 to Rs. 1200 depending on the location, number of people and type of vehicle.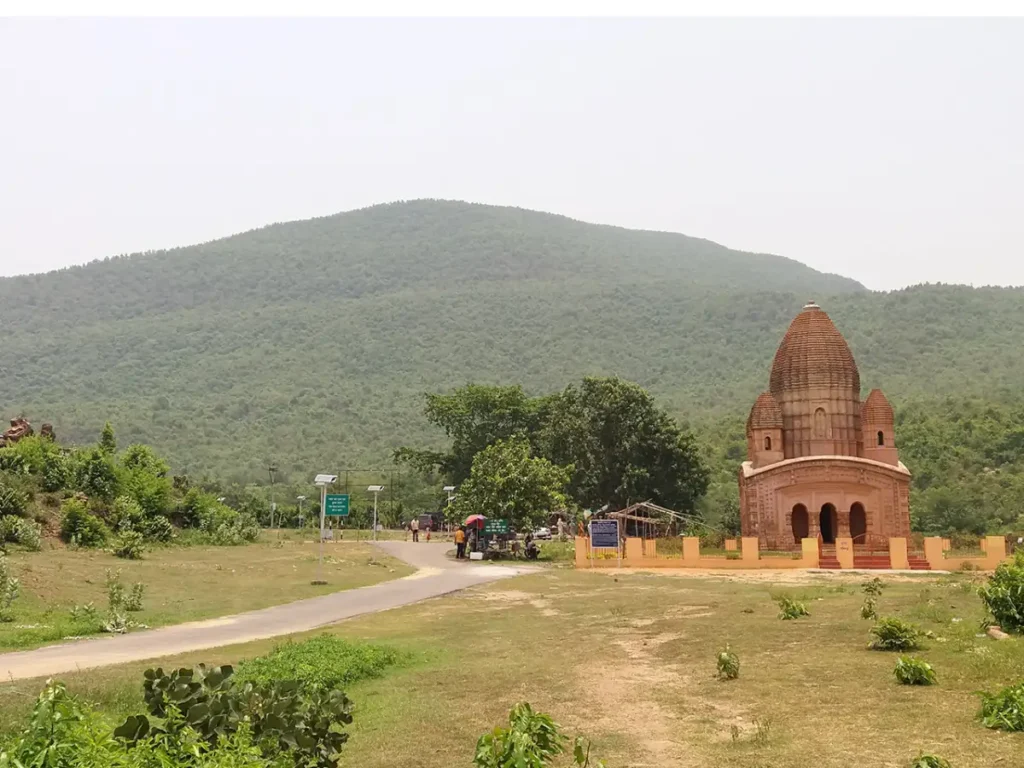 Best time to visit Garpanchkot
Both the summer as well as the winter season can be observed here very evidently because of the tropical weather. However the summer season can be a little too hot here so avoid visiting at that time. The monsoon here is beautiful when the greenery rises up to its best beauty but for tourist activities the rain can be a mood dampener. Winter is the ideal time to visit here. Furthermore during winter the weather remains very pleasant with temperature ranging from 8 degrees to 14 degrees. It can be the ideal time to enjoy the surroundings as well as to explore the beauty of nature.
Garpanchkot Sightseeing
Purulia Garpanchkot is a haven for tourists because of the kind of things it has to offer. Ranging from lush greenery to hilly landscape to terracotta temples there is a lot to explore here. Some of the popular sightseeing spots you can visit here are
Panchet Dam
One of the most popular sightseeing options here is the Panchet Dam. It is the endmost dam of the 4 dams constructed by Damodar Valley Corporation. This dam is constructed a little above the confluence with Barakar. Furthermore built across the River Damodar the northern bank of Panchet reservoir is in Dhanbad district, while the southern part is in Purulia. It stands tall with its height of 148 feet and with a length of 22, 235 feet.
Maithon Dam
This dam constructed in the state of Jharkhand is built on the Barakar River. The Maithon Dam is specifically designed to generate 60, 000 kilowatt of electric power and also for the purpose of flood control. This dam is 165 feet in height and 15, 713 feet in length and spreads across 65 sq km.
Jai Chandi Hill
This is another popular tourist spot with an elevation of 509 feet. Located just 3 km away from the Raghunathpur subdivision, this spot is also popular for rock climbing.
Other than that you can also visit the 500 year old Kalyaneshwari Temple which is 28 km away, Baranti which is 12 km away, Kashipur, Biharinath Hills which is 22 km away. Also visit the fort ruins, Biharinath temple, Birinchinath Temple, Snake Park. Furthermore if you wish to move a little farther you can also visit the Bagmundi and Ayodhya Hills which is around a 4 hour drive from here.
Garpanchkot Resort, Hotels
You can get some good options of Garpanchkot Hotels and Resorts. Most of these provide all the basic amenities. It is however always recommended that you book these Garpanchkot Resorts in advance to avoid any kind of hassle. I will mention some of the best Garpanchkot resorts now that you can check out.
Garpanchkot Tree House
While talking about the best Garpanchkot Resorts we must include the Garpanchkot Tree House. It is a beautiful resort. The tariff for double bed deluxe tent and room is Rs. 3500. Four bedded rooms and cottages are for Rs. 4500. Furthermore the suites are charged Rs. 4000. They also arrange sightseeing and cover nearby 7 points and that costs Rs. 3500. Other than that they offer all sorts of basic facilities like Air conditioning, Car Parking, Hot Water Service, Room Service, Pick up and Drop Facilities. They also have a swimming pool.
Panchet Residency
Website: panchetresidency.com
Email: panchetresidency@gmail.com
This is one of the best Garpanchkot Resort that you can check out. They have different types of arrangements for accommodation like Village Telkupi, Banjara Haat, Mrittika, Igloo and Agomoni. Each of the sections offers different kinds of facilities other than basic amenities. They have a swimming pool, a dining hall and safe parking space. Also they arrange cultural events and guided tours on demand.
Village Telkupi is an eco-friendly resort spreading across 15 acres. There are a total of 4 cottages here with 8 rooms. They offer AC, room heater, refrigerator with mini bar, 24 hours hot and cold water, LED TV and more services. The tariff starts from Rs. 5000 with complimentary breakfast.
Banjara Huts are rural cottages shaped like a tent. They have a total of 7 rooms here and provide all amenities like AC, LED TV, room heater and more. The tariff starts from Rs. 4000 with breakfast.
Mrittika is like a rural Bengali household made of mud. You can actually enjoy a pure village vibe while staying here. Furthermore the rural cottages have 17 rooms. The tariff varies from Rs 4000 to Rs. 12, 000.
Igloos are a budget option that has 2 single beds in a cozy set up. The tariff starts from Rs. 1500.
Along with that they do have packages as well like stay with complimentary breakfast, or stay with all meals attached and separate packages for couples and much more. It is recommended that you do your bookings beforehand, furthermore you also need to pay 60% advance while booking.  
WBFDC Resort
Booking office: West Bengal Forest Development Corporation Office, KB 19, Sector III, Salt Lake, Kolkata
Phone number: 7604044479
Email: bookings@wbfdc.com and wbfdv@wbfdc.com
Website: wbfdc.net
This is a government run Garpanchkot Resort known as Garpanchkot Prokriti Bhraman Kendra. They have different categories of rooms like premium rooms, super deluxe rooms, and deluxe rooms for double and triple occupancy. The tariff starts from Rs. 2000 and goes up to Rs. 4000. Furthermore they even have dormitories and the tariff is Rs. 700.
Garpanchkot Eco Tourism resort
This Garpanchkot Resort is one of the popular resorts in Garpanchkot. They have two areas inside their premises. One area has a swimming pool, a restaurant, children's play zone, open lawn and double and Four-bed rooms. The other area consists of 5 mini cottages, 2 family cottages and 4 suites with a water body.
Garpanchkot eco tourism resort price
There are a total 12 Deluxe Double bedrooms and the tariff is Rs. 4000. Furthermore they have 8 four-bed rooms and the tariff is Rs. 5000.
In the side premise they have the cottages. The mini cottages are for double occupancy and the charge is Rs. 4000. Other than that the family cottage is charged Rs. 4500 for double occupancy. Furthermore there are 4 suites and they are charged Rs. 5000 for double occupancy.
Breakfast is included in their packages. For an extra person with breakfast you need to pay Rs. 750. And for driver stay with breakfast charges are Rs. 750.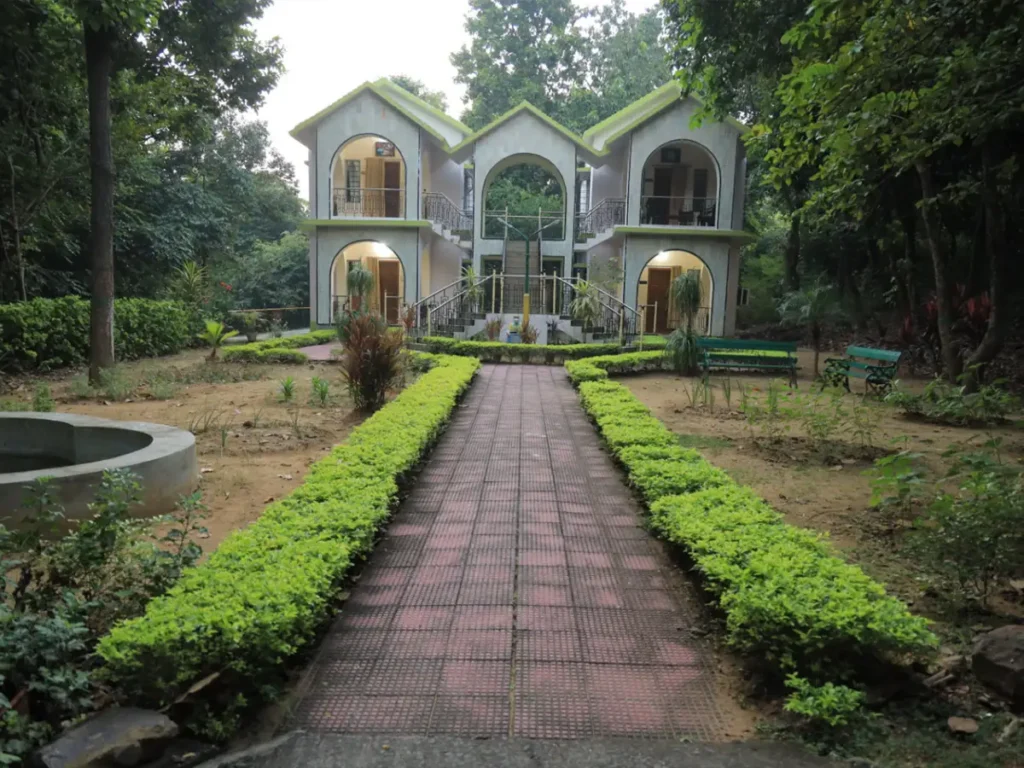 Charulata Resort Garpanchkot
This is another Garpanchkot resort that you can check out for a comfortable stay. There are a total of 9 furnished rooms with all modern amenities. They have AC, an attached toilet, and a geyser. The tariff starts from Rs. 3700.
Wrapping up!
If you want to enjoy the nature, get engrossed in the natural beauty and also visit a place with historical relevance attached to it then Garpanchkot is the ideal place. I am sure you will have a really good time if you visit here this coming weekend with either your friends or family. So what are you waiting for? Plan a trip to this heavenly place and stay at any Garpanchkot Resort and just enjoy the serenity and tranquility that nature has to offer you. Do let me know if this article was helpful for you in planning a trip to Garpanchkot. Also don't forget to tell me if you have ever visited Purulia and if you had an idea about this gem of a location already.