We all know Delhi houses many ancient monuments and structures. Because of the rich historical past and the many dynasties that have ruled Delhi in the past many years, these structures were constructed. Each of these dynasties and the kings has contributed in so many different formations around the city. What is surprising enough is that few of these buildings nestle in the narrow lanes of Delhi amidst large buildings. Agrasen ki Baoli is one such monument in Delhi that would make you feel you are not even in Delhi for the brief period of your visit here.
Hidden inside the chaotic yet happening area of Connaught Place, the Agrasen ki Baoli is one of the historical places that attract a huge number of crowds. The place is photogenic or what we call today as Instagram worthy. Massive structures, old world construction, architectural brilliance along with stories attached to it makes it one of the places that people enjoy visiting. Even though it is not a very popular sight for sightseeing, rather it can be called a hidden gem amidst the bustling city. However other than the structural brilliance what makes this place a must visit is the question of this place being haunted. Now that is intriguing enough for a visit here right? Keep on reading this article to know everything about this spot.
Agrasen Ki Baoli
Location of Agrasen ki Baoli:
Hailey Road, K G Marg, near Diwanchand Imaging Centre, New Delhi
Timings:
Agrasen ki Baoli timings are from 9 am to 5 pm on all days.
Agrasen ki Baoli ticket price: Entry is free
How to reach Agrasen ki Baoli: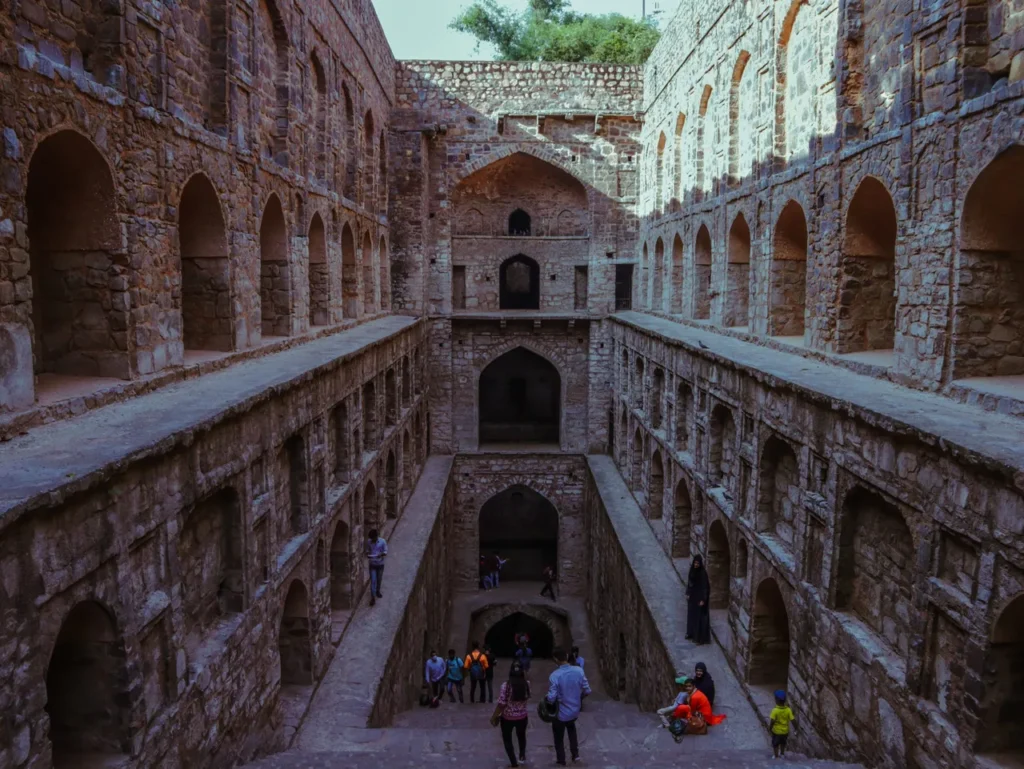 Places in Delhi are well accessible by buses. You can take buses to reach here. However, the Metro is the most convenient option to reach here. Agrasen ki Baoli nearest metro is Rajiv Chowk Metro Station and Barakhamba Road. From Rajiv Chowk the location is around 15 minutes walking distance and from Barakhamba Road it is only 10 minutes walking distance. You can also take cabs or rent a car to visit here by the way. It completely depends on you and you can choose your preferred mode of transport.
Read More: TEMPLES IN DELHI TO VISIT | FAMOUS TEMPLES IN DELHI
About Agrasen ki Baoli
Known by many names like Agrasen ki Baoli or Ugrasen Ki Baodi or Akshay ki Baoli, this is an ancient stepwell. This structure is one of the well preserved structures by the Archeological Survey of India under 1958 Ancient Monuments and Archeological Sites and Remains Act. Stepwells were built during the ancient days to preserve water in huge quantities. North India being a dry region, it always faced water shortage. Therefore, stepwells were built as reservoirs that can store the water required for daily chores.
Baolis or Baori or Bauri or Bawdi as it is called is a Hindi word. In Gujarat and Rajasthan they were called Vav, Vavdi, Bavadi, Vavadi as well. These were also called the water temples in ancient India. At present it is believed that there are around 2000 stepwells in India and out of that 14 are present in Delhi which are preserved by the Archeological Survey of India.
However not only as storage but this place was also used as a community space where people would come and assemble at different times. The women would come while they continue with their chores like washing or bathing and also spend some time chatting here. Also people would come here to seek some relief from the scorching sun. Along with that the arched cubicles were also used for different religious ceremonies back then. Basically a place like this acted as a place to get together as well.
Agrasen ki Baoili Today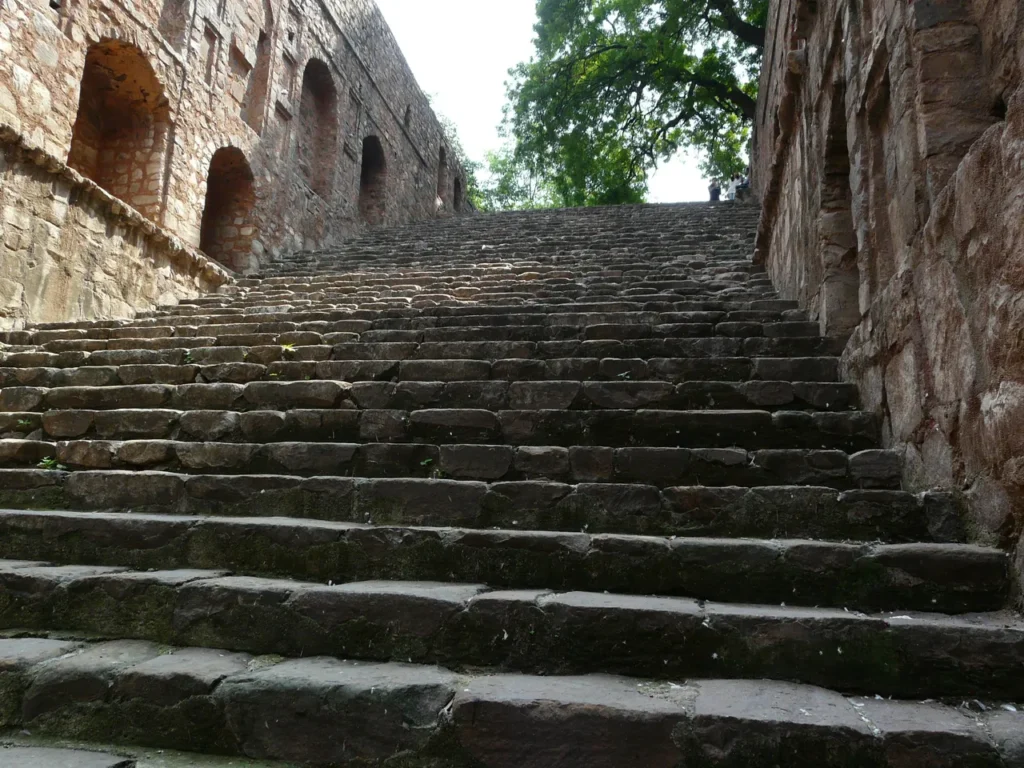 At present there is no water here. It has dried down. Today this place serves as a tourist spot in Delhi and people enjoy visiting this structure. This place attracts the tourists with its old world charm and also with its aesthetic formation. The place is also popular as one of the haunted places in Delhi and there are many stories regarding paranormal activities at this spot. However, this spot became more popular in recent times after it was featured in some of the blockbuster movies. Aamir Khan's super hit film PK was shot here. The residence of Aamir Khan from the movie was this very place. Also films like Salman Khan starrer Sultan, Sridevi's thriller film Mom etc were shot here.
History of Agrasen ki Baoli
There is no specific record regarding the formation of this structure. However, it is believed that this structure was constructed during the times of Mahabharata by the king of Agroha, Agrasen. This baoli is named after the king. Later during the 14th century this baoli was reconstructed by the Agrawal community. The Agrawals claimed themselves to be the descendents of Maharaja Agrasen. However, the historical and archeological evidence also shows that this stepwell was constructed somewhere around 1321 to 1414 during the Tughlaq Dynasty. It is also said that maybe the construction happened during 1451 to 1526 during the Lodi Dynasty.
Architecture of Agrasen ki Baoli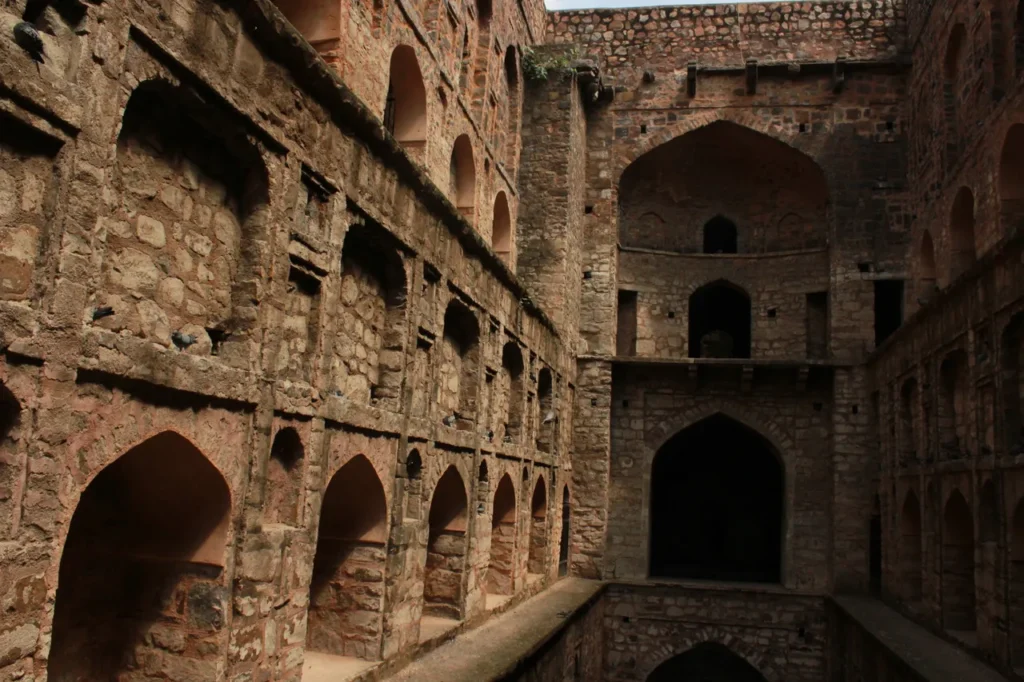 With a length of 60 metres and 15 metres of width, the Agrasen ki Baoli is built out of rubble masonry. Many precious stones and bricks were used to create the structure. The stepwell is rectangular in shape with three visible levels. Each of these levels are adorned with symmetrical arches on both sides. There are a total of 100 steps that would take you down there. And the interesting part is you can even experience a drop in the temperature as you go down. At the northern part of the stepwell there is a circular well. That well is 8 metres in diameter. For the majority of times the well remains dry.
Only in the monsoon season it is filled up to 4 or 5 feet. Today the well is out of use and it is shielded with iron grills to avoid any unfortunate accidents. There is an adjacent rectangular passage along the side of the well. As soon as the baoli gets filled with water completely it passes through that passage and gets filled.
You can also find a small mosque in the south west of the complex. The entrance has triple arches and is made with sandstones. Alongside there are 4 pillars made of sandstone that support the mosque on all sides. One of these pillars has collapsed in due course of the time.
Read More: ISKCON TEMPLE DELHI NEAREST METRO, TIMINGS, TICKET PRICE
Agrasen ki Baoli Haunted Story
According to legends it is believed by many that Agrasen ki Baoli is haunted. And there have been many stories about paranormal experiences here. The rumors say that this water reservoir had mystical black water which hypnotized people. In turn they were compelled to jump off in the water to end their lives. In modern days it is believed that if a person stays back after it is dark, then an evil spell is casted on them. However, there is no proof of any of these happening in real life but the place, along with its huge structure and the bats and owls staying here definitely evokes an eerie feeling.
It has been reported by many people that they have experienced the feeling of someone following their footsteps. But that has been justified as the echo of their own footsteps in the massive area. Many people visit this place to experience these feelings and that makes this destination even more intriguing.
Places to visit near Agrasen Ki Baoli
After you are done with visiting the Baoli you can visit the Connaught Place which is one of the most happening places in Delhi. It is only 2.5 km from the location. You can have a hearty meal at any of the umpteen numbers of restaurants and cafes found there. Or else you can also visit the Janpath Market which is like the shopper's paradise. If you are into street shopping then you must visit this place. Also don't forget to try the street foods there. The market is around 1.5 km from Agrasen ki Baoli. Other nearby places are,
Jantar Mantar (1.4 km away)
Gurudwara Bangla Sahib (1.7 km away)
Rashtrpati Bhavan (3.1 km away)
Birla Temple (3.6 km away)
Gandhi Smriti (3.8 km away)
Humayun's Tomb (5.5 km away)
Things to remember before visiting Agrasen ki Baoli
Even though this is a haunted place, it is guarded really well and you cannot visit here or stay back after dusk. You are not getting to explore this place in darkness whatsoever.
The location is Instagram worthy so do not forget to take amazing pictures here.
Photography is allowed here and is free. However there can be restrictions about using a tripod here.
If you want to check out the place in absolute solitude then try visiting here early in the morning. The place gets crowded during the day with college goers and tourists. So for a clear undisruptive view morning time is the best time to visit.
There are lots of pigeons and bats here so be careful of that.
The levels here are not barricaded. So be careful while exploring the place and don't go to the sides much. After all you have to save yourself from falling or hurting.
There is no time limit so you can enjoy your own time exploring this location on your own. But be attentive all the time as the structure is really old. Also the rooms have a lot of bats so take care of that too.
Conclusion:-
There are exactly no such proofs regarding the stories about this place. Nobody can say if this place is actually haunted or not. But definitely the stories make this place an intriguing spot. People who have a thing for exploring haunted places can surely visit here. Even if not that you can visit this spot to understand the stepwell formation which was an important part of daily life once upon a time. So would you like to visit a place like this that is believed to be haunted? Are you up for a thrilling adventure or would you like to skip this one? Do let me know what you think of this amazing spot. I would love to know that. Also let me know if you encounter any ghostly activities here after your visit to this place. That would be interesting for me to know.