For a Lord Shiva devotee, visiting a Shiva shrine can be one of the most blissful activities. If you are anywhere near Pune or Maharsahtra then the Bhimashankar Jyotirlinga should surely be in your list of must visit temples. Other than the Bhimashankar Jyotirlinga Temple there are 4 more Jyotirlingas in Maharashtra itself. However, in total there are 12 Jyotirlingas in India and the Bhimashankar Temple is also one of them. Furthermore these Jyotirlingas are believed to be a self manifested form of Lord Shiva unlike other Lingas or deities that are initiated by humans.
Obviously a lot of relevance, historical importance and legends are associated with this temple that makes it more interesting to visit. So keep on reading this article because here I am going to mention each and every piece of information that you might need to plan a successful trip to the Bhimashankar Jyotirlinga Temple in Maharashtra. After reading the whole article I am sure you would have a fair idea about all the things that you need to know about this temple.
Bhimashankar Jyotirlinga 
Location: 50 km North West of Khed, near Pune, Maharstashtra
Timings: 4:30 am to 9:30 pm
Aarti timings:
Morning Aarti– 4:30 am to 5 am
Nijarupa Darshan– 5 am to 5:30 am
Morning Darshan– 4:30 am to 3:15 pm
Evening Darshan– 4 pm to 9:30 pm
Shringaar Darshan– 4 pm to 4:30 pm
Evening Aarti– 7:30 pm to 8 pm
Entry fee: No entry fee is required. Entry is free.
How to reach
By air
The new Pune International Airport is 41 km away from the temple. The Pune Airport is another well connected Airport and Pune to Bhimashankar distance is 110 km and you can reach the temple in about 2 hours from there.
By train
The nearest railway station to the temple is the Karjat Station which is about 168 km away. It would take around 2 hours to reach the temple from there. You will get buses, shared rides and even rickshaws known as tumtums to reach the temple.
By road
There are buses from Pune, Mumbai and Karjat that ply within this route to reach the temple. From Pune there are regular buses from 5:30 am in the morning to 4 pm. There is a bus from Kalyan at 9 am and at 11 am you can get buses from Kurla and Ghatkopar as well. You can even opt for Tum Tum from Kajrat to reach there. Shared rides are also available and are cheaper to travel in.
Best time to visit Bhimashankar Jyotirlinga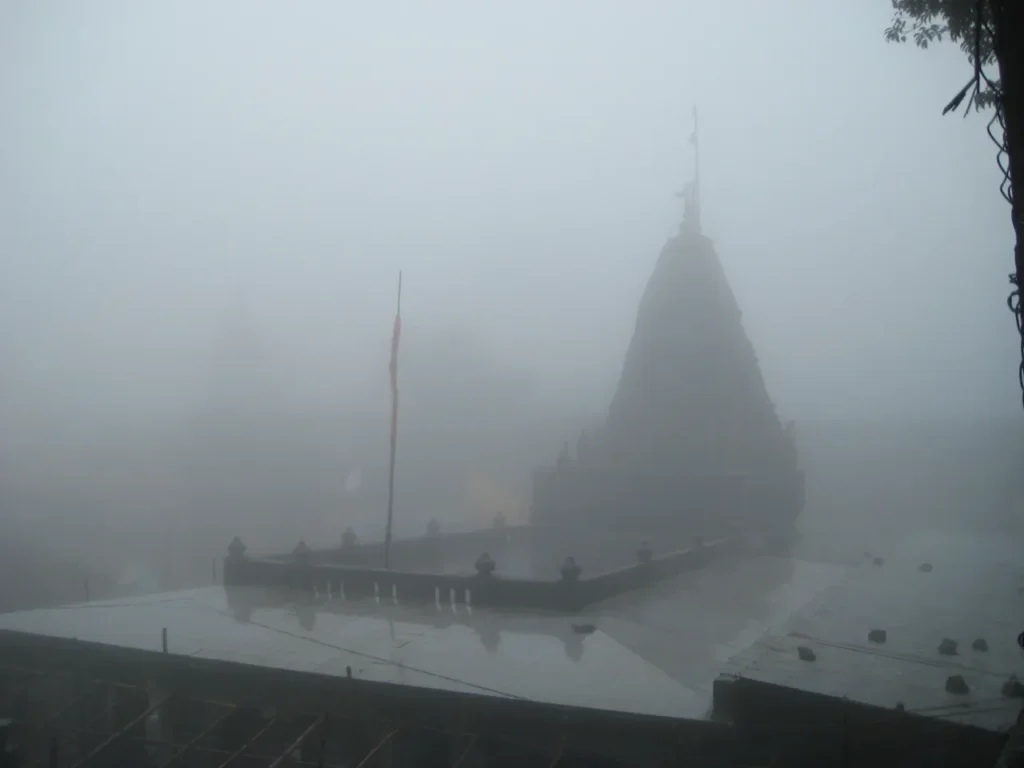 The ideal time to visit this temple is from June to August. During these months the temperature remains most comfortable with the onset of monsoon. Winter months also can be good for a visit here, the winter starts from November and stays till January with temperature ranging between 20 degrees to 30 degrees. However summer months can be too hot with temperature going up to 36 degrees. You can avoid visiting here during that time.
About Bhimashankar Jyotirlinga Temple
The Bhimashankar Jyotirlinga temple is one of the self manifested or Swayambhu forms of Lord Shiva. It is believed that Lord Shiva appeared on its own with a fiery column of light at the very spot all by himself. Furthermore the Shiva linga here is at a lower level from the ground of the main sanctum. The top most portion of the Shivalinga is divided by a narrow groove. Furthermore in each of the halves it signifies both Lord Shiva and Devi Parvati as a single entity. Here Lord Shiva appeared in the Ardhanareeshwara form.
Additionally it is also believed that water continuously flows from the Linga here and that is happening since time immemorial. The River Bhima flows by near the temple that is considered as a sacred river. According to legends the river is the result of the perspiration of Lord Shankara. Therefore the temple came to be known as Bhimashankar. You can also find a Mokshakund located behind the temple. It is believed that Bhrahmarishi Vishwamitra also known as Maharishi Kaushik performed penance or Tapasya here to please the Gods. When the devotees visit the Bhimashankar Temple they are allowed to offer prayer to Lord Shiva and conduct Poojas and Abhishekams using Marigold flowers and Bilva leaves.
History of Bhimashankar Jyotirlinga
The history of this temple goes back to the 13th century. It is believed that in the 13th century a woodcutter named Bhatirao Lakhadara first discovered the Shiva linga here when he hit his axe on the tree. Instantly the ground started bleeding. Later the villagers gathered and offered milk to the tree and the bleeding stopped. Furthermore at the same spot the villager later built a small temple and named it Bhimashankar Jyotirlinga Temple. However many notable figures like Chhatrapati Shivaji, Raghunath Peshwa and Peshwa Balaji Vishwanath were regular visitors of this temple. They actively participated in the renovations of the temple through the years.
Legend of Bhimashankar Jyotirlinga
According to Shiva Purana and Matsya Purana there were three demons Vidyunmali, Viryavana and Tarakaksha. Together they were known as Tripurasura. Once they performed Tapasya and got a boon from Lord Brahma that the Gods will construct three beautiful cities made of Gold, Silver and Iron for the Asuras. Altogether they will be known as Tripura. However it was also said that one single arrow can have the power to destroy the city. Asuras from all over the world started visiting the cities and also started residing there. After the initial days of fun the Asuras started terrorizing and troubling the Rishis. Everyone wanted an end to it and they further went to Lord Shiva for help. However they even wanted help from Devi Parvati. Therefore Lord Shiva and Devi Parvati appeared in the Ardhanari Nareshwar form on Earth.
Furthermore to destroy Tripura, Lord Shiva asked Lord Viswakarma to build a chariot for him with special powers. The Earth Goddess therefore became the chariot with Sun and Moon as the wheels. Lord Brahma was the Sarathi or the charioteer, the Bow was Mount Meru, the bow string was Serpent Vasuki and Lord Vishnu became the arrow. Lord Shiva then took his bow and burned the three aligned cities into the ground after taking the form of Bhima Shankara. It is also believed that the sweat that spilled from his body after defeating Tripurasura formed the Bhimarathi River. Afterwards the Gods requested Lord Shiva to rest at that spot and make this place his home. Therefore Lord Shiva took the form of a Linga and made this place his home.
Architecture of Bhimashankar Jyotirlinga Temple
The original temple complex is small and has various structures and sculptures of Gods and Goddesses. This temple is made in the Nagara style of architecture and the Hemadpanthi style of construction was followed. There is one Garbhagriha, a Sabhamandap and one Kurmamandap in the temple. Here the Garbhagriha is constructed using indigenous stones and is constructed in the Indo Aryan architectural style as commonly found in Jain Temples. The door of the temple is made of Solid Wood and has many figures of Gods and Goddesses.
Chimaji Appa the brother of Peshwa Bajirao I gifted a huge bell that you can find at the entrance of this temple. Along with that there are two large Nandi statues in the temple premise as well. The Nandi in the front of the sanctum is very old while the other one is new. You can also see the Shikar of the Bhimashankar Temple. Nana Phadnavis built the Shikhar of this temple. Other than the main presiding deity you can also visit shrines of Nandi, Lord Rama, Lord Shani and more.
Festivals in Bhimashankar Jyotirlinga Temple
Mahashivratri
Here Mahashivratri is like a grand affair. A huge fair or mela is organized here for 5 days long where many devotees come and take a part in. This takes place during the late February or early March. The festival is celebrated to honor and show respect to Lord Shiva and Devi Parvati as it is believed that Lord Shiva and Devi Parvati got married on this day. Furthermore the day is celebrated through various rituals, poojas, bhajans and abhishekams. Almost around a thousand devotees visit here every day during this festival.
Ganesh Chaturthi
It is yet another festival that is celebrated here with much enthusiasm. During August or September this festival is celebrated here. Furthermore Lord Ganesha being the son of Lord Shiva and Devi Parvati, Ganesh Chaturthi is celebrated as the Birthday of Lord Ganesha.
Karthik Poornima
This is yet another festival that is celebrated in the Bhimashankar Temple that falls between November and December. It is believed that Lord Shiva destroyed the kingdom of Tripura on this day.
Deepawali
The Deepawali or Deepavali festival usually comes in between October to November. This festival is celebrated here with much grandeur where the whole temple is decorated with Diyas or lamps. Furthermore there is a special pooja that is performed throughout the day.
Special Poojas at the Bhimashankar Jyotirlinga Temple
Rudrabhishek
This is one pooja done for Lord Shiva where he is worshipped as Rudra or Fire. The devotees of Lord Shiva believe that this puja purifies the environment and wipes away all the sins. Also it removes all kinds of ill occurrences by planets. Pradosham days and the Mondays of every month is the ideal time to perform this pooja.
Laghurudra Pooja
This is another form of Abhishekam Pooja that is performed to resolve health and wealth related issues. Furthermore this pooja also removes the planetary ill occurrences in the horoscope.
Other than these there are some yearly poojas as well that are performed here. These are Prati Somvar, Prati Shivaratri, Prati Pradosh, Prati Amavasya, Mahashivratri.
Also a Shashvat Pooja can be performed which is done 1 day every year and goes on for 20 years. These poojas can be Rudraabhishek, Laghurudra, Mahapuja, Mahapuja with Mahanaivedyam, Laghurudra with Brahaman Bhojan and Shravan Somvar and Mahashivratri.
Wrapping up!
One of the five Jyotirlingas in Maharashtra, the Bhimashankar Jyotirlinga is one of the most revered shrines that you can visit. The Bhimashankar Temple is related to the historical period and has a lot of mythological significance that makes it one of a kind of a temple to visit. Furthermore, the old architecture and the belief that the devotees have on the Bhimashankar Jyotirlinga is massive. If you are anywhere near Maharashtra or Pune then you must visit this temple once. I am sure you will be mesmerized by the whole vibe and tranquility of this ancient temple. Do let me know when you are planning a visit to this temple. Also let me know if this article was helpful for you in knowing about everything you needed to know to plan a successful visit to this temple.